Dean of the College
University Hall, 2nd Floor
Brown University
Providence, RI 02912
P: 401.863.9800
F: 401.863.1961
Home | Guest Faculty | Schedule | FAQs
Excellence at Brown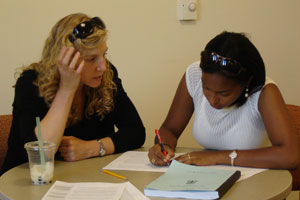 Excellence at Brown is a free, five-day program that orients incoming students to Brown's academic and campus culture. Offered from August 25 to August 30, the week before general Orientation, the program includes five seminars taught by distinguished Brown professors from a range of academic disciplines. Short reading assignments serve as the basis for seminar discussions, and students work one-on-one with graduate-student staff at Brown's Writing Center to learn the elements of successful academic writing across the curriculum.
Excellence at Brown provides an intense, fun, meaningful academic experience that puts students in a position to thrive at Brown. Throughout the week, students have the chance to make connections with other students in the program and to learn about Brown's campus. By the time Orientation begins, students will be ready to immerse themselves in Brown's rich living and learning environment.
Please review all relevent information on this site including guest faculty, schedule, and FAQ's. If, after that, you have any questions, email: Excellenceatbrown@brown.edu.
Download the application for Excellence at Brown .
Email completed application to: ExcellenceatBrown@Brown.edu.
June 14: Application deadline
July 1: Applicant acceptance/waitlist decision.