Dean of the College
University Hall, 2nd Floor
Brown University
Providence, RI 02912
P: 401.863.9800
F: 401.863.1961
Concentration Advising
An academic concentration is the focal point for a student's undergraduate educational experience at Brown. Concentrations aid intellectual development by encouraging conceptual and methodological study in a coherent and sustained manner. Such in-depth study allows students to gain command of an area of knowledge and a set of skills that equip them to engage in further study and meaningful professional pursuits.
All students must request admission to a concentration program no later than the middle of their fourth semester, before pre-registering for semester five (usually spring semester of sophomore year). Beginning with the Class of 2013, students declare their intention using Brown's online concentration declaration tool.
Whether students declare online or use the paper form, the declaration process allows them to consider their major objectives in choosing a concentration, while listing the specific courses they plan to take. Students also explain how their proposed program of study will enhance their writing abilities and their understanding and appreciation of Brown's liberal learning goals. Students meet with a concentration advisor for the relevant department or program to discuss their declaration. The advisor may require revisions to the personal statement and course list before endorsing a student's plan. Once approved, the declaration functions as a contract, and the departmental concentration advisor becomes the student's advisor for the remainder of her or his time at Brown.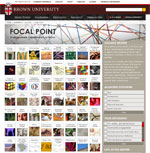 Visit Focal Point, Brown's new web tool for exploring concentrations.
Download the concentration advisor handbook.
Contacts:
Besenia Rodriguez
Associate Dean of the College
201 University Hall
863-2411