Dean of the College
University Hall, 2nd Floor
Brown University
Providence, RI 02912
P: 401.863.9800
F: 401.863.1961
History of the Rhode Island Alpha Chapter of Phi Beta Kappa
The Rhode Island Alpha Chapter of Phi Beta Kappa was founded at Brown University in 1830. Membership in the Rhode Island Alpha chapter includes present and past students elected under procedures described below, as well as faculty and administrators who were elected at their respective undergraduate institutions.
Brown's initial application for a ΦΒΚ charter, initiated in 1789, was blocked by the Alpha of Massachusetts in Cambridge. The Alpha of Rhode Island, the seventh nationally, was granted a charter in 1830, thanks to the excellence of the college and the artfulness of President Wayland's approach to the Alpha chapters of Massachusetts and Connecticut. A chapter for the Women's College (later Pembroke College) admitted its first members in 1900. The two chapters merged in 1969.
The unique key design of the Rhode Island Alpha reflects the chapter's pride in its history as well as the independent character of Rhode Island in general. The key retains two idiosyncrasies: on the front it carries the word BROWN below ΦΒΚ on the back it carries the date of the founding of the Brown chapter, 1830.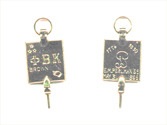 The Rhode Island Alpha maintains custody of the founder's ancient ballot box, which is graced with a crystal knob and gilded lettering. A centenary history of the Alpha, written by Chief Justice Charles Evans Hughes '09, may be found in A Century of Scholars, edited by William. T. Hastings. For more information on Phi Beta Kappa, visit their web site at www.pbk.org.