Dean of the College
University Hall, 2nd Floor
Brown University
Providence, RI 02912
P: 401.863.9800
F: 401.863.1961
Course Evaluations
At the end of the semester, it is important to give your students time to complete thoughtful course evaluations. This is one moment in the semester when students are allowed to offer direct, anonymous feedback about their classes. Obviously, faculty show more respect for your students' opinions when they give them enough time to write.
Finding time for this process can be tricky, and so it is good to plan ahead. In general, you should use a class period rather than an exam period. It usually works better to devote actual class time to the process, rather than asking students to complete the forms outside of class. Finally, you should consider doing evaluations at the beginning, rather than at the end, of a period. Following these practices can lead to more thoughtful responses on the part of your students, and better feedback for you.
It is also important, of course, to respect the anonymity of your evaluators. Please ask one of your students (rather than a T.A.) to collect the completed forms and convey them to the responsible person in your department.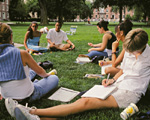 Because each academic unit maintains its own evaluation forms, the CCC is at work on developing a new online form. Stay tuned for more details.
N.B. The Critical Review is a student-run evaluation service. Faculty may choose to use these forms in addition to the departmental forms.