Dean of the College
University Hall, 2nd Floor
Brown University
Providence, RI 02912
P: 401.863.9800
F: 401.863.1961
Ann Gaylin
Associate Dean of the College
for First-Year and Sophomore Studies
Ann Gaylin earned her B.A. in Comparative Literature from Brandeis University and received her M.A. and Ph.D. in Comparative Literature from Princeton University. Prior to graduate study, Dean Gaylin worked at the Hirshhorn Museum and Sculpture Garden, the Archives of American Art, and Harvard University.
From 1994 to 2005, Dean Gaylin taught comparative literature at Yale University, where she was an associate professor; served as Director of Undergraduate Studies for the literature major; and lived as a faculty fellow in Jonathan Edwards College. At Yale, she taught courses on eighteenth- through twenty-first century literature and culture. Before coming to Brown, she worked as a program officer at the American Council of Learned Societies.
Dean Gaylin's research interests center on nineteenth- and early twentieth-century English and French literature and culture. Her publications focus on romantic, gothic, Victorian, and modern fiction and poetry. Her book, Eavesdropping in the Novel from Austen to Proust, was published by Cambridge University Press in 2002.
Dean Gaylin directs the academic and co-curricular programs of the DOC associated with the first-year and sophomore classes.
Dean Gaylin's responsibilities include:
First Readings
First-Year Advising
Sophomore Advising
Meiklejohn Peer Advising Program
Curricular Advising Program (CAP)
Pre-Law Advising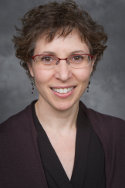 ANN GAYLIN
phone: (401) 863-2315