Dean of the College
University Hall, 2nd Floor
Brown University
Providence, RI 02912
P: 401.863.9800
F: 401.863.1961
Peggy Chang
Director, Curricular Resource Center
In August 2009 Peggy became the Director of the Curricular Resource Center, following a year of work as the Director of the Engaged Life Partnership, an initiative dedicated to creating more opportunities for students to connect their liberal educations to living lives of meaning and purpose. At the CRC she works with the deans and ten student coordinators who run various academic and peer-advising programs, including independent studies and concentrations, Careers in the Common Good, and the Department Undergraduate Groups (DUGs). She has facilitated numerous discussions and workshops for students about activism, leadership, and public interest careers.
For twelve years she was the Executive Director of the Venture Consortium, a group of colleges committed to offering programs for students and resources for consortium members about experiential learning and social responsibility. Before that, she started her career at Brown as Coordinator of the Curricular Resource Center from 1994-1996, and she graduated from Brown with an A.B. in American civilization in 1993.
Originally from Long Island, New York, she lives in Warwick, RI with her husband and two sons. Peggy is a masters candidate in the Public Humanities program at Brown.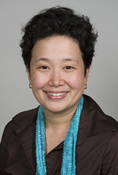 PEGGY CHANG
phone: (401) 863-2324