Dean of the College
University Hall, 2nd Floor
Brown University
Providence, RI 02912
P: 401.863.9800
F: 401.863.1961
Roger Nozaki
Associate Dean of the College for Community and Global Engagement
Director of the Swearer Center for Public Service
Established in 1987 by Howard R. Swearer, the fifteenth president of Brown, the Swearer Center for Public Service works to address inequalities in our society and communities while advancing Brown's curricular goals for undergraduate education. Roger joined the Center as director in November 2005.
Prior to this role, Roger served as executive director of the GE Foundation, the philanthropic foundation of the General Electric Company. In this role he worked with the Foundation's board, president, and staff to establish priorities and strategies for the foundation's global philanthropic portfolio. He also supported GE's efforts in global corporate citizenship and community relations.
Roger joined the GE Foundation from The Hitachi Foundation, where he served as senior program officer, addressing issues of education, community development, and corporate citizenship. He previously worked with Campus Compact, a project of the Education Commission of the States focused on strengthening higher education through civic engagement; and spent two years as a full-time volunteer in a community of adults with developmental disabilities. He holds degrees from Princeton and Brown, and served on the student staff of the Swearer Center from 1988-89 while earning his MAT degree at Brown.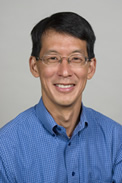 ROGER NOZAKI
phone: (401) 863-2338