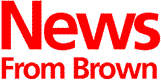 The Brown University News Bureau
38 Brown Street / Box R
Providence, RI 02912
401 / 863-2476
Fax: 401 / 863-9595
1995-1996 index
---
Distributed October 2, 1995
Contact: Tracie Sweeney
---
Annenberg Institute for School Reform names Board of Overseers
The Board of Overseers, which meets Oct. 6, is made up of distinguished education, business and community leaders. They advise the president of Brown University and the University's corporation members about policies, directions and programs.
PROVIDENCE, R.I. -- The Board of Overseers for the Annenberg Institute for School Reform will hold its first meeting Friday, Oct. 6, in New York City to review the Institute's initial activities and plans for future initiatives.
The Annenberg Institute for School Reform, a not-for-profit corporation within Brown University, is led by Professor Theodore R. Sizer as director and a Board of Overseers appointed by the Corporation of Brown University. The Board of Overseers is charged with advising the president and the Corporation as to the policies, directions and programs of the Institute. The appointment of a diverse group of committed, accomplished and knowledgeable individuals to the Board of Overseers has been a priority of Brown and the Institute.
The board, made up of distinguished educators, business and community leaders who have outstanding records in the various facets of school reform, will meet semi-annually. Its members are:
The Hon. Leonore Annenberg, vice chairman, The Annenberg Foundation; honorary chair;
J. Carter Brown, businessman, director emeritus, National Gallery of Art;
Barbara Chase, head of Phillips Academy, Andover, Mass.;
Ramon Cortines, former chancellor, New York City Board of Education;
Rebecca Crown, teacher, Baker Demonstration School, Evanston, Ill.;
George M.C. Fisher, president and chief executive officer, Eastman Kodak; former chairman, Council on Competitiveness;
Louis Gerstner, chairman and chief executive officer, IBM;
Patricia Graham, president, Spencer Foundation; former dean of Harvard University's Graduate School of Education;
Vartan Gregorian, president, Brown University; chairman;
Thomas Kean, president, Drew College, Madison, N.J.; former governor of New Jersey;
David Kearns, chairman of New America's School Development Corp. (NASDC), Arlington, Va.; former undersecretary of the U.S. Department of Education; former chief executive officer of Xerox Corp.;
Fred Lippitt, chairman, Rhode Island Board of Regents for Elementary and Secondary Education;
Walter Massey, president, Morehouse College, Atlanta, Ga.; former provost/vice president for academic affairs, University of California; former director, National Science Foundation;
James Pomerantz, provost, Brown University; vice chairman;
Hugh B. Price, president and chief executive officer, National Urban League; former vice president of Rockefeller Foundation.
The Annenberg Institute for School Reform, based at Brown University, seeks to nurture, promote and sustain a comprehensive, nationwide school reform movement. It bears the name of its principal benefactor, Ambassador Walter H. Annenberg.

The Institute was created in October 1993 as a semi-autonomous, permanent unit at Brown University with initial funding from a $5-million anonymous grant. Long-term support is derived from a $50-million gift from the Annenberg Foundation. All of the Institute's funding is spent on programs directly under its sponsorship or on joint projects with collaborating organizations; the Institute does not make individual grants to outside organizations or programs.

For information, contact Ken White (401/863-1375) or Tracie Sweeney (401/863-2476).

######
95/028