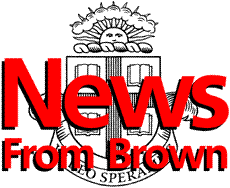 ---
The Brown University News Bureau
---

A Brief History and Overview
of Brown University

---
PROVIDENCE, R.I. -- Brown University, in Providence, R.I., was established by a charter from the Colony's General Assembly in 1764, making it the nation's seventh college and third in New England. Originally known as Rhode Island College, it moved from its original site in Warren, R.I., to Providence in 1770. Its name was changed to Brown University in 1804 in recognition of the contributions of Nicholas Brown.
The University's steady growth over more than two centuries has placed it among the world's most respected institutions of higher learning. Graduate courses were first offered in 1880, with the Graduate School formally established in 1927. Brown was also among the earliest schools to admit women, creating the Women's College in Brown University in 1891. (That college, renamed Pembroke College in 1928, was merged with the undergraduate College in 1971). In 1973, the Brown Corporation approved a medical education program leading to the M.D. degree.
Brown combines the resources of a university with the intimate experience of an undergraduate liberal arts college. It maintains a single full-time faculty of 540 scholars for all degree candidates, from entering freshmen to doctoral and medical students.
Student Body
In semester I of the 1996-97 academic year, Brown enrolled 7,163 full-time students: 5,616 in the undergraduate College, 1,236 in the Graduate School and 311 in the School of Medicine. A total of 213 part-time students brought the student body to 7,376.
Curriculum
The Brown Curriculum is one of the defining elements of the undergraduate College. It engages each student, with the help of the faculty advisors and deans, in the design of his or her own academic program. Students may choose from more than 1,800 courses and may either select from more than 80 concentrations (academic majors) or follow a course of independent study with appropriate faculty sponsorship. While the various concentrations have rigorous course requirements, Brown has neither distribution requirements nor universally required courses.
Students must complete 30 courses with a grade of C or better to earn a degree. Depending on the student's choice of concentration, up to 21 courses must be taken in the concentration field. Students choose a concentration by the end of their second year.
Degree Programs
Brown offers three degree programs for undergraduates:
Bachelor of Arts
Bachelor of Science
Bachelor of Arts and Bachelor of Science
Five master's degree programs:
Master of Arts
Master of Arts in Teaching
Master of Fine Arts
Master of Medical Science
Master of Science
Two terminal degree programs:
Doctor of Philosophy
Doctor of Medicine
For approximately 65 highly qualified and strongly motivated freshman, Brown's Program in Liberal Medical Education (PLME) offers a unique opportunity to combine undergraduate education and professional studies in medicine in an eight-year continuum. The last four years of the program are accredited as medical school and culminate in the M.D. degree. The PLME combines the open curriculum concept of the College and the competency-based curriculum concept of the School of Medicine. It encourages medical students to pursue extra-medical interests throughout their medical school experience.
Community Service
Many students do volunteer service either while in attendance at the college or by taking time away from the campus. Brown students, faculty and staff are involved in more than 240 community service projects in the Rhode Island community. To encourage such service the University has established a program of special fellowships for students who have engaged in full-time community service. The Swearer Center for Public Service operates as an umbrella for a coalition of student service organizations on campus. About 1,500 students donate more than 100,000 hours of volunteer time each year to community service through educational, social service, health and government programs.
Brown also hosts the national headquarters of the Campus Compact, an organization that furthers the cause of community service at more than 500 colleges and universities nationwide. The presidents of Brown, Georgetown and Stanford cofounded the Campus Compact a decade ago.
Endowment
As of June 30, 1996, the University's endowment was valued at approximately $802 million. The Campaign for the Rising Generation, which concluded in June 1996, raised $534 million (118 percent of its original goal), nearly half of it in endowment.
Tuition and Financial Aid
Tuition for the 1996-97 academic year is $21,592. Room, board and fees bring the total undergraduate student charge to $28,658.

Brown is committed to meeting the full demonstrated financial need of all admitted students. Nearly 2,200 undergraduates each year receive a total of more than $35 million in financial assistance from a variety of University and outside resources to reduce their educational expenses.

The Financial Aid Office makes all awards on the basis of the candidate's need as determined from the Financial Aid Form (FAF) of the College Scholarship Service and Brown's Financial Aid Form, included in the application booklet. Financial aid awards are renewable for three years and are adjusted as necessary to accommodate changes in financial circumstances.

Since 1990, Brown's undergraduate financial aid budget has been indexed to student tuition and fees. As total student charges increase, the financial aid budget increases by the same percentage.

######
October 1996