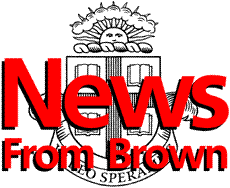 ---
The Brown University News Bureau
Contact: Mark Nickel

Accomplishments of the Gregorian presidency (1989-1997)
---
Academic and intellectual life
Upon his selection as Brown's 16th president in August 1988, Vartan Gregorian said his highest priority would be to sustain and enhance the quality of academic and intellectual life at Brown.
University Courses - Early in his presidency, Gregorian requested a review of the Brown curriculum, perhaps the most defining element of the University. He found it to be both rigorous and flexible, supported almost unanimously by faculty, students and alumni. The University Courses program, which provides a comprehensive guide to the breadth of courses offered at Brown, addressed issues of academic advising and general-knowledge courses raised by the review.


New faculty perspectives - More than 265 new faculty have joined the University during the Gregorian years.


President's Lectures - Inaugurated with an address by Lord Annan in April 1992, the President's Lectures Series has enriched campus intellectual life by bringing dozens of internationally prominent writers and artists to Providence. Lecturers have included Norman Mailer, Nancy Milford, Tom Wolfe, Susan Sontag, E. L. Doctorow, Calvin Trillin, Leslie Gelb, Cornel West, Jamaica Kincaid, Hedrick Smith, Anna Quindlen and many others.


Library expansion - Shortly before Gregorian's arrival at Brown, the library celebrated the acquisition of its two-millionth volume. It will celebrate the three-millionth volume early in 1997. In June 1993, Brown received funding to complete the transfer from a card-catalog system to an online catalog, which is now accessible from dormitories, offices and other locations on and off campus.


Royce Fellows Program - Brown selected its first 25 Royce Fellows in the spring of 1996. The program celebrates exceptional undergraduate academic performance, creativity, leadership and community service by supporting research and other educational enrichment projects of each fellow's choosing. Royce Fellows become lifetime members of the Society of Royce Fellows.


Intellectual freedom - Following the events of Tiananmen Square in 1989, Brown welcomed two dissident Chinese poets to campus. The University has continued to support the work of dissident or exiled writers and scholars. The most recent Freedom to Write conference (March 1996) featured interactive video exchanges with Salman Rushdie.


Departmental and curricular growth - Eleven departments have been formed, including Portuguese and Brazilian Studies, Modern Culture and Media, American Civilization, Neuroscience, Ecology and Evolutionary Biology, and Molecular Biology, Cell Biology and Biochemistry. In 1993, Gregorian convened a panel to discuss the possibility of instituting a concentration in ethnic studies. The new interdisciplinary concentration was implemented this fall.
Faculty affairs
Gregorian often calls Brown's faculty "the bone and the marrow of the University," and has worked vigorously to recruit talented national and international scholars.
Endowed distinguished professorships - Seventy-two senior professors have been appointed to endowed and named chairs, and 20 assistant professorships have been endowed for distinguished scholar-teachers.


Annual academic convocation - Each spring, Gregorian recognizes the many achievements and honors Brown faculty members have received, and presents a teaching award to a professor in each discipline.


Salomon Research Awards - In the wake of declining federal research funds, the University created the Richard B. Salomon Research Awards in March 1996. The $1-million fund, established through the bequest of the University's former chancellor, the late Richard B. Salomon, allows senior and junior faculty members with proven track records in one area of research to expand their inquiries into new and bold areas.


Gilbane Presidential Fellows - In October 1993, Gregorian announced the creation of a fellowship that allows a distinguished retired scholar or individual from the world of business, law or the arts to become a short-term visitor and lecturer on campus. "The public influence of our `elder statesmen' in a wide variety of professions and disciplines should not end when others succeed them in their daily work," Gregorian said.


Watson Institute - The Thomas J. Watson Jr. Institute for International Studies has integrated international studies at Brown, including more than a dozen centers, programs and institutes which teach and conduct research in foreign affairs. Gregorian served as acting director of the Institute during a search for a successor to Howard R. Swearer, the institute's first director and Brown's 15th president, who died in October 1991. In April 1994, Gregorian announced that Thomas J. Biersteker, the Henry R. Luce Professor of International Relations and Political Science at Brown, would be the Institute's the new director.
Finance
The 1990s have been difficult years for higher education. In contrast to the rapid growth of the 1980s, American universities have spent the current decade retrenching, downsizing and refocusing their efforts. Brown has been able to restrain its overall budget growth and tuition increases while reallocating existing resources to fund high-priority needs and new ventures.
Balanced budgets - Fiscal 1995-96 was Brown's 18th consecutive year with a balanced budget. The University's overall budget grew by less than 5 percent annually during the last five fiscal years. That contrasts with average annual increases of nearly 12 percent during the early 1980s.


Holding the line on tuition increases - For each of the last three academic years, Brown has held its tuition increase to less than 6 percent (4.7 percent for the current year), the lowest rates of increase in more than 25 years.


Growth of endowment - New gifts to endowment and an excellent investment performance record allowed Brown to more than double its endowment during the Gregorian years - from a December 1988 valuation of $373 million to a July 1996 valuation of nearly $804 million. Preliminary estimates for the December 1996 valuation are more than $850 million.


The Campaign for the Rising Generation - In April 1992, Gregorian launched the Campaign for the Rising Generation, with a goal of raising at least $450 million to preserve and strengthen the teaching and scholarship that are the core of Brown's mission. More than 53,000 donors helped the University exceed its goal by $85 million.


Moody's bond rating raised - In August 1995, Moody's Investor Services upgraded the University's bond rating from Aa to Aa1, citing Brown's superior market position, excellence of student body, low level of indebtedness and well-maintained financial operations.
Administration and legal affairs
In 1991, Gregorian said that Brown will continue to grow, but "growth in this institution will be through substitution; reallocation will be the main means to meet our priorities, be it faculty compensation or new programs. Quality is, must be and will be our hallmark. Without quality, the Brown as we have known it will cease to exist."
Strategic planning - Strategic planning to position the University for the 21st century began with Gregorian's arrival in the spring of 1989. Budget adjustments began in 1990. In 1992, a two-volume report containing a variety of academic and administrative goals and 515 action items was issued to guide the University through 1996. By early 1996, 97 percent of the action items had been accomplished.


Title IX - In 1991, as part of a Universitywide effort to avoid a deficit, the athletic department changed four varsity teams - two men's and two women's - to donor-funded status. A year later, members of the two women's teams filed suit alleging violation of Title IX, which prohibits discrimination based on gender at educational institutions that receive federal funds. Since then, Cohen v. Brown has made its way through the judicial system. In a 2-to-1 decision issued in November 1996, the U.S. Court of Appeals for the First Circuit affirmed Brown's autonomy to determine its own budget and design the scope of its athletic program. It overturned a lower court's proposed remedy, but upheld the lower court on other issues. Brown is considering an appeal to the U.S. Supreme Court.


Lamphere Decree vacated - In the late 1970s, as part of an out-of-court settlement in a gender discrimination suit, Brown's hiring and tenure decisions became subject to a court-ordered consent decree (named for the original defendant, anthropology professor Louise Lamphere). That temporary decree remained in effect a decade later when Gregorian arrived at Brown. Satisfied with the University's non-discriminatory hiring practices, Brown's female faculty members joined the administration in successfully petitioning the court to lift the decree. The University more than quintupled the number of tenured women on its faculty during the 14 years the decree was in effect. Gregorian announced the end of the decree at Commencement in 1992.


Staff development - In addition to programs that recognize excellent performance and length of service, Brown has pioneered a unique and comprehensive investment in its staff through Gregorian's annual sponsorship of Staff Development Day. All University employees may leave their regular duties for the day to attend campus seminars and discussions on personal and professional growth.


Employee benefits - Brown has instituted improved tuition assistance for staff members, on-campus day care and maternity leaves.


Sexual orientation - In 1990, Brown amended its anti-discrimination policy to include sexual orientation and later extended its health-care benefit to the dependents of several new classes of employees, including those with commitments to same-sex partners.
Admission and scholarships
Brown continues to attract large numbers of the nation's most talented high school graduates. The University received 15,009 applications for admission to the Class of 2000, the largest applicant pool in Brown's history.
Indexed budget for scholarships - In March 1990, Gregorian announced that the University's undergraduate scholarship budget would henceforth rise in direct proportion to increases in the total student charge (tuition, room, board, fees). Gregorian also announced that any additional revenues from new financial aid endowment would be added to the indexed scholarship budget.


Scholarship endowment - Brown's comprehensive Campaign for the Rising Generation included an ambitious goal of $75 million for scholarships. Brown surpassed the $40-million undergraduate portion of that goal six months ahead of schedule.


$1-million emergency fund - At the start of the 1991-92 academic year, when the financial aid needs of returning students had increased sharply, Gregorian established a special $1-million emergency fund to honor the University's scholarship commitments.


Direct Student Loan Program - In the fall of 1993, Brown University was included in the first cohort of institutions to participate in the National Direct Student Loan program.
Physical plant
During the 1970s and early 1980s, Brown, like many other universities, postponed maintenance of its physical plant. The result of this process nationally is an exposure on the nation's college campuses that has been estimated at $70 billion.
Building survey - In 1993, the administration surveyed every University building to reassess the size of its deferred maintenance. The result showed that within Brown's 226 "core" buildings, the deferred maintenance needs totaled $72.8 million.


Building renovation - More than 60 percent of the University's residential spaces have been renovated since 1991, at a cost of nearly $50 million. Work has been done on numerous other buildings, including the Salomon Center for Teaching, Faunce House and the Dill Center for the Performing Arts.


Information technology - A new high-speed campus network has extended information technologies and access to offices, dormitories and classrooms.


New construction - New buildings since Gregorian's arrival include a 300-bed dormitory, an addition to the John Carter Brown library, the Grimshaw-Gudewicz Building and MacMillan Hall. Future projects target work at the Old Stone Bank Building in downtown Providence for use by the Haffenreffer Museum of Anthropology, now located in Bristol, R.I., and an expanded Soldiers Memorial to honor Brown veterans of all 20th-century wars.
Public service
"It is important not only to be able to engage in new ideas but to be willing to make a public declaration of one's convictions, and then translate them into actions and deeds," Gregorian has said. Fulfillment of this mission of public service has reached every corner of the nation during the Gregorian years.
Banking crisis - In January 1991, newly inaugurated Rhode Island Gov. Bruce Sundlun closed many banks and credit unions to avert disaster threatened by the collapse of the state's deposit insurance system. Gregorian accepted Sundlun's request to investigate the banking collapse. Using Brown faculty and staff and securing pro bono assistance from private attorneys, the Gregorian Commission produced Carved in Sand, an authoritative two-volume report, at no cost to the state.


The University also arranged no-interest loans for Brown employees whose deposits were frozen during the crisis.


H.E.L.P. - Health and Education Leadership for Providence (H.E.L.P.), founded in September 1994, is a coalition of Providence's 10 independent non-profit hospitals and universities working to create collaborative solutions to the city's pressing problems, particularly in public education. Member institutions meet to create new programs drawing upon the unique resources that hospitals and universities offer the community.


Providence Plan - Gregorian announced in May 1991 that the University would work with the City of Providence to eliminate neighborhood poverty by the end of the decade. Brown's A. Alfred Taubman Center for Public Policy and American Institutions worked with the city to develop and implement The Providence Plan, a non-profit organization created to develop a comprehensive strategy to address social problems which contribute to poverty.


City of Providence Scholars - In 1991, Gregorian instituted the City of Providence Scholars Program to support talented applicants from the Providence public schools. Each year since, two students who have been admitted from the local applicant pool and who qualify for financial aid are named Providence Scholars and receive financial support throughout their four years at Brown.


Annenberg Challenge - Gregorian has served the cause of public school reform through his work with the Annenberg Challenge, the half-billion-dollar gift to the nation announced at a White House ceremony in December 1993. The pledge, designed to energize and support promising efforts at school reform throughout the country, was made by Walter H. Annenberg, former U.S. ambassador to Great Britain and a longtime friend of Gregorian. Gregorian has worked pro bono as an adviser to the Challenge, making recommendations about the most effective way to achieve significant, long-term improvements in the nation's schools.


Annenberg Institute - The National Institute for School Reform was established on campus in October 1993 to be a catalyst and source of support for serious school reform nationwide and to provide a permanent, independent, non-partisan voice for critical assessment of progress in the nation's schools. It received a $50-million endowment from the Annenberg Challenge in December 1993, and was renamed in honor of the ambassador.


Northeast and Islands Regional Education Laboratory - This consortium of Brown and Hunter College at City University of New York is one of 10 regional centers in the nation charged with helping children in grades K-12 achieve academic excellence through education reform. Established at Brown in December 1995, and funded by a $24-million contract from the U.S. Department of Education, it supports school systems in New England, New York, Puerto Rico and the Virgin Islands.


Campus Compact - The Campus Compact, based at Brown, is a national coalition of more than 520 colleges and universities committed to fostering in students the values and skills of citizenship through active involvement in community service. Gregorian, vice chair of the Compact's Executive Committee for the past five years, testified before the House Subcommittee on Post-Secondary Education at a field hearing on The National Service Act of 1990, in April of 1990. It was the subcommittee's only field hearing on the bill.


Leadership Alliance - In 1990, Gregorian challenged the Ivy League to create a bold new strategy which would address the dearth of underrepresented minorities in the leadership of U.S. higher education. In particular, Gregorian sought a strategy which would increase dramatically the number of minorities earning doctoral degrees at member schools, building a "pipeline" to ensure a steady flow of qualified minority candidates for high school, college, graduate school and ultimately for the nation's faculties. The consortium, now called the Leadership Alliance and based at Brown, has grown to include 23 colleges and universities.
######
96-060b

Related documents available from the News Bureau:

96-060 -- News release on President Gregorian's new appointment
96-060a -- Biographical information about President Gregorian
96-060c -- Statement by Brown Chancellor Alva O. Way
96-060d -- Historical timeline of the Gregorian years