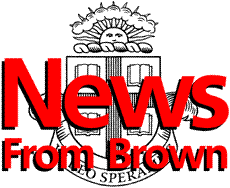 ---
The Brown University News Bureau
Contact: Tracie Sweeney

A special presentation for Sen. Claiborne Pell
Secretary of Education Richard Riley will address policy seminar
U.S. Secretary of Education Richard Riley will discuss the Clinton administration's education policies and agenda at 4 p.m. Monday, Feb. 3, in Sayles Hall. The event also includes remarks from U.S. Sen. Jack Reed and a tribute to retired U.S. Sen. Claiborne Pell for his contributions to education. (See updated release, 96-070a.)
PROVIDENCE, R.I. -- U.S. Secretary of Education Richard Riley will discuss the Clinton administration's education policies and agenda at 4 p.m. Monday, Feb. 3, in Sayles Hall, on the Main Green of Brown University. The event, which will include a tribute to retired U.S. Sen. Claiborne Pell for his contributions to education and a presentation from Rhode Island schoolchildren, is free and open to the public.
Riley, who has been secretary of education since 1993, is a keynote speaker at a policy seminar sponsored by the Northeast and Islands Regional Educational Laboratory at Brown University. He will be followed by Sen. Jack Reed (D-RI), who has played key roles in Washington in the formation of national education policy, including the Goals 2000 legislation. Afterward, a panel of educators from New England will provide state and local perspectives.
Editors: Secretary Riley will be available to meet with reporters between 3:30 and 4 p.m. Feb. 3. Interested reporters should contact the News Bureau for details.
Policy Seminar Schedule
4-5 p.m. -- Welcome and introductions; keynote speakers Richard Riley, U.S. secretary of education, and Sen. Jack Reed (D-RI)


5-5:30 p.m. -- Respondent panel: Dori Collazo-Baker, superintendent, Community School District #1, New York City; James Connelly, superintendent, Bridgeport (Conn.) public schools; Liston Davis, commissioner of education, Virgin Islands; Janice Jackson, deputy superintendent, Boston public schools; Elizabeth Twomey, commissioner of education, New Hampshire


5:30-6 p.m. -- Tribute and presentation to retired U.S. Sen. Claiborne Pell, with remarks from Vartan Gregorian, Brown University president; U.S. Sen. John Chafee (R-RI); Rep. Robert Weygand (D-RI); Reed and others; and a presentation of art and essays from Rhode Island schoolchildren
Secretary of Education Richard Riley
Secretary of Education Richard Riley has been widely praised for his role in American education. Within the first two years of President Bill Clinton's first term, Riley had spearheaded six groundbreaking education initiatives, which Clinton signed into law. The initiatives included expanding the college loan program; programs that develop links between schools and the workplace; establishing challenging academic standards for all students; and redesigning the primary federal program that helps disadvantaged elementary and high school students.
Improving education nationwide is an extension of Riley's success as governor of South Carolina, where he initiated a comprehensive and highly successful reform of that state's school system.
The Northeast and Islands Regional Educational Laboratory at Brown
The Northeast and Islands Regional Educational Laboratory at Brown University (LAB) is one in a network of 10 regional laboratories sponsored by the U.S. Department of Education. Together, they promote knowledge-based school improvement and ensure that those engaged in improving education at the local, state and regional levels have access to the best available knowledge from research and practice.

The LAB serves New England, New York, Puerto Rico and the Virgin Islands. A consortium of Brown University and Hunter College at City University of New York, it operates in partnership with nine other organizations that share common goals.

The LAB's applied research and assistance concentrate on improving teaching, learning and assessment; building capacity, leadership and partnerships; supporting state/island systemic reform; implementing urban and rural school reform; and disseminating products to promote systemic reform on a larger scale.

######
96-070