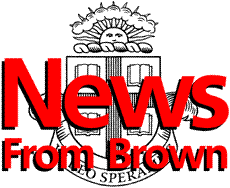 ---
The Brown University News Bureau
Contact: Linda Mahdesian

Commencement 1997
Forums feature Stephen Jay Gould, David Macaulay, IBM's Louis Gerstner
Twenty-one Commencement Forums will be presented Saturday, May 24, at various sites on campus. The forums will include best-selling author Stephen Jay Gould, The Way Things Work author David Macaulay, and IBM's Louis Gerstner.
PROVIDENCE, R.I. -- From the academic to the political to the scientific, this year's Commencement Forums at Brown University offer something for every intellectual palette. Presented all day Saturday, May 24, the forums are an integral part of the University's Commencement/Reunion Weekend. All sessions are free and open to the public.
Drawing on the knowledge, talent and expertise of Brown faculty, alumni, students, parents and special guests, this year's forums will include presentations by best-selling author and paleontologist Stephen Jay Gould, The Way Things Work author David Macaulay, and Louis Gerstner, chairman and CEO of IBM.
Twenty-one forums will take place Saturday at 9:30 a.m., 10:45 a.m., 2:15 p.m. and 3:30 p.m. at various locations on campus. Each session will be between 60 to 90 minutes, with substantial time devoted to questions from the audience.
Editors: Times and locations of forums are subject to change. Contact the Office of Special Events for the latest information: 401/863-2474.
9:30 a.m.
Do Republicans Wear Seat Belts? - Finding Common Ground in Politics and Public Health
with Barbara A. DeBuono, M.D., M.P.H., New York State Commissioner of Health
Salomon Center for Teaching, Room 101
Dr. Barbara DeBuono has served as the top public health official in two states - from 1991-1994 under a Democrat (former R.I. Gov. Bruce Sundlun), and since 1994 under a Republican (N.Y. Gov. George Pataki). DeBuono will discuss her experience in relation to Pataki's ambitious public health efforts and explore why a Republican elected to office on a platform of business and economic issues has championed an innovative health policy agenda that the New York Times called the state's "crowning achievement" of 1996.
The Changing Landscape of Brown University
with Robert P. Emlen, University curator and senior lecturer in American civilization, and Vincent J. Buonanno '66, chair of Brown's Corporation Committee on Facilities and Design
Wilson Hall, Room 102
In the 227 years since College Hill was chosen as a home for the University, the Brown campus has evolved from a single structure in a hilltop pasture to a 143-acre complex of some 250 buildings set amidst an historic neighborhood. With construction of MacMillan Hall under way and with several more projects on the drawing boards, this is a dynamic time for changes to the campus landscape. In this session Buonanno and Emlen will review the historical development of the campus and will discuss current and pending developments at Brown.
At Sea in Barrington: Understanding the Oceanography of Estuaries
with Warren L. Prell, the Henry L. Doherty Professor of Oceanography and professor of geological sciences, Brown
Salomon Center for Teaching, Room 001
Last fall, Prell and students in his course on estuarine oceanography did an extensive study of the estuary system of One Hundred Acre Cove in Barrington, R.I. Out of this work comes the focus of this forum - a discussion of the reasons that estuaries are important to coastal ecosystems, some of the problems in local systems, and how this and other studies fit with the emerging environmental science program at Brown. Prell will show how much can be learned with relatively simple measurements and models, and will address the question of pollution and its overall impact on these coastal bodies of water.
Rome Wasn't Built in a Day: A Conversation with David Macaulay
with author and illustrator David Macaulay
Sayles Hall
In 1956, when he was 9, David Macaulay won an Award of Merit for the results of his National Handwriting Test in Bolton, England. He's been writing (and drawing) and winning awards ever since. Admittedly, it took the next 17 years to work up to his next "major" award for his writing, but as he'll explain in this forum - and illustrate with slides of his work - "Rome wasn't built in a day." Since publication of his first book, the best-seller Cathedral, a Caldecott Honor Medal recipient, Macaulay has acquired international acclaim as an author and illustrator, and his work has delighted and educated children and adults alike. He has been honored with countless awards. Perhaps best known for The Way Things Work, his most recent book is Shortcut.
Lectura Dantis/Dante - A Reading by Vittorio Sermonti
with Dante scholar and writer Vittorio Sermonti
John Carter Brown Library
"Ricorditi di me, che son la Pia;/ Siena mife', disfecemi Maremma..." ("Remember me then, I am La Pia:/ Siena made me and Maremma undid me"). These are the words uttered by one of the most touching female figures in Dante's Divine Comedy, Pia de' Tolomei; her memorable, if fleeting, apparition concludes Canto V of "Purgatory." Renowned Dante scholar and author Vittorio Sermonti has selected this famous Canto for his reading, which revives a tradition that harkens back to 14th-century Florence.
10:45 AM
Boomer Babies: Parenting in the New Millennium
with a panel of Brown faculty including infant psychologist Susan Dickstein; Judith Owens-Stively, M.D., specialist in behavioral pediatrics; Rosalind M. Vaz, M.D., specialist in adolescent medicine; and David Pearson, M.D., adolescent psychiatrist.
List Art Center Auditorium, Room 120
As Baby Boomers raised in the "traditional families" of the Forties, Fifties and Sixties become parents, they face a wide array of unanticipated pressures. The "traditional family" has been replaced by a multitude of family portraits. New research regarding the critical period of development in the infant brain reawakens guilt about daycare workers raising our children. Pressures for school-age children to achieve conflict with concerns about the rapidly increasing prescription of psychostimulant medications. And finally comes the greatest challenge of all: raising and guiding your child through adolescence in the Nineties, while being confronted at times by reminders of your own adolescent adventures in the Sixties and Seventies!
Understanding the Brain: A New Frontier for the 21st Century
with Zachary W. Hall, Ph.D., director of the National Institute of Neurological Disorders and Stroke, National Institutes of Health, Department of Health and Human Services
Salomon Center for Teaching, Room 001
The human brain, which registers sensations, controls movements, and gives us our sense of ourselves, is the most complicated biological organ that we know. Recent progress not only allows us to understand more completely how neurons signal each other, but also allows us to investigate the biological basis of such higher functions of the brain as perception, language and emotion. Study of the brain offers new hope for understanding brain disease, and conversely, investigation of brain disease now illuminates basic processes of the brain. We are also beginning to understand the ultimate developmental puzzle, how the brain assembles itself. In the next century, our study of the brain will open new vistas in the treatment of disease, in the formulation of social policy, and in our fundamental understanding of ourselves.
America in the 1940s, 1950s and 1960s: A Golden Age?
with James Patterson, Brown's Ford Foundation Professor and professor of history, winner of the Bancroft Prize for his newest book, "Grand Expectations"
Sayles Hall
Beginning in 1945, America rocketed through a quarter-century of extraordinary economic growth. It was a boom that produced an optimistic spirit that ultimately was shaken by events in the 1960s and 1970s, particularly by the Vietnam War. In this forum Patterson will reflect on and discuss issues raised in his recent award-winning book, Grand Expectations: The United States, 1945-1974, the newest volume in the prestigious Oxford History of the United States series. He will talk about the period that created the America we know today.
Off the Beaten Path: Taking Time Off, Experiential Learning, and Exploring the "Real World"
a panel discussion with Colin Hall, co-editor of the best-seller Taking Time Off; Seth J. Biderman (Class of '97); Howard Chen (Class of '96); Camrin E. Fredrick (Class of '97); Gregory L. Fredrick; Saeromi Kim (Class of '96), a Brown college admission officer; and Gbolahan O. Okubadejo (Class of '97); moderated by Peggy Chang, director of the College Venture Consortium
Every year, hundreds of Brown students take time off from college or immediately after graduation to re-define their academic focus, to explore career options, and to get a taste of the "real world." A panel of graduating seniors, alumni and guests will share their own experiences and reflect on how taking time off contributed to their undergraduate education and their outlook on their goals and aspirations.
Living and Working in the Networked World
with Louis V. Gerstner, Jr., chairman of the board and CEO of the IBM Corporation
Salomon Center for Teaching, Room 101
Today, nearly 50 million people have access to the Internet, and the number is growing fast. Hear from IBM's Louis Gerstner about how this new technology is changing the way we work, learn, play and govern, and join in a discussion about what this all means as we move toward an increasingly global society.
The Kidnapping of Edgardo Mortara
with David Kertzer, Brown's Paul R. Dupee, Jr. University Professor of Social Science and professor of anthropology and history
Wilson Hall, Room 102
On a June evening in 1858, a police squad descended on the home of a Jewish family in Bologna, Italy, demanding to take the family's 6-year old son, Edgardo Mortara. Bologna was still under papal rule, and the Inquisitor had ordered the policemen to the home having heard a rumor that the little boy had been secretly baptized. The child, being now Christian, could no longer continue to live with his Jewish parents, the Inquisitor declared. In a scene described by the policeman in charge as a "theater of tears," the distraught parents begged the police to let them keep their child but to no avail.
In this forum Kertzer will discuss this historical event - which he recounts in his book, The Kidnapping of Edgardo Mortara (published by Knopf this month) - telling two dramatic tales: one of desperate parents who try everything from pleading with the Pope to enlisting the aid of foreign governments to get their son back; the second of the disintegration of the theocratic government which had ruled for centuries. Kertzer brings epochal events of European history alive through his dramatic account of a particular incident -- shedding new light on the birth of modern Italy and offering new and disturbing insights into the roots of European anti-Semitism.
2:15 PM
1997 and No HIV Vaccine: A Failure of Science or Public Policy?
with Seth Franklin Berkley (Class of '78, M.D. '81), associate director, Health Sciences Division, The Rockefeller Foundation
Salomon Center for Teaching, Room 001
More than 20 million people have been infected with AIDS, with up to 10,000 new HIV infections occurring every day. Although $1.5 billion per year is spent on HIV prevention, the World Health Organization predicts that even a 10- to 15-fold increase in spending would not halt the epidemic. Why aren't we succeeding? The reasons are more complex than changing behavior. Hear from a physician who is on the front lines dealing with the myriad issues relating to these issues and related concerns.
Exploring Race & Ethnicity in America: Ethnic Studies and Liberal Education
with Fayneese Miller, associate professor of education and human development, director of Brown's Center for the Study of Race and Ethnicity, and coordinator of ethnic studies; Jose Itzigsohn, assistant professor of sociology, ethnic studies, and Latin American studies; and Yichin Shen, postdoctoral fellow in ethnic studies; Xae Reyes, visiting assistant professor of ethnic studies; Blenda Femenias, visiting assistant professor of anthropology; and Andrew Shin, visiting assistant professor of English
Carmichael Auditorium, Hunter Laboratory
Ethnic studies programs have long been involved in presenting the history, literature, culture and social ideologies that allow for a more informed and intellectually challenging understanding and discussion of race and ethnicity in the United States. This forum will address the issue of race and ethnicity within the context of the newly formed ethnic studies concentration at Brown.
Hong Kong After 1997
with David Meyer, associate professor of sociology and urban studies and director of the Urban Studies Program at Brown
List Art Center Auditorium, Room 120
The momentous return of Hong Kong to Chinese control marks the end of colonialism in Asia and of the humiliation of China. Is its status as an Asian business center in jeopardy or will it soar under Chinese tutelage? Meyer is a specialist in the study of international financial centers, and his current research focuses on Hong Kong. He has recently completed a book tentatively titled Social Networks of Capital: Hong Kong as a Global Metropolis.
Cloning Sheep and Killing Kings: Some Fallacies of Modern Genetic Determinism
with author Stephen Jay Gould, Alexander Agassiz Professor of Zoology and professor of geology at Harvard University
Sayles Hall
"Humans are not the end result of predictable evolutionary progress, but rather a fortuitous cosmic afterthought, a tiny little twig on the enormously arborescent bush of life, which if replanted from seed, would almost surely not grow this twig again," writes Stephen Jay Gould
Gould, a professor of zoology and geology at Harvard University, considers himself primarily a paleontologist and an evolutionary biologist, and teaches geology and the history of science as well. He is the author of a number of award-winning books, including The Mismeasure of Man, Ever Since Darwin: Reflections in Natural History and The Panda's Thumb: More Reflections in Natural History. His newest book is Full House: The Spread of Excellence from Plato to Darwin.
Documentary Film in Transition: Changing the Notions of Truth, Art and Entertainment
with Peabody Award-winner and Emmy-nominated filmmaker Donna Rae Warren (Class of '87)
Salomon Center for Teaching, Room 101
The definition of documentary filmmaking has changed since its heyday in the 1960s; evolving technology, experimentation with the form to include fiction techniques, and the involvement of television economics, audiences and styles have all contributed to growth and change. Using excerpts from her own films and others, Warren - who for the last 10 years has been producing, directing and writing non-fiction films - will discuss the evolving meaning of "truth" in film, and the creative and ethical issues it raises.
3:30 PM
AIDS: In the Trenches with a Gay Physician
with Donald Abrams (Class of '72), M.D., assistant director of the AIDS Program at San Francisco General Hospital and a professor of clinical medicine at the University of California, San Francisco.
Salomon Center for Teaching, Room 001

Little could match the social, political and economic impact AIDS has had on the American and world consciousness. Who could have predicted in 1981 that AIDS would take such a devastating toll; that it would engender so much anger, hatred and guilt, as well as compassion and understanding? We have come a long way in the last two decades in our understanding of how AIDS is spread and what resources can be brought to bear in the fight against it; much of that advancement has come from the heart and minds of individuals such as Donald Abrams, MD. In this forum, Abrams will share his personal accounts and observations as well as information about recent treatment advances.

The Monroe Doctrine for the Transformation of Public Schools
Lorraine Monroe, former principal of the Frederick Douglass Academy for College and Professional Careers, P.S. District 5 in New York City, and founder and director (1985-1989) of the Center for Minority Achievement at Bank Street College
Sayles Hall

The Monroe Doctrine - as in Lorraine Monroe. Hear from this veteran educator who began her career in secondary education in the Bronx in 1971 after her graduation from Hunter College. Twenty-five years later, she brings experiences as a dean, educational consultant and principal to bear on the current crises in minority achievement. Monroe founded the Center for Minority Achievement at Bank Street College and served as its director until 1989, and most recently served as principal of the Frederick Douglass Academy for College and Professional Careers in New York City's P.S. District 5. Direct and articulate, Monroe has been acknowledged nationally as a poignant spokesperson and advocate for secondary (and primary) education and school reform.

Life on Mars? And Other Tales from Exploring the Solar System
with Wesley T. Huntress (Class of '64), associate administrator for space sciences at NASA, and Brown Geological Sciences faculty members James Head, Jack Mustard and Peter Schultz
Salomon Center for Teaching, Room 101

Less than a year ago, a group of NASA and university scientists published a report indicating evidence for possible fossil life in a Martian rock that fell to Earth. More recently, the Galileo spacecraft sent back stunning pictures of iceberg-like structures on Europa, a moon of Jupiter, suggesting the presence of a subsurface ocean. NASA's Wesley Huntress and Brown geological sciences faculty will discuss the background to these exciting findings, the evidence, and NASA's plans to explore Mars and other bodies in the future to understand their history and the possibility of life in the past and present.

Applying Theory Beyond Academia: A Discussion of Undergraduate Research at Brown.
with 1997 Resource Scholars Jennifer Pelli (Class of '97), Hannah Burton (Class of '97), Lucia Trimbur (Class of '97), Sam Moyer (Class of '98); UTRA recipient Monelle Lawrence (Class of '97); and Hughes Fellow Jayson Pereira (Class of '97).
Carmichael Auditorium, Hunter Laboratory

The Resource Center and the Dean of the College sponsor various programs that promote interdisciplinary studies. This forum will focus on the role that research plays in the values espoused in a liberal education.

Six undergraduates will offer their outstanding work as a basis for conversation and interaction with the audience. Jennifer Pelli investigated the ethical theories which influence adolescent medical decision-making; Hannah Burton used the lens of environmental justice to analyze Providence's proposed policy for vacant and abandoned land; Lucia Trimbur explored the ways that food and nutrition of low-income families in South Providence will be affected by welfare reform; and Sam Moyer focused on the cycles of conquest and colonization that have defined relations between Guatemala and the United States. Monelle Lawrence will discuss her UTRA project that entailed research on comparative health systems in both developed and developing countries. Jayson Pereira, recipient of two Hughes Fellowships, will discuss his projects: one investigating smooth muscle contraction, the other a research project that focused on the regulation of immune responses in mice.

"Why Not?"
with Joanne Lee P '95, president of Star Communications, Inc.
List Art Center Auditorium, Room 120

"Some men see things as they are and say `Why?' I dream things that never were and say `Why Not?'" - George Bernard Shaw

Joanne Lee took up the challenge of this question. She is a pioneer in her country, Korea. As a young widow with two daughters, one a Brown alumna from the class of 1995, Lee earned a master's degree and began her business career by breaking a barrier for women when she became a manager in Korea's only five-star international hotel. In 1976, she founded Star Communications, Inc., an international public relations and communications consulting service. As president of this company, Lee helps international businesses and foreign governments do business with and in Korea and organizes and promotes major international conferences and exhibitions.

In 1994, Lee wrote her first book, an autobiography that became an immediate best-seller in Korea. In her forum, Lee will explore how one can achieve "the impossible" by daring to dream and by challenging the conventional by asking "Why not?"

######
96-129