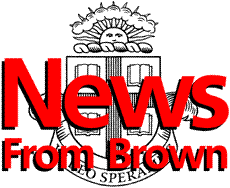 ---
The Brown University News Bureau
Contact: Linda Mahdesian

Alumni Recognition Ceremony
Pioneering thoracic surgeon to receive top alumni award Oct. 18
On Saturday, Oct. 18, the Brown Alumni Association will present Dr. Hermes C. Grillo (Class of 1943) with the William Rogers Award, its highest honor, at the Fourteenth Annual Alumni Recognition Ceremony. Seventeen alumni will be honored during the ceremony.
PROVIDENCE, R.I. -- Hermes C. Grillo, M.D., a 1943 summa cum laude graduate of Brown and a renowned thoracic surgeon, will receive the William Rogers Award at the Brown Alumni Association's (BAA) Fourteenth Annual Alumni Recognition Ceremony and Luncheon on Saturday, Oct. 18, in the Olney-Margolies Athletic Center. Grillo will be the featured speaker at the ceremony. His speech is entitled, "Medicine Then and Now: Successes and Failures."
During the ceremony, the BAA will present Brown Bear Awards to three alumni for distinguished University service and will honor the 10 winners of the Alumni Service Award, in addition to two winners of the John S. Hope Award. Chelsey Carrier Remington '61 will receive the H. Anthony Ittleson '60 Award, given by the Brown University Annual Fund.
Established in 1984, the William Rogers Award is named for the first student and graduate of Brown. It honors annually an alumnus or alumna whose service to society in general is representative of the words of the Brown Charter: living a life of usefulness and reputation. Service to Brown is not considered in the selection of the recipients. Past recipients include Ambassador and Bosnian peace negotiator Richard C. Holbrooke; astronaut Byron K. Lichtenberg; Pulitzer Prize and Academy Award-winning screenwriter Kurt M. Luedtke; Samuel M. Nabrit, scientist, educator and the first African-American to receive a Brown Ph.D.; Kathryn S. Fuller, president of the World Wildlife Fund; and Linda Mason, executive producer of CBS News.
Hermes C. Grillo, M.D.
Described as "the father of tracheal surgery," Grillo has devoted more than 30 years to developing an entire field of medical and surgical knowledge and methodology. Grillo graduated from Harvard Medical School, where he is on the faculty. In 1961 he began to design a broad system of approaches to many diseases involving the trachea, the carina, and the bronchi. His work resulted in the effective management of tumors which previously could not be treated. Additionally, Grillo's work led to the prevention of tracheal lesions. He is considered the leading expert in all areas of windpipe surgery.
For 25 years Grillo served as chief of general thoracic surgery at Massachusetts General Hospital, developing one of the finest thoracic treatment and educational units in the world. The techniques he pioneered are now used internationally, with benefit to countless patients. He has published more than 260 scientific papers and books, has served on multiple editorial boards of scientific journals, and has been president of several thoracic surgical societies. He has also served as visiting professor, invited lecturer or postgraduate faculty member at Johns Hopkins, the Mayo Clinic, Yale, Sloan-Kettering, Duke and many other prestigious universities, medical schools and hospitals worldwide.
Grillo served in the U.S. Navy during the Korean War, one year of which he spent doing surgery with the First Marine Division; he was awarded a Naval commendation ribbon. He is the father of four children, including Amy Grillo '87, and grandfather of seven.
The Brown Bear Awards
In 1946 the BAA adopted a recommendation from the Brown Club of New York that a Brown Bear Award be given by the association to recognize outstanding personal service rendered the University over a period of years. Each year an anonymous committee reviews nominations from alumni and staff and selects one to three recipients, following the original recommendation that neither financial aid given the University nor achievement in the fields of business or profession be considered. This year's recipients are:
Knight Edwards '45, of Providence, R.I., a trustee emeritus and formerly Brown's senior legal counsel and a retired partner of Edwards & Angell, has long been admired for his devotion and loyalty to his alma mater. From advising the University on its partnership with Tougaloo College to presiding over the merger between the Associated Alumni of Brown University and the Pembroke Alumni Association, Edwards has played a key leadership role in several of Brown's most important strategic decisions since the early 1960s. As alumnus trustee, Edwards chaired the "Edwards Committee," which reviewed alumni programs. The committee's recommendations guide the Alumni Association to this day. His involvement has encompassed every facet of alumni programming, from class and club leadership to the Friends of the Library, from the Brown Alumni Network - reaching out to undergraduates with career advice, to alumni continuing education.
Claire J. Henderson '61, of Avon, Conn., a retired vice president of Cigna Financial Advisors, has served as a model for Brown women since her graduation. A strong leader with a broad interest in alumnae and alumni affairs, Henderson has participated on several Corporation committees and is a past national co-chair of the Brown Annual Fund, where she remains an active volunteer. Henderson's involvement has enabled her to help shape the way Brown organizes its alumni classes, reunions and fundraising efforts. She has served on all of her reunion gift committees and many of her reunion activities committees, and she has served several terms on the board of governors of the Brown Alumni Association. Her great affection for Brown is most evident during the annual Commencement procession, where she has been an aide, marshal and chief of staff.
Roger B. Simon '61, of Snyder, N.Y., a partner with Gibson McAskill & Crosby, has been a leader in every area of alumni programming, serving as national chair of the Brown Alumni Schools Committees (formerly the National Alumni Schools Program), president of the Brown Club of Buffalo, and a class and reunion leader. As head of BASC, Brown's largest active volunteer organization, Simon initiated a process which would later lead to a new vision for the program, devoting countless hours to analyzing data and strategically thinking about the future of this crucial alumni admission program. Additionally, Simon has served several terms on the board of governors of the Brown Alumni Association, where his vision helped shape changes in student-alumni programming and volunteer management.
The H. Anthony Ittleson '60 Award
This award is given by the Brown Annual Fund to a volunteer or group of volunteers who best exemplify the extraordinary leadership of H. Anthony Ittleson '60, national chairperson of the Brown Annual Fund from 1986 to 1990.
This year's recipient is Chelsey Carrier Remington '61, of Still River, Mass., who has distinguished herself as an exceptional volunteer for Brown for many years. Remington has played a vital role in leading the class giving campaigns since her 20th reunion in 1981. As a member of the Brown Annual Fund Executive Committee for the past 15 years, Remington has contributed enormously to committee's efforts on behalf of Brown. Since 1995, she has served as a vice chair of the Sub-Committee on Reunion Giving, and was instrumental in leading an initiative to review the recognition of class philanthropy. The recommendations made by that sub-committee are to be implemented in 1997-98. Beginning last July, she assumed a new role on the Executive Committee as vice chair of the Sub-Committee on Annual Giving Leadership Initiatives. In this capacity, she will lead a team of volunteers which will focus on strengthening annual support to Brown through alumni class and parent leadership committees. Since 1983, Remington has been a member of the Pembroke Center Associates Council, including four years as president.
The John S. Hope Award
In 1994, the Alumni Association established the John S. Hope Award in honor of an 1894 African-American graduate of Brown, who became president of Morehouse College and dedicated his life to education and community service. This award is given to an alumnus or alumna who has shown extraordinary commitment to volunteer public service. This year's recipients are:
Mary Louise Hinckley Record '37, of Portland, Maine, is a lifelong volunteer. For the last decade, she has worked in many departments of the Maine Medical Center in Portland, where she began volunteering shortly after the death of her husband Nelson Record '35. She is a charter volunteer at a new facility that brings all of the oncology units together under one roof. As facilitator she visits with and provides information to patients and their families. As a breast cancer survivor of more than 45 years, Record has used her personal experience of loss and growth to uniquely touch the lives of seriously ill people.
Thomas J. Brown '50, of Canton, Mass., trustee emeritus, created Job Clearinghouse, Inc. (JCI), after his experiences in the corporate world. This nonprofit employment agency specializes in placing minorities in professional jobs. One of the very first job placement agencies to target minorities, JCI takes a unique approach to training. Time is spent not only on developing professional skills but also on refining professional presentation which helps candidates to succeed in job interviews. JCI has received grants from the Ford Foundation and Harvard Business School, along with the help of dozens of volunteers (many of whom benefited from a job placement through JCI) over the years. Since it started in 1961, JCI has placed more than 10,000 people in professional positions.
The Alumni Service Awards
These awards are given annually for distinguished, continuing volunteer service to Brown. The committee considers volunteer service as the key criteria, regardless of financial contributions made to the University. This year's recipients are:
Dorothy Berger Friar '42, of Providence, R.I.
Henry A. Vandersip '56 and Phebe P. Vandersip '98, of Cranston, R.I.
Richard B. Mertens '57, of Boston, Mass.
David W. Bloom '71, of Hastings-on-Hudson, N.Y.
Paul T. von Oeyen '71, M.D. '75, of Bloomfield Hills, Mich.
Marc C. Bergschneider '73, of Easton, Conn.
Julio A. de Quesada '74, of Colonia Juarez, Mexico
Randall P. Sherman '75, of Beverly Hills, Calif.
Rebecca T. Bliss '92, of Washington, D.C.
The Brown Alumni Association
The Brown Alumni Association is the official, independent organization of Brown alumni, encompassing alumni of the undergraduate college, the graduate school and the Brown Medical School. The association's mission is simple: to keep alumni connected to the richness of Brown, so that they will always stay a part of the life of the University.

BAA provides a diverse array of activities from public service projects to alumni study groups designed to appeal to a broad spectrum of alumni. Prospective students are recruited through Brown Alumni Schools Committees, an organization of more than 5,000 alumni volunteers, and they counsel undergraduates and other alumni on career issues through the Brown Alumni Network, which is 11,000 alumni strong. Fifty Brown clubs, in association with Multicultural Activities Committees, create networks for all alumni in their local communities, strengthen Brown's presence across the country and throughout the world, and bring alumni into contact with Brown faculty and the intellectual life of the University.

######
97-033