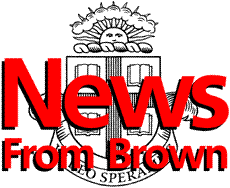 ---
The Brown University News Bureau
Contact: Mark Nickel

Brown Office of Police and Security Services issues safety bulletin
After a shooting on campus early Saturday morning, December 20, 1997, Brown's Office of Police and Security Services issued a safety bulletin for the University community. The bulletin is being distributed to faculty, staff and students who remain on campus for the winter break and will be distributed to the student body when classes resume late in January.
SAFETY BULLETIN


On Saturday, December 20, 1997, a Brown University senior was the victim of a shooting on Power Street between Thayer and Brook. Brown Police and Security Services and Providence Police responded to the scene at 1:17 a.m. and 1:19 a.m. respectively. The student is currently in Rhode Island Hospital with injuries that are not considered life-threatening.
The student and witnesses reported three males leaving the area in a dark-colored vehicle. The student was shot after he approached a car which pulled up beside him as he was walking home from the Graduate Center area. Detectives from both the Providence Police Department and Brown Police and Security Services are investigating. Although we have no conclusive evidence that the shooting was a random act of violence, we are treating it as such.
The Office of Student Life and Brown Police and Security are offering ongoing assistance to the student as well as his parents and friends. Our concern is that he should have a healthy recovery and that the Brown community should know that this incident is being thoroughly investigated.
We are also concerned that Brown faculty, staff and students be aware of safety precautions which they should use on a regular basis. For your information, some essential safety tips are listed below.
SAFETY TIPS

Don't walk alone at night. Walk in groups whenever possible. If you must walk alone, use well-lighted areas. On January 23, 1998, the campus shuttle service and escort service will resume. Use these services whenever possible.


Be aware of your surroundings. Know your route beforehand.


Familiarize yourself with the locations of on-campus emergency phones.


If you are approached by car or on foot by unknown persons, don't make eye contact, avoid making potentially inflammatory remarks, and continue walking. Do not approach a vehicle with unknown persons.
IF YOU FEEL UNSAFE
IMMEDIATELY CALL BROWN POLICE & SECURITY
x4111 or x3322
######
97-064a