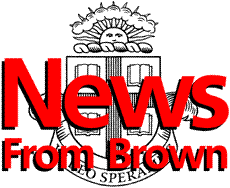 ---
The Brown University News Bureau
Contact: Linda Mahdesian

Stakeholders' forum will examine public access to police documents
Police, ACLU, legal experts and the public will gather at Brown University at 7 p.m. Wednesday, April 8, for an open forum on the police and access to public documents.
PROVIDENCE, R.I. -- Brown University will host an open forum to discuss access to police documents at 7 p.m Wednesday, April 8, in Room 102 of Wilson Hall, located on The College Green. Admission is free and the public is invited to attend and participate.
The goal of the forum is to involve many of the significant stakeholders in an open discussion of concerns surrounding access to police documents. There will be representatives from police departments, the ACLU, legal experts and the public. Nancy Rosenblum, professor of political science at Brown, will moderate the discussion with the following panelists: Dan Barry, a reporter from the New York Times; Steve Brown, president of the Rhode Island chapter of the ACLU; East Greenwich Police Chief Lawrence Campion; Sarah Coburn, a sophomore at Brown who was involved in a statewide study of access to public documents; Col. Edmund Culhane of the Rhode Island State Police; and Walter Phillips, a lawyer with expertise in police secrecy issues.
The forum will focus on three questions:
Why does accessibility of police documents differ across jurisdictions? What are some of the barriers to public access?
What is the culture of the police and how does it affect the public's ability to access open records?
Does the public's right to know jeopardize the police's ability to investigate?
The forum will begin with 10-minute remarks from each panelist about what he or she believes are the most important concerns surrounding these three questions, to be followed by a moderated discussion that will be open for public comment and questions.

######
97-106