PROVIDENCE, R.I. — Brown University signed an agreement yesterday stating the intention to purchase seven buildings and other properties in Providence's Jewelry District. The purchase, one of the largest in the University's history, comprises 232,000 rentable square feet in seven buildings, as well as a 400-car parking garage and related parking areas. The University has not yet determined how the space will be used.
In a letter to the Brown community announcing the agreement, President Ruth J. Simmons said the purchase "will provide Brown with new options for growth as we continue to implement the Plan for Academic Enrichment."
The University is purchasing the properties from Belvoir Properties. The decision to move forward on the purchase was made this week by the Advisory and Executive Committee of the Corporation.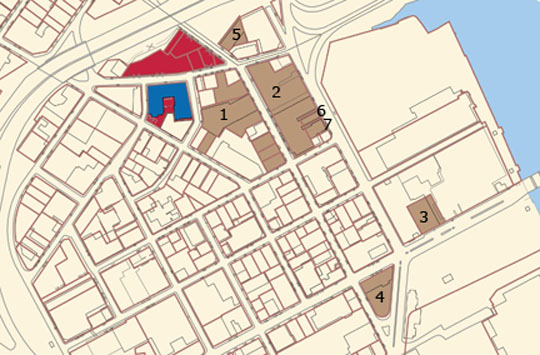 ---
---
The properties acquired by the University include:
233 Richmond Street
222 Richmond Street
One Davol Square
Ten Davol Square
196 Richmond Street
339 Eddy Street
349 Eddy Street
These are currently commercial properties, offering office space and some limited retail space. Brown will honor existing leases and will pay full property taxes on the facilities as long as they are not used in support of the University's institutional mission. If at some point any of the properties are committed to University use, Brown will begin the 15-year transition process from fully taxable status to tax-exempt status, a process outlined in a June 7, 2003, agreement with the City of Providence.
During the last two years, Brown has been engaged in a long-term planning process that will enable the University to make strategic investments in facilities beyond the campus on College Hill. Last year, the University purchased the 11-story 121 South Main Street building that will house Brown's Program in Public Health. In 2004, Brown purchased the building at 70 Ship St., which was retrofitted to create the University's Laboratories for Molecular Medicine.
The University expects to close on the purchase of these properties in early 2007.
######