PROVIDENCE, R.I. — Brown University has named its medical school in honor of businessman, entrepreneur and philanthropist Warren Alpert, in recognition of a $100-million gift from The Warren Alpert Foundation. The Brown Corporation, the University's governing body, named the school as The Warren Alpert Medical School of Brown University during a special meeting Jan. 18, 2007.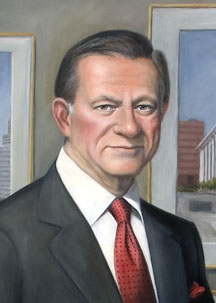 ---
---
"Warren Alpert and The Warren Alpert Foundation have made support for health care and biomedical research their top priority," said Brown President Ruth J. Simmons, in announcing the gift. "With this extraordinary gift, the Alpert Foundation is not only supporting generations of talented young people who will enter medical careers, but is also improving the environment for medical care and research in the State of Rhode Island. Naming the medical school in honor of Mr. Alpert is a fitting tribute to his long-standing interest in excellence in medical care."
A recipient of the Purple Heart for his actions at Omaha Beach in 1944, Alpert began his own business in 1950 with, as he put it, "$1,000 and a used car." As the sole owner of Warren Equities Inc., he now has a company that Forbes magazine annually lists among the top 400 privately owned U.S. companies. The company sells fuel and groceries from more than 400 service stations and convenience stores from Maine to Virginia under its Xtra Mart brand and has interests in transportation and real estate.
The naming gift comes at a time when the University is making significant investments in medical education and the life sciences. "Medical education at Brown University is moving into a new era," said Eli Y. Adashi, dean of medicine and biological sciences. "We are building on the achievements of the past and expanding our vision and ambition. We are increasing the student body by approximately 30 percent while continuing to offer an innovative medical curriculum, working at the forefront of many exciting new areas of biomedical research, and building new facilities for research and teaching alike. We are grateful for Mr. Alpert's contribution to the future of medical education at Brown University."
A portion of the gift will help finance construction of a new building that will house classrooms, administrative offices, and other instructional spaces for The Warren Alpert Medical School of Brown University.
The gift will support other investments in medical education at Brown, including:
an endowment to establish The Warren Alpert Scholars Program, which will provide scholarship support for medical students;
a fund to support biomedical research;
a fund for faculty recruitment;
two new endowed professorships and an endowment to support faculty-designed innovations in medical education.
"Throughout his career, Warren Alpert has used his philanthropy in ways that will directly improve the health and medical care of our nation, and he established the Foundation to continue that purpose," said Herbert Kaplan, president and CEO of Warren Equities Inc. and president of The Warren Alpert Foundation. "We are pleased to have his name associated in perpetuity with the educational and research mission of the medical school at Brown University."
"This generous gift means a great deal to Brown medical students," said Neel T. Shah, president of the Medical Student Senate. "A new, modern building near the city's teaching hospitals will give our medical school a physical identity and enable students at all levels of training to learn cutting-edge medicine under a common roof. Just as importantly, the additional financial aid will reduce the debt burden that medical students carry and give them more freedom to choose their specialties as physicians," Shah said.
The Alpert gift is the largest gift ever provided to Brown Medical School and makes a significant contribution to the University's comprehensive campaign, Boldly Brown: The Campaign for Academic Enrichment. The campaign's goal is to raise $1.4 billion to fund a wide range of University priorities. The gift from the Alpert Foundation brings the campaign total to $935 million.
Warren Alpert
A native New Englander, Alpert was born in Chelsea, Mass., the youngest of five children. His parents, Tena and Goodman Alpert, were Lithuanian immigrants. He earned a bachelor of science degree at Boston University in 1942, then served in military intelligence during World War II.
After his military service, he returned to Boston, completing the Harvard Business School's Advanced Management Program. In 1947, he received an M.B.A. from Harvard Business School, with help from the G.I. Bill and went on to start his own business in 1950.
Today, Warren Equities Inc. posts more than $1 billion in annual sales, selling fuel and food items through its Xtra Mart stores and engaging in transportation and real estate. The company employs more than 2,100 people in 11 states.
The Warren Alpert Foundation, created and funded entirely by Alpert, is a private philanthropic effort with primary interests in health care. It has funded scholarships, fellowships, biomedical research laboratories and clinical care facilities at Harvard Medical School, Mount Sinai Hospital and other institutions. Since 1986, it has awarded The Warren Alpert Foundation Prize to some of the world's leading scientists and medical researchers for their contributions to humanity and the breakthroughs they have made in understanding and curing major diseases.
Medical Education at Brown University
Brown University's medical school is recognized for its innovative approach to medical education. It was established in the early 1970s as a medical school noted for its integration into the broader academic life of a research university. The lack of a sharp distinction between medical school faculty and University faculty encourages interdisciplinary exchanges both in teaching and in research. Unusual among medical schools at leading universities, Brown's medical school admits a substantial portion of its student body directly after high school graduation. Its hallmark eight-year course of study, combining undergraduate and M.D. programs, encourages students to continue a variety of academic interests throughout their medical student years.
The University is affiliated with seven teaching hospital partners in and around Providence. These partnerships have fostered a strong environment for biomedical research and have enabled the hospitals to improve health care for Rhode Island and southeast New England.
The University's strategic plan, adopted in February 2004, includes significant new investments in medical education and life-science research. Since 2002, the University has hired 19 new tenure-track professors in the biological sciences, public health and medicine and has a goal of hiring at least 20 more. In the last three years, Brown has opened two major biomedical research facilities – the Laboratories for Molecular Medicine in the Providence Jewelry District and the new Sidney E. Frank Hall for Life Sciences, constructed on the College Hill campus. It has also acquired an 11-story office building near campus for the Program in Public Health.
In addition, Brown has forged a research and educational affiliation with the Marine Biological Laboratory in Woods Hole, Mass., and launched or expanded a number of innovative research and educational initiatives, including the Center for Recovery from Trauma, the Center for Computational Molecular Biology, the Center for Genomics and Proteomics, the Center for AIDS Research, the Center for Environmental Health and Technology, and the Brain Sciences Program. These activities complement existing areas of interdisciplinary research activity in the life sciences that include human development, alcohol and addiction studies, women's health, gerontology, and international health.
Editors: Brown University has a fiber link television studio available for domestic and international live and taped interviews and maintains an ISDN line for radio interviews. For more information, call the Office of Media Relations at (401) 863-2476.
######