PROVIDENCE, R.I. [Brown University] — Brown University has appointed Ricardo Lagos Escobar, former president of the Republic of Chile, to a five-year term as professor-at-large, based in the University's Thomas J. Watson Jr. Institute for International Studies. His appointment begins July 1, 2007.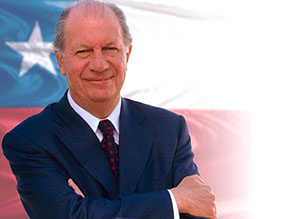 Widely regarded as one of Latin America's most important political leaders, Lagos served as president of Chile from 2000 to 2006. During his term, Lagos was known for aggressively pursuing free-trade agreements, improving healthcare and education legislation, and addressing the crimes of Augusto Pinochet's military regime.
"This is a very valuable appointment, as Brown and the Watson Institute continue to build bridges to South America," said Brown University President Ruth J. Simmons. "I am pleased that President Lagos will share his firsthand knowledge in Latin American politics with the Brown community and help guide the University's continuing efforts in its internationalization initiative."
As professor-at-large, Lagos will spend several weeks in residence during the course of each academic year, delivering public lectures, working with students both in class and outside of the classroom, and participating in events and research discussions at the Watson Institute. Some of his time at Brown will be spent in collaboration with Fernando Henrique Cardoso, the former president of Brazil, who is also a University professor-at-large at the Watson Institute.
"We are fortunate to have both President Lagos and President Cardoso in our midst, to bring political experience and expertise of the highest level to bear on our studies of Latin America," said Watson Institute Director Barbara Stallings. "Chile provides an exceptional case study of economic growth and political stability in the wake of a turbulent past."
Lagos earned a law degree from the University of Chile in 1960 and then attended Duke University, where he received a Ph.D. in economics in 1966. He returned to Chile and served as director of the University of Chile's School of Political and Administrative Sciences and was subsequently appointed secretary general of the Latin American faculty of social sciences. Prior to the military coup against Allende, Lagos had been nominated Chilean ambassador to the Soviet Union. In 1973, however, shortly after the appointment, Allende was overthrown by Gen. Pinochet, and Lagos was never confirmed.
Following the coup, Lagos lived in the United States and Argentina. He served at the United Nations as consultant and economist in UNESCO, and later at the International Labor Organization. In 1978, he returned to Chile, where he became president of the Democratic Alliance, a coalition of parties opposed to Pinochet. In 1987, Lagos founded the Party for Democracy (Partido por la Democracia). He served as minister of education under the government of Patricio Aylwin (1990-1994) and as minister of public works under President Eduardo Frei (1994-2000). Elected president in January 2000, Lagos became the first socialist to hold the office since Allende.
Since leaving office, Lagos has founded the Foundation for Democracy and Development (Fundación Democracia y Desarrollo) in 2006 and currently serves as its president. He also heads the Club of Madrid, an organization of former presidents whose mission is to promote democracy.
Brown established the professor-at-large position to invite individuals of exceptional distinction to participate in the intellectual and academic life of the University. In addition to Cardoso and Lagos, current professors-at-large include Carlos Fuentes, the distinguished author; Shirley Brice Heath, a linguistic anthropologist; and Richard C. Holbrooke, former U.S. ambassador to the United Nations and Germany.
The Watson Institute for International Studies at Brown University is a leading center for research and teaching on international affairs, focusing on global development, environment, security, and related issues of culture and identity.
Editors: Brown University has a fiber link television studio available for domestic and international live and taped interviews, and maintains an ISDN line for radio interviews. For more information, call (401) 863-2476.
######