About the Observatory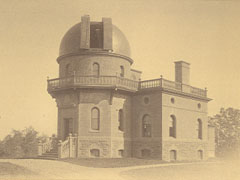 Brown University's historic Ladd Observatory was constructed in 1890-91 and opened in October 1891 under the direction of Prof. Winslow Upton. A regular program of transit observations and timekeeping was started in 1893. Prof. Charles Smiley, famous for his observations of solar eclipses, became director of Ladd Observatory in 1938. Associate Dean of the College David Targan is the current director.
The Observatory is open to the public for telescope viewing on Tuesday evenings, weather permitting.