Astronomical Spectroscopy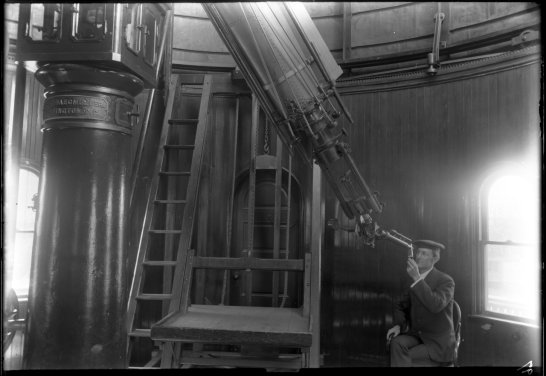 Observer Frederick Slocum using a spectroscope on the 12" refractor at Ladd Observatory. March 15, 1905.
Frederick Slocum (Brown University class of 1895) received the first Ph.D. in astronomy at Brown in 1898 and served as assistant professor of astronomy from 1899 to 1909.
Brashear spectroscope and accessories. Circa 1895.
This astronomical spectroscope could also be mounted on a table top to study the spectra of chemicals and to calibrate the instrument.

The spectrum of the Sun before the solar eclipse of May 28, 1900.
The dark Fraunhofer lines in the spectrum can be used to identify the chemical elements present in the Sun or any distant star.
Credits: scans of glass plate photographs from the Ladd Observatory records, Brown University Library