Senior orators aim to inspire
May 7, 2013 | Contact: Kevin Stacey | 401-863-3766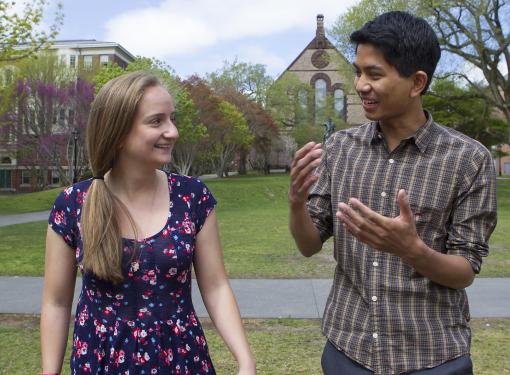 History concentrator Elizabeth Mills, of Washington, D.C., and applied math/biology concentrator Tanayott Thaweethai, of Union City, Calif., have been chosen to address their classmates as this year's senior orators. Asking members of the graduating class to deliver Commencement orations is a Brown University tradition almost 250 years old.
PROVIDENCE, R.I. [Brown University] — In keeping with a centuries-old tradition, graduating Brown University seniors will look to two of their own for messages of inspiration during this year's Commencement ceremony on Sunday, May 26. Elizabeth Mills, a history concentrator, and Tanayott Thaweethai, an applied math and biology concentrator, have been chosen as this year's senior orators.
Brown's tradition dates to the University's first Commencement ceremonies, when students demonstrated their oratory skill by addressing their classmates and University guests in Greek or Latin. This year's orators were chosen by a committee of faculty, students, and administrators from a field of more than 100 nominations.
---
245th Commencement set for May 26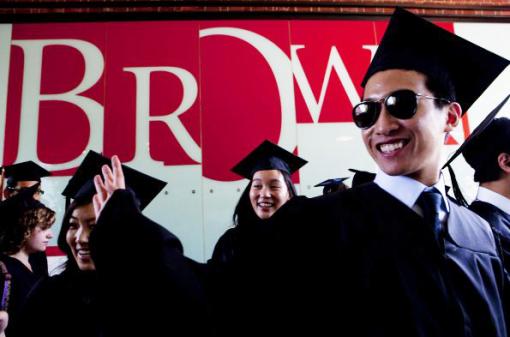 Brown University's three-day Commencement/Reunion Weekend begins Friday, May 24, and concludes with the 245th Commencement exercises Sunday afternoon.
PROVIDENCE, R.I. [Brown University] — President Christina H. Paxson will preside over Brown University's 245th Commencement on Sunday, May 26, 2013. The ceremony will begin with a procession composed of thousands of Brown University graduates, alumni, and faculty that will begin at the Van Wickle Gates and proceed down College Hill. The procession will cap a three-day Commencement and Reunion Weekend.
---
Beverly Hogan to give Baccalaureate address
May 1, 2013 | Contact: Courtney Coelho | 401-863-7287
Beverly Wade Hogan, president of Tougaloo College, will deliver the 2013 Baccalaureate address at 2:30 p.m. on Saturday, May 25, 2013, in the Meeting House of the First Baptist Church in America. Hogan will receive an honorary Doctorate of Humane Letters (L.H.D.) degree at the May 26 Commencement ceremony on the College Green
PROVIDENCE, R.I. [Brown University] — Tougaloo College President Beverly Wade Hogan will deliver the 2013 Baccalaureate address at 2:30 p.m. on Saturday, May 25, 2013, in the Meeting House of the First Baptist Church in America. Hogan has titled her address "The Responsibility of Privilege."
---
Brown to confer six honorary degrees May 26
April 24, 2013 | Contact: Mark Nickel | 401-863-1638
PROVIDENCE, R.I. [Brown University] — At its 245th Commencement Sunday, May 26, 2013, Brown University will confer honorary doctorates on six distinguished artists, writers, scientists and educators: