Faculty Profile: Cynthia Garcia Coll, PHD, MA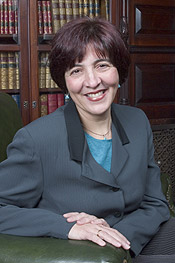 Cynthia Garcia Coll, PHD, MA
Professor
Education, Psychology, Pediatrics
Work
:
+1
401
-
863
-
3287
Areas of Specialization: Socio-cultural Influences on Development; High Risk Populations; Minority Populations: Infant Development; Mother-Infant Interactions

Presently, my scholarship is largely focused on the role of race and ethnicity on children's development. It is my position that much of our prevalent theoretical and empirical work falls short in delineating the mechanisms by which contextual forces influence families and children of color. Specifically, I have been working on the role of culture, acculturation, and different sources of oppression (i.e., poverty, racism, and discrimination) in shaping human development.
Biography
Cynthia García Coll is the Charles Pitts Robinson and John Palmer Barstow Professor of Education, Psychology and Pediatrics at Brown University. She has published on the sociocultural and biological influences on child development with particular emphasis on at-risk and minority populations. She has been on the editorial boards of many academic journals, including Child Development, Development and Psychopathology, Infant Behavior and Development, Infancy and Human Development and is the current Editor of Developmental Psychology. She was a member of the MacArthur Foundation Network: "Successful Pathways Through Middle Childhood" from 1994-2002. García Coll has co-edited several books: The Psychosocial Development of Puerto Rican Women; Puerto Rican Women and Children: Issues in Health, Growth and Development; Mothering Against the Odds: Diverse Voices of Contemporary Mothers; and Nature and Nurture: The Complex Interplay of Genetic and Environmental Influences on Human Behavior and Development. She is a fellow of the American Psychological Association.
Institutions
Bu
Research Description
This year has been a very busy year for my research program. I have worked in three main areas: completing my longitudinal study of children of immigrants, developing a new area of research on acculturation in collaboration with Amy Marks, a graduate student in Psychology and continuing collaboration with Professor Anne Fausto-Sterling on early sex differentiation.

On the children of Immigrant Study, we have completed about 90% of the data analyses and I have drafts of 6 of the 9 chapters of the book. I am expecting to send the whole book manuscript by the end of the summer of 2006 to the book publisher, Oxford University Press. We have also created a web site that gives information out on the study: (http://www.brown.edu/Departments/Education/research/cgc/)
Seeing the culmination of this study, which we started in 1998, is quite exciting but it will also require much of my attention this academic year.

In collaboration with graduate student Joe DiMartino, we are collecting five year follow-up data on the 400+ children of the Immigrant Study. This was not included in the original grants that were awarded for the study and it is very exciting to be able to conduct this follow-up. I am grateful for the research funding from the department that is making this possible.

The second main research activity consists of work conducted primarily by Amy Marks, under my supervision. Amy has created an experimental paradigm to measure responses to stimuli presented in a computer while the subject's cardiac responses are being monitored. The point of the paradigm is to move the field of measuring acculturation- comfort in a different culture than the one considered your own- to a new level of precision, measuring the actual response, its reaction time and the physiological responsivity that accompanies it. We worked this fall to get all the equipment, the computer program and the space needs taken care of and Amy just collected data on 40 subjects. This will constitute the first study in a series of studies that will eventually constitute her dissertation.

The third main research activity is a long term collaboration with Professor Anne Fausto-Sterling. This year we are submitting a manuscript for publication that constitutes the introduction of a new theoretical paradigm for the study of sex differentiation in humans. We have also obtained IRB approval for the analysis of videotapes that were originally collected by Ron Seifer for a study on infant temperament in order for us to be able to code them for the emergence of sex differences. We are in the process of getting this new research project of the ground, including hiring a new research assistant, acquiring the necessary equipment (computer, computer program and interface with video equipment, etc) and setting up the video tape coding protocol.

I also completed various other publication projects. One was an invited contribution to an edited book in Spain; the other was the completion of an edited book where I was one of the co-editors. This book is seminal in that it brings together very innovative, recent work on middle childhood, a rather understudied area of human development. I was also invited to contribute to an edited book on bilingualism, which is now in press, and which I am co-authoring with a graduate student at Brandeis who is working on my research program, Flavia Peréa. Finally, we have made research presentations both at national conferences and at other higher education institutions.
Grants and Awards
1975-1978 Graduate Fellowship, University of Puerto Rico
1977-1981 Minority Graduate Fellowship, Ford Foundation
1982-1983 Young Scholar in Social and Affective Development, Foundation for Child Development
1984-1987 Member, MacArthur Foundation Network: Transition from Infancy to Childhood (New England Node)
1994-2003 Member, MacArthur Foundation Network: Successful Pathways Through Middle Childhood
1998 Leadership in Health Award, Progreso Latino Inc.
1999-Present Fellow, American Psychological Association
2000-2001 Harrison S. Kravis University Professor
2001-Present Charles Pitts Robinson and John Palmer Barstow Professor
2002-2003 Edith Goldthwaite Miller Faculty Research Fellowship
Affiliations
1980-1981 Consultant for Early Intervention Programs,
Government of Venezuela
1983-1987 Ad hoc reviewer for Child Development
1983-1988 Ad hoc reviewer Infant Behavior and Development
1983-1988 Ad hoc reviewer Interamerican Journal of Psychology
1984-1986 Special reviewer for research proposals, NICHD
1984-1994 Ad hoc reviewer for The Journal of Pediatrics
1987-1989 Member of the Editorial Board, Child Development
1987-1992 Member of the Committee on Child Development Research and Public Policy, National Research Council of The National Academy of Sciences
1987-1991 Ad hoc reviewer, Infant Mental Health Journal, Journal of Pediatric Psychology
1987-1993 Member of the Committee on Minority Participation, Society for Research in Child Development
1988-1992 Member of the Maternal and Child Health
Research Grants Review Committee
1988-1993 Member of the Editorial Board, Infant Behavior and Development
1989-1990 Ad Hoc reviewer, Journal of Adolescence
1989-1994 Ad Hoc reviewer, Child Development
1991-1993 Chairperson, Committee on Racial and Ethnic Issues, Society for Research in Child Development
1991-1996 Consultant, Homeless Mothers and Children: A population based study, Better Homes Foundation
1992-1993 Chairperson, Boyd McCandless Award Committee, APA Division 7
1993-2001 Consultant, MacArthur Foundation
1994-2001 Member, Program Committee, National Head Start Research Conference
1994-Present Member of the Editorial Board, Development and Psychopathology
1995-1997 Member, Publication Committee, Society for Research in Child Development
1996-2002 Member, Governing Council, Society for Research and Child Development
1997-1998 Ad Hoc reviewer, Developmental Psychology
1997-2004 Member, Committee on Racial and Ethnic Issues, Society for Research and Child Development (Chair, 2001-Present)
1997-Present Member, Editorial Advisory Board, Brown University Child and Adolescent Behavior Newsletter
1997-Present Advisory Editor, Human Development
1997-2000 Member, Editorial Advisory Board of Zero to Three: National Center for Infants, Toddlers, and Families
1998-Present Consulting Editor for National Head Start's research journal,
NHSA Dialog: A Research-to-Practice Journal for the Early Intervention Field
2000-2003 Member Editorial Board, Infancy
2004-Present Editor, Developmental Psychology
Funded Research
1976-1977 Principal Investigator, Sigma XI Foundation: Effects of high risk factors on neonatal behavior
1977 Principal Investigator, University of Florida, Graduate School of Arts and Sciences, Research Grant.
1977-1979 Co-Principal Investigator, NICHD Center for Population Research: Cross-cultural study of teenage pregnancy and neonatal behavior.
1981-1986 Co-investigator, MacArthur Foundation: The significance of behavioral inhibition during the preschool years: A longitudinal study.
1982-1983 Principal Investigator, Foundation for Child Development: The impact of adolescent motherhood on socioemotional development during the first year of life.
1984-1985 Principal Investigator, MacArthur Network: Language and autonomy during the transition for children of adolescent mothers.
1985-1986 Principal Investigator, National Institute of Mental Health: Communicative skills in teenage mothers and their infants.
1985-1987 Co-investigator, Ford Foundation: Behavioral intervention with adolescent mothers and low Ponderal Index infants.
1987-1989 Co-investigator, March of Dimes Foundation: Visual and neurodevelopmental assessment of low birth weight infants with cerebral intraventricular.
1987-1989 Co-investigator, Infantest Corporation: Identification of Infants at Risk for Mental Retardation.
1988-1992 Principal Investigator, Bureau of Maternal Child Health: Behavioral Intervention with IUGR Infants.
1991-1996 Co-Principal Investigator, National Institute of Child and Human Development: Behavioral Intervention and Growth and Development in Infants with Intrauterine Growth Retardation,
1991-1996 Co-Investigator, National Institute of Child and Human Development: Diabetes During Pregnancy: Effects on the Offspring
1993-1997 Co-Principal Investigator, National Institute of Child Health: Normative Development Among Puerto Rican Adolescents.
1993-1999 Co-Principal Investigator, National Institute of Child Health: Social Ecology of After School Care.
1994-1999 Co-Principal Investigator, Bureau of Maternal and Child Health, Health and Development of Puerto Rican Children
1996-2003 Principal Investigator, MacArthur Foundation: Socioemotional Study of the Children of Immigrants
1999-2003 Co-Principal Investigator, National Institute for Child and Human Development: Father Role Among Puerto Rican Young Men.
2002-Present Principal Investigator, WT Grant Foundation, "The Evolution and Relationship between Ethnic/Racial Identity and School Engagement with Minority Children"
P. I.: Cynthia Garcia Coll, Ph.D.
Agency: William T. Grant Foundation
Type: Private. Period: 1/1/2003-6/31/2005.
Total Award: $292,974
Selected Publications
Erkut, S., Alarcon, O., Garcia Coll, C.T., & Szalacha, L.A.: Stereotyped perceptions of adolescents' risky behaviors. Cultural Diversity and Mental Health, in press. (IN PRESS)
García Coll, C.T.: Cultural Influences on Children and Families' Well-Being. In Arland Thornton, Arland (Ed.) The Well-Being of Children and Families: Research and Data Needs. Ann Arbor, MI: University of Michigan Press, 2001. (2001)
García Coll, C.T., & Magnuson, K.: Cultural differences as sources of developmental vulnerabilities and resources: a view from developmental research. In Samuel J. Meisels & Jack P. Shonkoff (Eds.) Handbook of Early Childhood Intervention, Ch. 5, pl 94-111. Cambridge University Press, 2000 (2000)
García Coll, C.T., & Magnuson, K.: Cultural influences on child development: Are we ready for a paradigm shift? In C. Nelson and A. Masten (Ed.), Minnesota Symposium on Child Psychology, Vol. 29. New Jersey: Lawrence Erlbaum Assoc., 1999. (1999)
García Coll, C.T., Surrey, J.L., & Weingarten, K. (Eds.): Mothering Against the Odds: Diverse Voices of Contemporary Mothers. Guilford Press, 1998. (1998)