Faculty Profile: William Oh, MD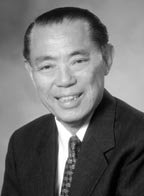 William Oh, MD
Professor of Pediatrics
Pediatrics
Work
:
+1
401
-
274
-
1122
-
x1432
My research in the past 30 years involved neonatal topics such as Intrauterine growth restriction, infants of diabetic mothers, and intervention to improve the outcome of very low birth weight and very premature infants.
Biography
I am a clinician scientist in Neonatology. My career spanned over 30 years publishing more than 400 papers in peer reviewed journals. As past PI of NICHD funded Neonatal Research Network, I am still actively involved in intervention strategies to improve the outcomes of very low birth weight infants.
Institutions
Rih
Research Description
In the area of Intrauterine growth restriction (IUGR): Using an animal model, I have demonstrated that the fetus with IUGR has reduced hepatic glycogen content, which increases their risk for low blood sugar during the neonatal period.

In infants of diabetic mothers, I have demonstrated fetal hyperinsulinemia as the major factor for the increased problems during the newborn period, including being born too large, low blood glucose, respiratory distress, and failure. I have also demonstrated that being born too large predisposes them to a higher incidence of obesity in the adolescent period as well as diabetes.

In very low birth weight infants, and in collaboration with 15 other centers within the Neonatal Research Network, we have evaluated the use of several interventions: surfactant, vit A to prevent chronic lung disease, and the use of inhaled nitric oxide for newborns with persistent pulmonary hypertension. All of these data have been published in several journals listed on my CV.
Grants and Awards
1972 Member, Program Committee for Neonatology; Western Society
for Pediatric Research Annual Meeting

1972 Member, Program Committee for Fetus and Newborn Committee,
American Academy of Pediatrics, California Chapter, Annual
Meeting

1973 Program Committee for Neonatology Section, Society for
Pediatric Research

1980 President, Perinatal Research Society

1981 Outstanding Physician, Physician of the Year, Philippine
Medical Association in America, Inc., New York, New York

1982 Alton Goldbloom Memorial Lecturer, McGill University-
Montreal Children's Hospital Research Institute, Canada

1984 Subspecialty Chairperson Neonatology APS-SPR Annual Meeting

1985 Rhode Island Governor's Award for Scientific Achievement

1988 Sixth Renato Ma. Guerrero Memorial Lecturer, Manila,
The Philippines

1993 231st Dr. Luis Ma. Guerrero Memorial Lecturer, Manila,
The Philippines

1994 Member, The Best Doctors in America (published by
Woodward/White, Inc., second edition)

1995 The Virginia Apgar Awardee

1996 Member, The Best Doctors in America, American Health, March
issue

1997 Alumnus of the Year, University of Santo Tomas
Medical Alumni Association in America

2001 Lifetime Member of the National Registry of Who's Who

2003 Filipina Magazine Outstanding Achievement of the Year
Affiliations
1966-1969 Medical Research Institute, Michael Reese Hospital

1967-1969 Chicago Pediatric Society

1967-present Midwest Society for Pediatric Research

1969-present Western Society for Pediatric Research

1971-present Western Society for Clinical Research

1971-present Los Angeles Pediatric Society

1971-1974 Southern California Perinatology Club

1974-present New England Pediatric Society

1975-present Rhode Island Medical Society

1975-present Providence Medical Association

1966-present American Federation for Clinical Research

1967-present American Association for Advancement of Science

1968-present American Academy of Pediatrics

1968-present Society for Pediatric Research

1969-present American Association of Maternal and Child Health

1972-present American Pediatric Society

1972-present Perinatal Research Society (President, 1980)

1973-present American Society for Clinical Nutrition

1973-present American Institute of Nutrition

1973-present Federation of American Scientists and Experimental
Biologists

1974-present American Society of Photobiology

1975-1976 National Perinatal Association

1975-present International Perinatal Collegium

1975-present The New York Academy of Science

1975-present International Intensive Care of the Newborn

1978-present The American Thoracic Society

1984-present The Society for Gynecologic Investigation

1986-present Society of Perinatal Obstetricians (Honorary)

1990 European Society for Pediatric Research (SPR
Affiliate Member)

1991-present International Pediatric Association Advisory Expert
Panel

1994-present National Perinatal Association

2000- National Asian Women's Health Organization (NAWHO),
Board Member
Funded Research
NICHD The Offspring of Diabetic Mothers 1975-1990
PI $400,000/yr

NINCDS IROINS27116-02 Randomized Indomethacin 1989-1998
PI $50,492 (3%) GMH/IVH Prevention Trial, PI: Laura Rowe Ment, M.D.

NICHD 1U10HD27904-06 Multicenter Neonatal Research 2001-2006
PI $118,753 (10%) Network/B.U.