Faculty Profile: Sunil Shaw, PhD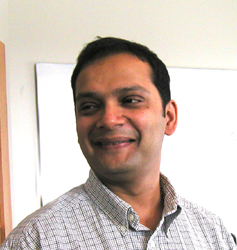 Sunil Shaw, PhD
Assistant Professor of Pediatrics (Research)
Pediatrics
Work
:
+1
401
-
274
-
1122
-
x
-
8005
My lab is interested in the process of inflammation, where white blood cells leave the blood vessels to enter tissues, and blood vessels become leaky to water, proteins and other molecules. Inflammation is necessary for normal immunity to microorganisms, but if it persists, or is unregulated, can contribute to many human diseases including heart disease, diabetes, arthritis, and allergies. We use molecular biology, biochemistry, and advanced microscopy techniques to study inflammation.
Research Description
We are interested in cell locomotion, intercellular junctional biology, and cell monolayer barrier function, particularly with regard to inflammation. Thus we study leukocyte migration and transendothelial migration, endothelial junctional regulation, and cell signaling in both leukocytes and endothelium.
Grants and Awards
N/A
Affiliations
1999- North American Vascular Biology Organization
2000- American Association for the Advancement of Science
2000- American Society for Investigative Pathology
2001- American Association of Immunologists
Funded Research
1996-1998 NIDDK/NIH (PI) Individual National Research Service Award (Postdoctoral), F32DK009427
"Co-culture of Epithelial Cells and Mucosal Lymphocytes". Total direct costs: $70,600.



2000-2002 NIDDK/NIH (PI) K01 Mentored Scientist Research Award, K01DK002798
"Vascular-Endothelial Cadherin Function in Inflammation". Total direct costs: $263,000.



2008-2013 NCRR/NIH (Target Investigator) COBRE for Perinatal Biology
"Uterine NK cell homing from the Peripheral circulation".