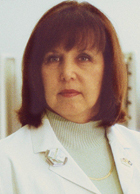 Deborah Ciombor, PhD
Associate Professor of Orthopaedics (Research)
Orthopaedics; Molecular Pharmacolgy, Physiology & Biotechnology
Work
:
+1
401
-
444
-
5331
Dr. Deborah McK. Ciombor's research focuses on cell-based tissue engineering to create a transplantable biocomposite cartilage replacement that may be able to restore function lost to trauma or disease. A stem cell population has been identified in joint lining tissues (synovium) that can be differentiated into cartilage cells by exposure to specific sequences of growth factors.
Biography
Dr. Deborah McK. Ciombor is Associate Professor of Orthopaedics (Research) and Molecular Pharmacology, Physiology and Biotechnology (Research). She is the Associate Director of the Center for Restorative and Regenerative Medicine, Providence VA Medical Center/Brown University.

Dr. Ciombor completed her BS in Biology at Brown University and PhD in Biochemistry and Biophysics at the University of Rhode Island in 1992. Dr. Ciombor began her research career studying the effects of physical stimuli on connective tissue, particularly electomagnetic fields. The work centered on the modulation of chondrocyte differentiation. She is currently examining the modulation of growth factor effects and the transduction of the physical signal from recognition to gene regulation. Recent work in the laboratory is focused on tissue engineering and the application of developmental biology to the production of cartilage biocomposites. She has been the co-director of the Duffy Cell Biology Laboratory at the Department of Orthopaedics at Rhode Island Hospital and Alpert Brown Medical School since 2001. The laboratory has been continuously funded through a combination of government, corporate and foundation grants.
Institutions
Rih
Research Description
The overall goal of Dr. Ciombor's research is to optimize the conditions, both physiologic and biophysical, of a
tissue-engineered biocomposite to restore the form and function of articular cartilage in damaged
joints. Tissue engineering has held great promise for the repair or regeneration of damaged tissues,
however available chondrocyte-based constructs have to date had significant limitations, including
limited healing, high cost, breakdown of the tissue implant leading to loss of function, and limited
availability of competent cellular components.

The overall hypothesis is that cell-based engineered cartilage biocomposites can be
created using a sub-population of synoviocytes (SF-B), which can be induced by growth factors to
differentiate into chondrocytes. However, both biochemical and biophysical factors that are necessary
to produce a tissue engineered construct with more physiologic biochemical, ultra-structural and
mechanical properties remain unknown.
Grants and Awards
Phi Kappa Phi (National Scientific Graduate Honor Society - 1992)
NIH Young Investigator Award, 1988 Bioengineering and Orthopaedic Science, Gordon
Research Conference
Iwao Yasuda Award (B.R.A.G.S.) for Excellence in Bioelectric Research, 1987
Affiliations
1990-1995 Membership Chairperson and Program Committee, Bioelectrical Repair and Growth Society
1992-1995 Program Committee, Bioelectric Repair and Growth Society
1992-1995 Council, Biological Sciences, Society for Physical Regulation in Biology and Medicine
1998- Congressional Liaison Committee, American Society for Cell Biology
2001- Bioengineering Review Panel, National Science Foundation
2001- Editorial Board, Bioelectromagnetics
2003- Grant Review Committee, Italian Ministry for Education University and Research (MIUR)
2004- Grant Review Committee, Rehabilitation Research and Development Service, Department of Veteran's Affairs
2005 Moderator, Department of Veteran's Affairs, Office of Research and Development's Rehabilitation Research and Development Service "Wounds of War – Rehabilitation Strategies for Recovery", Center for Restorative and Regenerative Medicine, Prov. RI
Member, Orthopaedic Research Society
Funded Research
NIH 2007 –2012
P20 RR024484
Role: Principal Investigator (Program 5)
COBRE for Skeletal Health and Repair, Cartilage Tissue Engineering For Joint Repair
The goal of this research is to elucidate cartilage tissue engineering strategies for joint repair by optimizing biochemical and biophysical microenvironment that promotes chondrocyte proliferation and differentiation.

Healthonics 2007
Effects of EMF Upon the Biology of Osteoarthritis
Role: Principal Investigator
Dosimetric studies of capacitive coupled electrical signaling on bone repair.

RI Science and Technology Advisory Council 2007
RIRA2007-22
Virtual Immersive Environments and Motion Analysis for Advanced Rehabilitation
Role: Co-Principal Investigator
The objectives of this funding are integration of motion analysis with virtual reality and to analyze gait mechanics of amputees using a new lower limb prosthesis.

AstraZeneca 2007-2009
The role of bone perfusion in the progression of osteoarthritis: Identification of new mechanisms and
pathways.
Role: Co-Principal Investigator
Quantitative studies of oxygen gradients and pressure in bone marrow edema determined by contrast-enhance MR imaging.

Department of Defense 2007-2009
PTSD in Limb Trauma and Recovery
Role: Co-Investigator
Coordinated examination of post traumatic stress disorder and limb trauma in wounded Iraq veterans.

A3772C 2004-2009
Department of Veterans Affairs, Center of Excellence
Rebuilding, Regenerating and Restoring Function After Limb Loss
Role: Co-Principal Investigator / Associate Director
The goal of this grant is to develop technologically advanced solutions to functional loss after limb
trauma. Approaches include robotic prosthetics, neuro prosthetics interfaces, limb lengthening and
tissue engineering.

EBI, LP 1998-2007
Determination of Dosimetry and Mechanism of PEMF
Role: Co-Investigator
This study determines dose effects of electrical exposure as one form of physical chemical signaling in cartilage and bone formation. It studies the effect of electrical exposure on engineered chondrogenesis.


NIH-K24-AR 02128 1999-2006, renewal pending
Identification and Treatment of Osteonecrosis of the Hip.
Role: Co-Investigator
This grant developed patient-oriented research methods emphasizing coagulopathies in osteoarthritis and avascular necrosis after corticosteroid use. The benefits of early MRI screening of patients at risk of developing avascular necrosis was established.

S700
Aircast Foundation 2000-2002
Stimulation of Chondrogenic Differentiation by Polymer-Encapsulated Growth Factors
Role: Principal Investigator
The goal of this grant was to develop methods for the temporal and spatial release of growth factors to mimic developmental sequence and to stimulate differentiation of precursor cells to chondrocytes.

Orthologic 2003
Effects of Chrysalin on Chondrogenic Differentiation of Synovial Cells
Role: Principal Investigator
This grant funded studies on a novel thrombin peptide for its ability to induce chondrogenic differentiation of synovial cells.

Brown University 2003 - 2005
Vice Presidential Research Seed Grant
Microsphere Based Drug Delivery Systems and Hydrogels for the Creation of Cartilage Biocomposites – A Tissue Engineered Solution to Joint Damage
Role: Co-Investigator
This grant facilitated collaborations between investigators and the Departments of Orthopedics and Bioengineering for the purpose of developing one stage cartilage biocomposite for purposes of transplantation. It utilized polymer-encapsulated growth factors to recapitulate developmental sequences.
Selected Publications
Covey, D.C., R.K. Aaron, M.F. Baechler, C.T. Born, D.M. Ciombor, J.A. Keeney, A.W. Mack, M.T. Mazurek, M.W. Richardson, A.Y. Shin, and M.A. Thompson, Orthopaedic war injuries: recent developments in treatment and research. Instr Course Lect, 2009. 58: p. 117-29. (2009)
Lee, J.H., J.P. Dyke, D. Ballon, D.M. Ciombor, G. Tung, and R.K. Aaron, Assessment of bone perfusion with contrast-enhanced magnetic resonance imaging. Orthop Clin North Am, 2009. 40(2): p. 249-57. (2009)
Bilgen, B., Y. Ren, M. Pei, R. Aaron, and D. Ciombor, CD14-Negative Isolation Enhances Chondrogenesis in Synovial Fibroblasts. Tissue Eng Part A, 2009. (2009)
Valdes, M.A., N.A. Thakur, S. Namdari, D.M. Ciombor, and M. Palumbo, Recombinant bone morphogenic protein-2 in orthopaedic surgery: a review. Arch Orthop Trauma Surg, 2009. (2009)
Jaklenec, A., A. Hinckfuss, B. Bilgen, D.M. Ciombor, R. Aaron, and E. Mathiowitz, Sequential release of bioactive IGF-I and TGF-beta 1 from PLGA microsphere-based scaffolds. Biomaterials, 2008. 29(10): p. 1518-25. (2008)
Aaron, R.K., D.M. Ciombor, M. Lysaght, E. Mathiowitz, and M.G. Ehrlich, Regenerative medicine for limb trauma. Med Health R I, 2007. 90(1): p. 6-9. (2007)
Aaron, R.K., J.P. Dyke, D.M. Ciombor, D. Ballon, J. Lee, E. Jung, and G.A. Tung, Perfusion abnormalities in subchondral bone associated with marrow edema, osteoarthritis, and avascular necrosis. Ann N Y Acad Sci, 2007. 1117: p. 124-37. (2007)
Bilgen, B., E. Orsini, R.K. Aaron, and D.M. Ciombor, FBS suppresses TGF-beta1-induced chondrogenesis in synoviocyte pellet cultures while dexamethasone and dynamic stimuli are beneficial. J Tissue Eng Regen Med, 2007. 1(6): p. 436-42. (2007)
Aaron, R.K., H.M. Herr, D.M. Ciombor, L.R. Hochberg, J.P. Donoghue, C.L. Briant, J.R. Morgan, and M.G. Ehrlich, Horizons in prosthesis development for the restoration of limb function. J Am Acad Orthop Surg, 2006. 14(10 Spec No.): p. S198-204. (2006)
Aaron, R.K., D.M. Ciombor, S. Wang, and B. Simon, Clinical biophysics: the promotion of skeletal repair by physical forces. Ann N Y Acad Sci, 2006. 1068: p. 513-31. (2006)
Ciombor, D.M., A. Jaklenec, A.Z. Liu, C. Thanos, N. Rahman, P. Weston, R. Aaron, and E. Mathiowitz, Encapsulation of BSA using a modified W/O/O emulsion solvent removal method. J Microencapsul, 2006. 23(2): p. 183-94. (2006)
Aaron, R.K., A.H. Skolnick, S.E. Reinert, and D.M. Ciombor, Arthroscopic debridement for osteoarthritis of the knee. J Bone Joint Surg Am, 2006. 88(5): p. 936-43. (2006)
Aaron, R.K. and D.M. Ciombor, Orthopedic complications of solid-organ transplantation. Surg Clin North Am, 2006. 86(5): p. 1237-55, viii. (2006)
Paek, H.J., A.B. Campaner, J.L. Kim, L. Golden, R.K. Aaron, D.M. Ciombor, J.R. Morgan, and M.J. Lysaght, Microencapsulated cells genetically modified to overexpress human transforming growth factor-beta1: viability and functionality in allogeneic and xenogeneic implant models. Tissue Eng, 2006. 12(7): p. 1733-9. (2006)
Ciombor, D.M. and R.K. Aaron, The role of electrical stimulation in bone repair. Foot Ankle Clin, 2005. 10(4): p. 579-93, vii. (2005)
Paek, H.J., A.B. Campaner, J.L. Kim, R.K. Aaron, D.M. Ciombor, J.R. Morgan, and M.J. Lysaght, In vitro characterization of TGF-beta1 release from genetically modified fibroblasts in Ca(2+)-alginate microcapsules. ASAIO J, 2005. 51(4): p. 379-84. (2005)
Aaron, R.K., B.D. Boyan, D.M. Ciombor, Z. Schwartz, and B.J. Simon, Stimulation of growth factor synthesis by electric and electromagnetic fields. Clin Orthop Relat Res, 2004(419): p. 30-7. (2004)
Aaron, R.K., D.M. Ciombor, and B.J. Simon, Treatment of nonunions with electric and electromagnetic fields. Clin Orthop Relat Res, 2004(419): p. 21-9. (2004)
Aaron, R.K. and D.M. Ciombor, Pain in osteoarthritis. Med Health R I, 2004. 87(7): p. 205-9. (2004)
Ciombor, D.M., G. Lester, R.K. Aaron, P. Neame, and B. Caterson, Low frequency EMF regulates chondrocyte differentiation and expression of matrix proteins. J Orthop Res, 2002. 20(1): p. 40-50. (2002)
Aaron, R.K., S. Wang, and D.M. Ciombor, Upregulation of basal TGFbeta1 levels by EMF coincident with chondrogenesis--implications for skeletal repair and tissue engineering. J Orthop Res, 2002. 20(2): p. 233-40. (2002)