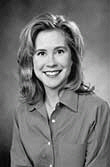 Elizabeth Lloyd-Richardson, PHD, MA
Adjunct Assistant Professor of Psychiatry & Human Behavior (Research)
Psychiatry & Human Behavior
Work
:
+1
401
-
793
-
8150
Elizabeth Lloyd-Richardson, Ph.D., is an assistant professor of psychiatry and human behavior at Brown Medical School and The Miriam Hospital. She is a clinical health psychologist, specializing in adolescent and young adult health risk behaviors, with a particular interest in the development of effective weight management and smoking cessation treatments. Most recently, she received a career development award to study weight gain in college students.
Institutions
MH
Research Description
Elizabeth E. Lloyd-Richardson is an assistant professor in the Department of Psychiatry and Human Behavior at Brown Medical School and a staff psychologist at The Miriam Hospital. Her research focuses on the development and implementation of health behavior change strategies targeting adolescents and young adults. She is the principal investigator (PI) of National Institutes of Health (NIH) and Robert Wood Johnson Foundation funding in the area of smoking cessation, and she recently received an NIH career development award designed to evaluate and target factors predicting weight gain among college freshman. She actively continues a line of research devoted to investigating the role of various risky behaviors (such as overweight, alcohol use, tobacco use) on college student health. She is also co-Investigator on several grants targeting smoking cessation and weight loss among both youth and adults, most recently two NIH-awards investigating smoking cessation strategies aimed toward assisting HIV-positive individuals and HIV-positive Latinos in quitting smoking. She was awarded a New Investigator Award from the Society for Research on Nicotine and Tobacco (SRNT) and a Research Mentorship Award from the Robert Wood Johnson Foundation for her research on the progression of nicotine dependence in youth. She has served as Director of the Miriam Hospital's Adolescent Weight Management Program for many years and provides both clinical and research supervision to psychology interns, medical students, and postdoctoral fellows on health behavior change among youth. She is active in presenting seminars nationally, regionally, and within the Brown community.
Grants and Awards
1999-2004 Faculty Scholars Mentoring Award, Robert Wood Johnson Foundation Tobacco Etiology Research Network (TERN)

2002 Keynote speaker, Smokefree College Initiative Conference, "Informed development of smoking cessation interventions: Addressing the needs of college and technical school students." Rhode Island Department of Health, Providence, RI. April, 2002.

2000 New Investigator Award, Society for Research on Nicotine and Tobacco (SRNT)
Affiliations
American Psychological Association (APA)

Rhode Island Psychological Association (RIPA)

The Society of Behavioral Medicine (SBM)

Society for Research on Nicotine and Tobacco (SRNT)

National Association for the Advancement of the Study of Obesity (NAASO)

Association for Behavioral and Cognitive Therapies (ABCT)
Funded Research
1. Co-Investigator. (R. Niaura, PI). Matching Antidepressant Treatments for Smoking Cessation.
Grant number: HL32318
Source of funding: National Heart, Lung, and Blood Institute (NHLBI)
Term of funding: 1/1/97-12/31/02
Total costs: $1,449,838

2. Principal Investigator. Early Intervention in a Technical School Population.
Source of funding: Rhode Island Cancer Council
Term of funding: 10/1/99-12/31/99
Costs: $14,786

3. Principal Investigator. Tobacco Etiology Research Network (TERN) Faculty Scholars Mentoring Award.
Source of funding: Robert Wood Johnson Foundation (RWJ)
Term of funding: 7/1/99-10/31/04

4. Principal Section Investigator. Early Intervention in a Technical School Population.
Pilot project incorporated under larger center grant application entitled "Nicotine Dependence: Risk and Recovery Over Generations"
Grant number: CA-98-029 (Abrams, Center PI)
Source of funding: National Cancer Institute (NCI)
Term of funding: 10/1/99-9/30/04
Current year costs: $29,926

5. Co-Investigator. (R. Niaura, PI). Adolescent Progression of Nicotine Dependence.
Project incorporated in center grant application entitled "Nicotine Dependence: Risk and Recovery Over Generations"
Grant number: CA-98-029 (Abrams, Center PI)
Source of funding: NCI
Term of funding: 10/1/99-9/30/04
Costs: $1,495,455

6. Co-Investigator. (E. Jelalian, PI). Peer-Based Skills Training to Enhance Teen
Weight Loss.
Grant number: DK-99-010 (E. Jelalian, PI)
Source of funding: National Institute of Diabetes and Digestive and Kidney Diseases (NIDDK)
Term of funding: 10/1/99-9/30/02
Costs: $576,666

7. Co-Investigator. (R. Niaura, PI). Motivation and Patch Treatment for HIV+ Smokers.
Grant number: DA-12344
Source of funding: National Institute on Drug Abuse (NIDA)
Term of funding: 01/01/99-12/31/03
Current year costs: $518,106

8. Co-Investigator. (E. Jelalian, PI). Peer Enhanced Intervention to Support Teen Weight Loss.
Grant number: R01 DK062916-02
Source of funding: NIDDK
Term of funding: 5/01/03-4/30/07
Current year costs: $241,204

9. Principal Investigator. A Prospective Study of Weight Change in College Freshmen.
Grant number: 1 K23 HL69987-01A2
Source of funding: NHLBI
Term of funding: 4/1/04-3/31/09
Current year costs: $152,814

9. Principal Investigator. Motivation and Patch Treatment for HIV+ Smokers.
Grant number: DA-12344
Source of funding: NIDA
Term of funding: 01/01/04-12/31/04
Current year costs: no cost extension

10. Co-Investigator. (R. Niaura, PI). Ethnic Health/Motivating HIV+ Latinos to Quit Smoking.
Grant number: R01 DA018079-01A1
Source of funding: NIDA
Term of funding: 08/05/2005 - 07/31/2010
Current year costs: $612,319
Selected Publications
David, S.P., Brown, R.A., Papandonatos, G.D., Kahler, C.W., Lloyd-Richardson, E.E., Munafo', M.R., Shields, P.G., Lerman, C., Strong, D., McCaffery, J. & Niaura, R. Pharmacogenetic clinical trial of sustained-release bupropion for smoking cessation (in press, Nicotine & Tobacco Research). (IN PRESS)
Colder, C.R., Lloyd-Richardson, E.E., Flaherty, B.P., Hedeker, E., Segawa, E., Flay, B.R. and the Tobacco Etiology Research Network (TERN). The Natural History of College Smoking: Trajectories of Daily Smoking During the Freshman Year (in press, Addictive Behaviors). (IN PRESS)
Jelalian, E., Mehlenbeck, R., Lloyd-Richardson, E.E., Birmaher, V. & Wing, R.R. "Adventure Therapy" Combined with Cognitive Behavioral Treatment for Overweight Adolescents. International Journal of Obesity (in press). (IN PRESS)
Rende, R., Slomkowski, C., McCaffery, J., Lloyd-Richardson, E.E. & Niaura, R. A twin-sibling study of tobacco use in adolescence: Etiology of individual differences and extreme scores. Nicotine and Tobacco Research (in press). (IN PRESS)
Nock, M.K., Joiner, T.E., Gordon, K.H., Lloyd-Richardson, E.E., Prinstein, M.J. Non-Suicidal Self-Injury among Adolescents: Diagnostic Correlates and Relation to Suicide Attempts (in press, Psychiatry Research). (IN PRESS)
Strong, D.R., Brown, R.A., Kahler, C.W., Lloyd-Richardson, E.E. & Niaura, R.S. Depression proneness in treatment seeking smokers: A taxometric analysis. Personality and Individual Differences (in press). (IN P)
Nichter, Mimi, Nichter, Mark, Lloyd-Richardson, E.E., Flaherty, B., Carkoglu, A., Taylor, N. & the Tobacco Etiology Research Network (TERN) (2006). Smoking among College Students: Why Gender Matters. Journal of Adolescent Research, 21(3), 215-243. (2006)
Stanton, C., Papandonatos, G, Lloyd-Richardson, E., Su, S.Y., Kazura, A., Niaura, R. (2006). Parenting practices, parent smoking, and friend smoking influences on stages of adolescent smoking. Adolescent & Family Health, 4(2) (in press). (2006)
Rende, R., Slomkowski, C., Lloyd-Richardson, E.E. & Niaura, R. Sibling Effects on Substance Use in Adolescence: Social Contagion and Genetic Relatedness. Journal of Family Psychology, 19(4), 611-618. (2005)
Slomkowski, C., Rende, R., Novak, S., Lloyd-Richardson, E.E., Rejka, J. & Niaura, R. (2005). Sibling effects on smoking in adolescence: Evidence for social influence from a genetically-informative design. Addiction, 100, 430-438. (2005)
Capaldi, V.F., Handwerger, K. Richardson, E. & Stroud, L.R. (2005). Associations Between Sleep and Cortisol Responses to Stress in Children and Adolescents: A Pilot Study. Behavioral Sleep Medicine, 3(4), 177-192. (2005)
Dierker, L., Lloyd-Richardson, E., Stolar, M., Flay, B., Tiffany, S., Collins, L., Bailey, S., Nichter, Mark, Nichter, Mimi, Clayton, R. and the Tobacco Etiology Research Network (TERN) (2005). The Proximal Association between Smoking and Alcohol Use among First Year College Students. Drug and Alcohol Dependence, 81, 1-9. (2005)
Kahler, C.W., Brown, R.A., Strong, D.R., Lloyd-Richardson, E.E. & Niaura, R. (2003). History of major depressive disorder among smokers in cessation treatment: Associations with dysfunctional attitudes and coping. Addictive Behaviors, 28, 1033-1047. (2003)
King, T.K., Lloyd-Richardson, E.E. & Clark, M.M. (2003). Behavioral Strategies for Enhancing Weight Loss and Maintenance. In J.P. Foreyt, W.S.C. Poston, K.J. McInnis & J.M. Rippe (Eds.), Lifestyle Obesity Management. (pp. 85-105). Malden, MA: Blackwell Publishing. (2003)
Lloyd-Richardson, E.E., Papandonatos, G., Kazura, A., Stanton, C. & Niaura, R. (2002). Differentiating stages of smoking intensity among adolescents: Stage-specific psychological, social, and contextual influences. Journal of Consulting and Clinical Psychology 70(4), 998-1009. (2002)
Niaura, R., Bock, B., Lloyd, E.E., Brown, R., Lipsitt, L.P. & Buka, S. (2001). Maternal transmission of nicotine dependence: Psychiatric, neurocognitive, and prenatal factors. The American Journal on Addictions, 10, 16-29. (2001)
Guertin, T., Lloyd-Richardson, E., Spirito, A., Donaldson, D. & Boergers, J. (2001). Self-mutilative behavior among adolescents who attempt suicide by overdose. Journal of the American Academy of Child and Adolescent Psychiatry, 40(9), 1062-1069. (2001)
Clark, M.M., Forsyth, L.A., Lloyd-Richardson, E.E., & King, T.K. (2000). Eating self-efficacy and binge eating disorder in obese women. Journal of Applied Biobehavioral Research, 5(2), 154-161. (2000)
Lloyd-Richardson, E.E., King, T.K., Forsyth, L.A. & Clark, M.M. (2000). Body image evaluations in obese women with Binge Eating Disorder. Eating Behaviors, 1(2), 161-171. (2000)
King, T.K., Lloyd, E.E. & Clark, M.M. (1999). Behavioral Approaches to Enhancing Weight Loss and Maintenance. In J.M. Rippe (Ed.), Lifestyle Medicine, 531-537. Blackwell Science, Inc.: Malden, Massachusetts. (1999)
Lloyd, E.E. & Jelalian, E. (1998). Adolescent weight management part I: Fostering independence while encouraging family support. The Weight Control Digest, 8(2), 697-705. (1998)
Lloyd, E.E., Jelalian, E. & Clark, M.M. (1998). Adolescent weight management part II: Fostering independence while encouraging family support. The Weight Control Digest, 8(3), 715-722. (1998)
Jelalian, E. & Lloyd, E.E. (1997). Adolescent obesity: Assessment and treatment. Rhode Island Medicine and Health, 80(11), 367-369. (1997)
Gordon, S.T., Lloyd, E.E., Post, C.C., Sothern, M.S. & Suskind, R.M. (1996). Clinical outpatient treatment in childhood obesity. Pediatric Research, 39, 133A. (1996)
Lloyd-Richardson, E.E., McCaffery, J.M., Niemeier, H.M. & Wing, R.R. Stability of body mass index from adolescence to adulthood: Siblings from the National Longitudinal Study of Adolescent Health (manuscript submitted for review). ()
Hilt, L.M., Nock, M.K., Lloyd-Richardson, E.E. & Prinstein, M.J. Longitudinal Study of Non-Suicidal Self-Injury among Preadolescents: Rates, Correlates, and Test of an Interpersonal Model (manuscript submitted for review). ()
McCaffery, J.M., Papandonatos, G.D., Stanton, C., Lloyd-Richardson, E.E. & Niaura, R. Depressive symptoms and cigarette smoking in twins from the National Longitudinal Study of Adolescent Health (manuscript submitted for review). ()
Lloyd-Richardson, E.E., Perrine, N., Dierker, L. & Kelley, M.L. Characteristics and Motivations for Self-Mutilation in a Community Sample of Adolescents (manuscript submitted for review). ()
Dierker, L, Stolar, M., Lloyd-Richardson, E., Tiffany, S., Flay, B., Collins, L., Nichter, Mimi, Nichter, Mark, Clayton, R. and the Tobacco Etiology Research Network (TERN). Tobacco, Alcohol and Marijuana Use among College Freshman: A time series analysis (manuscript submitted for review). ()
Rende, R., Slomkowski, C., Lloyd-Richardson, E.E. & Niaura, R. Sibling effects on alcohol use in adolescence: Relationship quality and genetic relatedness. (manuscript submitted for review). ()
Niemeier, H.M., Raynor, H., Lloyd-Richardson, E.E. & Wing, R.R. Fast Food Consumption and Breakfast Skipping: Risk Factors for Weight Gain From Adolescence to Adulthood (manuscript submitted for review). ()
Brown, R.A., Niaura, R., Lloyd-Richardson, E.E., Strong, D.R., Kahler, C.W., Abrantes, A.M., Abrams, D. & Miller, I.W. Bupropion and cognitive behavioral treatment for depression in smoking cessation (manuscript submitted for review). ()