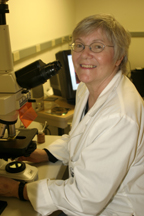 Sharon Rounds, MD
Professor of Medicine
Medicine
Work
:
+1
401
-
457-3020
Sharon Rounds is interested in mechanisms of lung vascular injury in conditions causing pulmonary hypertension and acute lung injury. Her work focuses on the way in which endothelial cells of the lung circulation are injured. Current research focuses on the role of small GTPase post-translational processing in modulation of lung vascular permeability and apoptosis; the effects of tobacco smoke exposure on lung vascular permeability and lung endothelial cell apoptosis; and the effects of adenosine on lung vascular permeability.

She is also interested in chronic obstructive pulmonary disease and factors that impair compliance with therapy. Another clinical research interest is pulmonary hypertension.
Biography
Brief Bio

Sharon Rounds MD is Professor of Medicine and of Pathology and Laboratory Medicine at Brown Medical School and is Chief of the Medical Service at the Providence VA Medical Center. Dr. Rounds is a graduate of Wellesley College and of Tufts University School of Medicine. She trained in internal medicine at the University of California-San Francisco where she was a Chief Medical Resident at San Francisco General Hospital. Dr. Rounds did a Pulmonary/Critical Care fellowship at the University of Colorado where she was a research fellow in the Cardiovascular-Pulmonary Research Laboratory. She subsequently returned to New England where she was an Assistant, then Associate, Professor of Medicine in the Pulmonary Section at Boston University School of Medicine. Dr. Rounds was appointed Associate Professor of Medicine at Brown Medical School in 1987 and Professor of Medicine in 1994. She was Associate Dean of Medicine (Faculty Affairs) at Brown Medical School from 2001-2006. She is currently Chief of the Medical Service at the Providence VA Medical Center.

Dr. Rounds has combined careers in clinical pulmonary/critical care medicine, teaching, and research on the pulmonary circulation. Basic science research interests include mechanisms of endothelial cell injury and effects of post-translational processing on small GTPase function. Her clinical research interests are pulmonary hypertension and factors impairing compliance with therapy of lung diseases. An author of over 100 publications, she has been continuously supported by research grants from the NIH and/or VA since 1981.

Dr. Rounds was Principal Investigator for the Short-Term Training Program to Increase Diversity in Health-Related Research Training Grant awarded to Brown by the National Heart Lung Blood Institute from 1999-2012. This grant funds summer research experiences for under-represented undergraduate students in research laboratories at Brown Medical School.

Dr. Rounds is co-Director of the Brown CardioPulmonary Research Training Program, a $2.5 million program that will train young investigators in Cardiovascular and Pulmonary Molecular Pathobiology or Health Services/Outcomes research.

Dr. Rounds is a member of the Executive Committee for the T35 grant to fund summer research experiences for Brown medical students.

Dr. Rounds has served as a regular member of NIH study sections—Respiratory and Applied Physiology and Lung Biology and Pathology--as well as on various panels and advisory groups. She has served as a member of the VA Career Development Review Committee and the VA Cardiopulmonary Medical Research Advisory Group. Long interested in career development, she has served on study sections for career development grants for the American Lung Association, the VA, the American Heart Association, the NHLBI, the Francis Family Foundation, the American Thoracic Society, and as a member of the NHLBI Instituional Training Grant Review Committee. Dr. Rounds currently serves as a member of 2 Data Safety Monitoring Boards for the NHLBI and is a regular member of the Respiratory Integrative Biology Translational (RIBT) study section.

Dr. Rounds has been an active volunteer for the American Thoracic Society and was President in 2004-05. In her work for the ATS, she has been a leader in the Women's Mentoring Program and founded a program for Minority Trainee Travel Awards. She led planning for the ATS centennial celebration in 2004-05. Dr. Rounds has chaired the ATS Scientific Advisory Committee, and as such she was responsible for raising funds, administering, and reviewing applications for a research program totaling $4 Million in 2008-09. She currently serves on the Board of Trustees of the ATS Foundation.

In July 2006, Dr. Rounds became the Chief of the Medical Service at the Providence VA Medical Center. She is the Director of the CardioPulmonary Vascular Biology Center for Biomedical Research Excellence, funded by the NIGMS.
Institutions
VAMC
Research Description
Endothelial cell apoptosis is an important means of regulating angiogenesis and may play a role in the pathogenesis of diseases involving the alveolar capillary septum. Anoikis is apoptosis due to disruption of focal adhesions between anchorage-dependent cells and adjacent substratum. Small GTPases modulate multiple cell functions. Small GTPases possess a C-terminal CAAX motif and undergo post-translational processing, culminating in carboxyl methylation of the C-terminal cysteine by isoprenylcysteine carboxyl methyltransferase (ICMT). While much is known about phosphorylation as a means of post-translational protein processing, less is known about methylation. We have shown that adenosine and homocysteine (Ado/HC) decrease RhoA and Ras methylation and activation and cause endothelial apoptosis through a mechanism involving increased intracellular S-adenosylhomocysteine (SAH). These effects are prevented by over-expression of ICMT, suggesting that Ado/HC act by inhibiting ICMT-induced GTPase methylation. We have also demonstrated that adenosine plus homocysteine causes disruption of Focal Adhesion Complexes (FAC), followed by caspase-induced proteolysis of protein components of FAC. We therefore hypothesize that inhibition of carboxyl methylation of small GTPases causes disruption of FAC, caspase activation, proteolysis of FAC protein components, and anoikis. Preliminary Results indicate that ICMT inhibition changes expression and charge of GRP94, a chaperone protein that is important in the Unfolded Protein Response (UPR). Since malfunction of the UPR and endoplasmic reticulum (ER) stress response causes apoptosis, we hypothesize that decreased ICMT activity and resulting decreased Ras or RhoA activity alter GRP94 function, resulting in apoptosis due to malfunction of the UPR. Thus, we hypothesize that ICMT activity controls a multitude of functions and disruption of this activity promotes endothelial cell apoptosis via anoikis and/or via dysfunctional UPR.

1. We will determine the effects of ICMT inhibition on FAC formation and anoikis.
a. We will determine the effects of inhibitors of ICMT on methylation, localization, and activation of Ras and RhoA GTPase and on apoptosis using cultured pulmonary vascular endothelial cells.
b. We will determine the role of Ras and RhoA GTPases in endothelial anoikis caused by ICMT inhibition by comparing the effects of over-expression of Ras or RhoA GTPase and downstream signaling molecules on FAC disruption and apoptosis caused by ICMT inhibition.
c. We will determine the effects of ICMT inhibition on pulmonary vascular endothelial apoptosis in vivo.

2. We will determine the effect of ICMT inhibition on GRP94 and the role of the ER Stress Response in endothelial cell apoptosis caused by ICMT inhibition.
a. We will determine the effects of ICMT inhibition on GRP94 expression, post-translational processing, and sub-cellular localization.
b. We will determine the role of decreased small GTPase activity by assessing effects of Ras and RhoA over-expression on ICMT-induced changes in GRP94 expression, post-translational processing, and sub-cellular localization.
c. We will determine the effects of ICMT inhibition on markers of the UPR/ER Stress Response.
d. We will determine the effects of Ras and/or RhoA over-expression on the UPR/ER Stress Response.
e. We will determine the effects of GRP94 over-expression on caspase activation, FAC disruption, proteolysis of FAC components, and anoikis induced by inhibition of ICMT.

The work proposed in this application will ascertain the mechanism of GTPase methylation and the role of GRP94 in regulation of endothelial cell apoptosis. Furthermore, in vivo experiments will determine whether currently released drugs cause endothelial apoptosis. This has potential importance in treatment of lung diseases in which there is abnormal endothelial cell proliferation.

Another major area of research is to assess the effects of carboxylmethylation of RhoA GTPase on endothelial monolayer and pulmonary microvascular permeability.
Grants and Awards
•American Lung Association Training Fellowship, 1976-78

•E.L. Trudeau Fellow, American Lung Association, 1981-84

•NIH Clinical Investigator Award, 1981-1986

•Listed in "Best Doctors in America", Woodward/White, 1994, 1998, 2002, 2003, 2004. 2005, 2006, 2008, 2010, 2013

•Listed in "Best Doctors in America: Northeast Region, Woodward/White.

•Fellow, American College of Chest Physicians

•Fellow, American Heart Association

•Visiting Professor, Pulmonary Medicine, Chiba University, Chiba, Japan, May, 2004

•13th Kass Lecturer, University of Nebraska Medical Center, May, 2004

•Dr. David Cugell Lecturer, Department of Medicine, Feinberg School of Medicine, Northwestern University, February 8, 2005

*Visiting Professor, Keio University, Tokyo, Japan, March, 2005

•Visiting Professor, University of Hawaii, March, 2007

•Dr. Thomas A. Neff Lecturer, University of Colorado Health Sciences Center, Division of Pulmonary Sciences and Critical Care Medicine, April, 2007

•Visiting Professor, University of South Alabama, Lung Biology Center, March, 2008

•Inkley Lecturer and Visiting Professor, Case Western Reserve University, March, 2009

•Scientific Achievement Award, American Thoracic Society, 2009

•Frumkin Lecturer, Norwalk Hospital, Norwalk, CT, 2010

•Physician of the Year, RI Medical Womens Association, 2010

•Visiting Professor, Pulmonary/Critical Care and Department of Physiology, University of Illinois-Chicago, September, 2010

•Roland Ingram, Jr, MD, Memorial Lecturer, Pulmonary/Allergy/Critical Care Division, Emory University, October, 2010

•Visiting Professor, Department of Medicine Grand Rounds, Pulmonary/Critical Care Grand Rounds, University of Alabama-Birmingham, March, 2011

• Tisdale Visiting Professor, University of Vermont School of Medicine, Medical Grand Rounds, September, 2011

Teaching Awards:
Dean's Teaching Excellence Award, 2001-02
Dean's Teaching Excellence Award, 2002-03
Dean's Teaching Excellence Award, 2003-04
Dean's Teaching Excellence Award, 2005-06
Dean's Teaching Excellence Award, 2006-07
Certificate of Recognition for Exemplary Teaching, Alpert Medical School, 2009-2012
Beckwith Teaching Award, Department of Medicine, Warren Alpert Medical School, 2011

Mentoring Awards:
•Outstanding Mentor Award. Brown University/Women and Infants Hospital, Center of Excellence in Women's Health, February, 2006
•Elizabeth A. Rich, MD, Award, American Thoracic Society, May, 2010 "for outstanding mentoring and service to the ATS"
•Dean's Award for the Advancement of Women Faculty, November, 2011

Leadership Awards:
•Federal Employee of the Year, Professional Category, RI, 1999
•Federal Employee of the Year, Bud Gifford Leadership Award, awarded by the Federal Executive Council of RI, May, 2004
•Rhode Island Woman Physician of the Year, RI Medical Women's Association, May, 2010
•Leadership Award, Pulmonary Circulation Assembly, American Thoracic Society, May, 2011
Affiliations
Cecile Lehman Mayer Research Award Committee, American College of Chest Physicians, 1985-1987.

Research Allocations Committee, Massachusetts Thoracic Society, 1986.

Member, Board of Directors, The Rhode Island Lung Association, 1989-1993.

National Institutes of Health:
Clinical Coordinator for Boston University School of Medicine, NHLBI Primary Pulmonary Hypertension Patient Registry, 1982-87.

Ad Hoc Reviewer: Pathology A Study Section, NHLBI, February, 1986.

Member, Study Section, NHLBI Adult Respiratory Distress Syndrome, Specialized Center for Organized Research (SCOR) Site Visits, 1988.

Member, Respiratory and Applied Physiology Study Section, NHLBI, 1989-91.

Member, Lung Biology and Pathology A Study Section, NHLBI, 1991-93.

Member, Task Force on Research in Cardiopulmonary Dysfunction in Critical Care Medicine, NHLBI, 1992-94. Chair, Subgroup on Basic Research

Member, NIH Reviewers Reserve, 1993-Present.

Member, Working Group on Respiratory Diseases, Pulmonary Artery Catheterization and Clinical Outcomes Workshop, NHLBI, 1997

Member, Biological and Physiological Sciences Special Emphasis Panel, July 8, 1998

Discussant, NHLBI and NCI workshop, "Fibrin Turnover in Lung Inflammation and Neoplasia", September 27-28, 1999.

Member, Data Safety Monitoring Board of Scleroderma Lung Study, NHLBI, 1999-2005

Member, Acute Lung Injury SCOR Evaluation Panel, NHLBI, October, 2000

Ad hoc Reviewer, Lung Biology and Pathology A Study Section, NHLBI, February, 2001

Reviewer, Loan Repayment Program, NLHBI, 2002, 2003

Member, Pulmonary IRG Study Section Boundaries Team, NHLBI, October, 2002.

Reviewer, Specialized Center for Clinical Research Grants, NHLBI, February, 2003.

Member, Evaluation Panel on Specialized Centers for Clinically Oriented Research (SCCOR), NHLBI, October, 2003

Member, Data Safety Monitoring Board of Pulmonary Fibrosis Network, NHLBI, 2005-Present

Member, NHLBI Strategic Planning Working Group on Integrative Approaches to Pathogenetic Research, June, 2006

Member, Special Emphasis Panel on Training Grants (T32), NHLBI, November, 2006

Member, NHLBI Institutional Training Mechanism Review Committee, 2007-2010

Member, Data Safety Monitoring Board of Specialized Centers for Clinically Oriented Research (SCCOR), NHLBI, 2007-Present

Member, Special Emphasis Panel on T35 Training Grants, NHLBI, 2007, 2009. Chair, 2010.

Member, Special Emphasis Panel on Sickle Cell Disease Grants, NHLBI, September, 2007

Ad hoc Member, Special Emphasis Panel for Program Project Grant, May 22, 2009

Ad hoc member, Special Emphasis Panel for Program Project Grant, October, 2009

Ad hoc member, Special Emphasis Panel for Program Project Grant, May, 2010

Executive Committee, NHLBI Task Force to develop a Strategic Plan for Lung Vascular Research, 2010

Co-Chair, Special Committee, Gender Issues and Barriers to Success, Division of Lung Diseases, NHLBI, 2010-11

Ad hoc member, Special Emphasis Panel for Program Project Grant, 2011

Chair, Special Emphasis Panel for T32 Training Grants, December, 2011

Ad hoc member, Respiratory Integrative Biology Technology (RIBT) Study Section, June, 2012

Member, Special Emphasis Panel, Mentoring Programs to Promote Diversity in Health Research, Study Section, October, 2012

Member, Special Emphasis Panel, NHLBI Lung OMICS K12 Career Development Program Review, April, 2013

Member, Respiratory Integrative Biology Technology (RIBT) Study Section, July 1, 2013




Department of Veterans Affairs:
Ad hoc reviews, VA Merit Review Grants, VA Regional Administrative Grant Support

Member, VA Research Career Development Review Committee, 1987-91.

Member, VA Cardiopulmonary Medical Research Advisory Group, 1997-00

Member, VA ICU Technical Advisory Group, 2003-05

Member, VA Chiefs of Medicine Field Advisory Committee, 2011-


American Thoracic Society:
Member, Program Committee, Pulmonary Circulation Section, 1993-95.

Chair, Long Range Strategic Planning Committee, Pulmonary Circulation Assembly, November, 1992-1995

Member, Committee for Position Paper on the Diagnosis and Treatment of Primary Pulmonary Hypertension, 1996-2000

Member, Subcommittee for Program Review, 1998-2001

Member, Committee on Pulmonary and Critical Care Fellowship Training, 1995-97;
Chair, 1998-00

Member, Research Fellowship Review Component Committee, American Lung Association, 1995-97

Member, Joint Workforce Coordinating Committee of Committee on Pulmonary and Critical Care Manpower (COMPACCS) for American Thoracic Society, 1999-2001

Nominee, Secretary-Treasurer, American Thoracic Society, 2000

Chair, Membership Committee, American Thoracic Society, 2000-2001, 2005-2008

Chapter Representative, RI Thoracic Society, 2000-2001

Member, Taskforce for Clinicians, American Thoracic Society, 2000-2004

Secretary-Treasurer, American Thoracic Society, 2001-2002

Vice-President, American Thoracic Society, 2002-03

Chair, Program and Budget Committee, 2002-03

Member, Planning Committee, 2002-03

Member, Audit and Finance Committee, 2002-03

President-Elect, American Thoracic Society, 2003-04

President, American Thoracic Society, 2004-05

Immediate Past-President, American Thoracic Society, 2005-06

Vice-Chair, Scientific Advisory Committee, 2007-2008

Chair, Scientific Advisory Committee, 2008-2010

Elected member, Nominating Committee. 2006-07, 2007-08, 2008-09, 2010-2011, 2013

Member, Awards Committee, 2011-
Vice-Chair, 2012-2014

Member, Board of Trustees, ATS Foundation, 2012-



American Heart Association
Member, Great America Peer Review Committee, Lung and Cardiorenal, 1999-2001.


Francis Families Foundation
Member, Scientific Advisory Board for Parker B. Francis Foundation Fellowships, 2000-2005

Ad hoc reviewer, Scientific Advisory Board for Parker B. Francis Foundation Fellowships, 2007


Editorial Boards
Am J Physiology: Lung Molecular and Cell Physiology, 2003-05

Am J Respiratory and Critical Care Medicine, 2005-08

Pulmonary Circulation, 2010


Book Editor
Series Editor, Pulmonary/Critical Care Series, Humana Press, 2005-


Journal Reviewer
Chest, American Review of Respiratory Disease, J Cell Physiology, J Clin Invest, Am. J. Respiratory Cell and Molecular Biology, Am J Resp Crit Care Med, Laboratory Investigation, J Leukocyte Biology, Am J Pathology, Am J Physiology, J Clinical Investigation; Molecular and Cellular Biochemistry, Molecular Biology of the Cell, J Biological Chemistry, Biochemical Journal, Lung, FASEB J, Microvascular Research, J Cell Science


OTHER PROFESSIONAL SERVICES
Site Visit Team, Liaison Committee on Medical Education, Georgetown University School of Medicine, February 23-26, 2003.

External Advisory Committee, Pulmonary/Critical Care Training Grant, Northwestern University School of Medicine.

Site Visit Team, Liaison Committee on Medical Education, Michigan State University College of Human Medicine, October 15-19, 2006.

Ad Hoc Reviewer. Tobacco-Related Disease Research Program, University of California, 2007, 2008, 2009, 2011
Funded Research
NHLBI T32 HL094300
"Cardiopulmonary Research Training"
Effort: 10% Brown Effort
Co-Training Director with Gideon Koren, MD
Annual Direct Costs: $570,727
Period of Support: 9/1/08-8/31/13
The purpose of this grant is to train MD and PhD investigators in Cardiovascular and Pulmonary research.

1 P20 RR025179-01
"Stem Cell Biology: New Directions in Clinical and Basic Research COBRE" (Peter Quesenberry, MD)
Faculty Mentor: Sharon Rounds, MD
9/30/09 to 6/30/14
1.2 calendar months
Agency: NIH/NCRR
Annual Direct Costs: $11,088,327
The major goal of the project is to develop junior investigators in Rhode Island. This supports core laboratories, seminar speakers, and the work of junior investigators who have not previously been funded.

VA Merit Review
"Lung Endothelial Cell Apoptosis and Emphysema"
PI: Sharon Rounds, MD
Effort: 20% VA Effort
10/1/10-9/30/14
Agency: VA BLR&D
Annual Direct Costs: $150,000
The goal of this project is to ascertain the role and mechanisms of endothelial apoptosis in cigarette smoke-induced emphysema.

Consultant: Sharon Rounds
Agency: Pfizer
"The Effects of Obesity on the Comparative Effectiveness of Linezolid and
Vancomycin in MRSA Pneumonia" (K. LaPlante)
This research study will assess antibiotic effectiveness in obese patients.
9/1/12-8/31/12
Annual Direct Costs: $5000
Effort: 5%/0.6 months

VA Merit Review
"Tadalafil for Pulmonary Hypertension Associated with Chronic Lung Disease"
PI: Ronald Goldstein (Sharon Rounds, co-PI)
Agency: VA Clinical Sciences R&D
Effort: 10% VA effort/1.5 cal months
Annual Direct Costs: $150,000 per year
Period of Support: 4/1/13-3/31/18
The goal of this multicenter clinical trial is to determine the effect of tadalafil on pulmonary hypertension associated with COPD.

PI: Sharon Rounds
1P20GM103652-01
Agency: NIGMS
"Endothelial Injury and Repair: CardioPulmonary Vascular Biology COBRE"
Effort: 25%/4 months
The goal of this Center grant is to improve understanding of the pathogenesis and treatment of pulmonary and cardiovascular diseases.
12/1/12-11/30/17
Annual Direct Costs: $1,987,405
Teaching Experience
Professor of Medicine and of Pathology and Laboratory Medicine

Chief, Medical Service
Providence VA Medical Center

Training Faculty, Graduate Program in Pathobiology, Brown University School of Medicine, 1990-present

Training Faculty, Short-Term Training Grant to Enhance Diversity in Biomedical Research, NHLBI, 1992-present

Training Faculty, Short-Term Training Grant for Medical Student Summer Research, NHLBI, 2009-present

Lecturer, Special Topics in Respiratory Physiology, 2004-present

Training Faculty, Trauma and Inflammation Research Training Fellowship, Brown Medical School, 2004-

Training Faculty, CardioPulmonary Research Training Program, 2009-present

Respiratory Pathophysiology, Biomed 281, Lecturer and Seminar Leader, 1987-present
Selected Publications
Lu, Q*, Jankowich, MD*, Newton, J, Harrington, EO, and S. Rounds. Alterations in molecular chaperones and eIF2a during lung endothelial cell apoptosis. Am J Physiol:Lung Cell Molec Physiol. 298:501-508, 2010. *shared first authorship (2010)
Lu, Q, Harrington, EO, Newton, J, Casserly, B, Radin, G, Warburton,R, Zhou, Y, Blackburn MR, and Rounds, S. Adenosine protected against pulmonary edema through transporter- and receptor2-mediated endothelial barrier enhancement. Am J Physiol:Lung Cell Molec Physiol, 298:L755-767, 2010. (2010)
Lu, Q, Patel, B, Harrington, EO, and Rounds, S. Transforming Growth Factor-β1 Causes Pulmonary Microvascular Endothelial Cell Apoptosis via ALK5. Am J Physiol:Lung Cell Molec Physiol. 296:L825-L838, 2009. (2009)
Lu, Q, Harrington, EO, Newton, J, Jankowich, M, and S. Rounds. Inhibition of ICMT induces endothelial cell apoptosis through GRP94. Am J Resp Cell Mol Biol. 37:20-30, 2007. An illustration from this paper was Cover Image for the journal. (2007)
Lu, Q, Harrington, EO, Jackson, H, Morin, N, Shannon, C, and Rounds. S. Transforming Growth Factor-β1 -induced barrier dysfunction involves Smad-dependent p38 activation and subsequent RhoA activation. Journal of Applied Physiology. 101:375-384, 2006. (2006)
Harrington, EO, Newton, J, Morin, N, and Rounds, S. Barrier dysfunction and RhoA activation are blunted by homocysteine and adenosine in pulmonary endothelium. Am J Physiol:Lung Molecular Cellular Physiology. 287:L1091-L1097, 2004. (2004)
Lu Q, Harrington EO, Hai C-M, Newton J, Garber M, Rounds S. Isoprenylcysteine carboxyl methyltransferase (ICMT) modulates endothelial monolayer permeability: involvement of RhoA carboxyl methylation. Circulation Research.94:306-315, 2004. (2004)
Kramer K, Harrington EO, Bellas R, Newton J, Sheahan KL, and S. Rounds. Isoprenylcysteine carboxyl methyltransferase activity modulates endothelial cell apoptosis. Molecular Biology of the Cell, 14:848-857, 2003. (2003)
Bellas, R, Harrington, EO, Sheahan, KL, Newton, J, and S Rounds. Over-expression of focal adhesion kinase protects against adenosine/homocysteine-induced apoptosis. Am J Physiol. Lung Cell Molec Physiol. 282:L1135-L1142, 2002. (2002)
Russo-Magno, P, Karki, A, O'Brien, A, Hiranniramol, S, Hardin, M, Kaszuba, M, and S. Rounds. Effects of withdrawal of inhaled corticosteroids in patients with irreversible airflow obstruction. American J Respiratory and Critical Care Medicine, 164:365-71, 2001. (2001)
Harrington, EO, Smeglin, A, Newton, J, Ballard, G, and S Rounds. Adenosine/homocysteine-induced disruption of endothelial cell focal adhesion contacts requires protein tyrosine phosphatase and caspase activity. Am J Physiol. Lung Cell and Molec Physiol. 280:L342-L353, 2001. (2001)
Harrington, EO, Smeglin, A, Parks, N, and S. Rounds. Adenosine induces endothelial cell apoptosis by activating protein tyrosine phosphatase: a possible role of p38α. Am J Physiol. Lung Cell and Molec Physiol. 279:L733-L742, 2000. (2000)
Rounds, S, Yee WL, Dawicki, D, Parks, N, and M Cutaia. Mechanism of extracellular ATP and adenosine-induced apoptosis of cultured endothelial cells. Am J Physiol.275 (Lung Cell. Mol., Physiol. 19):L379-L388, 1998. (1998)
Likar, L., Panciera, T., Erickson, A., and S. Rounds. Group education sessions and compliance with nasal CPAP therapy. Chest.111:1273-1277, 1997. (1997)
Dawicki, D.D., Chatterjee, D., Wyche, J., and S. Rounds. ATP and adenosine cause apoptosis of pulmonary artery endothelial cells. Am J Physiol.Lung Cell. Mol. Physiol. 273:L485-L494, 1997. (1997)