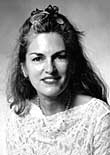 Cheryl Slomkowski, PHD, MA
Assistant Professor of Psychiatry & Human Behavior (Research)
Psychiatry & Human Behavior
Work
:
+1
401
-
455
-
6617
Cheryl Slomkowski's work focuses on the role of family factors on the development and escalation of a number of problem behaviors in childhood, adolescence, and early adulthood. Specific emphasis is given to sibling influences on substance use and delinquent behavior within the broader social context of family and peers. Intensive data collection methods are typically used to capture specific interactional processes via which intimate relationships affect developmental outcomes.
Biography
Cheryl Slomkowski, PhD is an assistant professor of psychiatry and human behavior at Brown Medical School and The Miriam Hospital. She received her Ph.D. in human development and family studies in 1991 from Penn State University, and received postdoctoral training in child psychiatry at Columbia University College of Physicians and Surgeons. She has held a Scientist Development Award from the NIMH to develop and refine methodologies for studying sibling influence on antisocial and deviant behavior.
Institutions
MH
Research Description
Cheryl Slomkowski's research focuses on relationship quality and in particular social processes that contribute to pathways of maladaptive development in childhood, adolescence, and early adulthood. Specific emphasis is given to understanding the influential role of sibling relationships through these developmental periods. Longitudinal studies are used to follow the evolving and dyanamic nature of the sibling relationship. A broad range of methodologies are used to capture elements of interpersonal relationships, including survey, videotape, and ecological momentary assesment techniques. Current work examines sibling effects on substance use and delinquent behavior in adolescence and early adulthood and involves tests of hypothesized mechanisms of social influence.
Grants and Awards
Dissertation Award, American Psychiatric Association (APA)
Scientist Development Award (K21), National Institute of Mental Health (NIMH)
Affiliations
Society for Research on Child Development
Society for Research on Adolescence
Funded Research
National Institute of Mental Health (NIMH); Siblings and Deviancy: Social and Genetic Processes;
2005-2009; $849,530 (Principal Investigator)

National Institute on Drug Abuse (NIDA); Sibling Influences on Smoking in Everyday Settings;
2003-2008; $2,264,862 (Co-Principal Investigator)
Selected Publications
Rende, R., Slomkowski, C., Richardson, E., Stroud, L., & Niaura, R. (2006). Estimating genetic and environmental influences on depressive symptoms in adolescence: Differing effects for high and low scores. Journal of Clinical Child and Adolescent Psychology, 35, 237-243. (2006)
Rende, R., Slomkowski, C., Lloyd-Richardson, E., & Niaura, R. (2005). Sibling effects on substance use in adolescence: social contagion and genetic relatedness. Journal of Family Psychology, 19, 611-618. (2005)
Rende, R., Slomkowski, C., McCaffery, J., Lloyd-Richardson, E., & Niaura, R. (2005). A twin-sibling study of adolescent tobacco use: etiology of individual differences and extreme cases. Nicotine and Tobacco Research, 7, 413-419. (2005)
Rende, R., Slomkowski, C., Lloyd-Richardson, E., & Niaura, R. (2005). Improving understanding of sibling effects on adolescent smoking: response to the commentaries. Addiction, 100, 443-444. (2005)
Slomkowski, C., Rende, R., Novak, S., Richardson, E., & Niaura, R. (2005). Sibling effects on smoking in adolescence: Evidence for social influence from a genetically-informative design. Addiction, 100, 430-438. (2005)
Slomkowski, C., & Manke, B. (2004). Sibling relations during childhood: Multiple perceptions from multiple perspectives. In R. Conger (Ed.) Continuity and change in family relations: Theory, methods, empirical findings, Hillsdale, N.J.: Erlbaum. (2004)