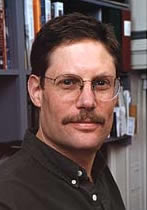 Marc Tatar, PHD, MA
Professor of Biology
Ecology & Evolutionary Biology
Work
:
+1
401
-
863
-
3455
I study life history evolution with an emphasis on senescence. Senescence intrigues because it seems counter-intuitive to the process of natural selection. How can physiological and demographic functions deteriorate with age in the face of selection that relentlessly increases mean fitness? And, how has evolution led to the tremendous variation in life span we observe among individuals, species and taxa? The solutions to these questions lie in understanding the way selection acts on age-structured populations, and in discovering how gene expression affects fitness. My research uses multiple approaches to develop a basic understanding of the genetics, mechanisms and evolution of senescence.
Biography
Marc Tatar is Professor in The Division of Biology and Medicine at Brown University. Dr. Tatar has studied the demography, evolution and genetics of aging working with a variety of insect systems to explore the regulation and basic mechanisms of life history traits and senescence. Current work in the Tatar laboratory focuses on genetic analysis of Drosophila to understand how insulin/IGF signals and lipid hormones regulate aging, and how these endocrine signals interact with nutrition. Dr. Tatar received his Ph.D. from UC Davis in the laboratory of James Carey and completed post-doctoral training at the University of Minnesota with James Curtsinger. Dr. Tatar is an Ellison Senior Scholar, founding Joint Editor-in-Chief of Aging Cell, and a past member of the Board of Review Editors for Science.
Institutions
Bu
Research Description
Research in the Tatar laboratory aims to understand the mechanisms that regulate aging and how this life history trait evolves. With Drosophila as a model system, we integrate many experimental approaches to explore aging from the levels of population demography and individual physiology, and down to genetics and molecular biology. Our primary focus is to understand how life span is modulated by hormones, especially from systemic and intra-cellular signals of insulin-like peptides, and from the systemic action of juvenile hormone. In the context of insulin signaling, we manipulate genes within the pathway, such as the insulin-like receptor or the insulin responsive transcription factor dfoxo, to understand their functions within cells and between tissues. On the other hand, to this day, the way juvenile hormone transduces signals remains a mystery. Therefore, to learn how this key insect hormone modulates aging, we are using new cell-culture based approaches and RNAi technology to first understand its molecular mode of action. These analyses will together elucidate how the integrated organism regulates the factors that determine its pattern of senescence – its exposure to somatic damage and its processes of somatic repair. Hormones are particularly interesting in this context because they integrate life span with reproduction, growth, and nutrient intake. Since many traits are mutually constraining, understanding hormone action in life history analysis will permit us to not only describe how organisms senescence, but also why.
Grants and Awards
Appointments and Honors
1994 Merton Love Award for Outstanding Dissertation in Ecology, UC Davis
1994 Graduate Award for Excellence in Gerontology, UC Davis
1994-1997 Postdoctoral Associate, University of Minnesota
1997-2003 Assistant Professor of Biology, Brown University
2001-2003 Manning Assistant Professor, Brown University
2003-2007 Associate Professor of Biology, Brown University
2007- Professor of Biology, Brown University
2002, 2004 National Academy of Sciences/Beckman Frontiers of Science
2001-2005 Aging Cell, Founding, Joint Editor-in-Chief
2006-2007 Science, Board of Reviewing Editors
Affiliations
Professional Service
Referee to Nature, Science, Nature Genetics, Evolution, Ecology, Proceedings Royal Society, Experimental Gerontology, Journal Insect Ecology, Oecologia, Genetics, Molecular and Cellular Biology, Journal of Gerontology, Genetica, Genetical Research. Journal Insect Physiology, J. Experimental Biology, Molecular Ecology, Trends in Genetics

Reviewer (ad hoc) NSF-BSR and NSF-EEP

NIH Special Emphasis Review Panels (2000, 2001, 2002)

Editorial Review Board: Demographic Research (1998-present), Mechanisms of Aging and Development (1999-present)

Joint Editor-in-Chief: Aging Cell (Blackwell, launched October 2002)

American Federation of Aging Research, National Scientific Advisory Council (2002)

Funded Research
R01 AG024360, to RFA AG-04-003, Tatar (PI) 8/04 – 7/09
"Genetic and Molecular Basis of Longevity" $1,909,244
R01 AG031152, Tatar (PI) 9/08 – 7/13
"Mechanisms of Aging Regulation by Drosophila Germline" $1,533,857
Senior Scholar Award in Aging, Ellison Medical Foundation, Tatar (PI) 11/04 – 10/08
"Metabolomic Analysis of Aging by Stable Isotope Spectrometry" $911,300
R01 AG030329, Tatar (PI) 9/06 – 8/11
"The Genetics of Reproductive Senescence" $2,592,220
NASA Cooperative Agreement NNX08AZ52A, Tatar (PI) 8/08 – 8/11
With Lynn Rothschild of NASA Ames $201,403
"Assessing the potential for life on an asteroid"
Pfizer Collaborative Research, Tatar (PI) 1/08 – 12/08
"Characterization of Drosophila CG6770, a homolog of the human P8 $101,869
protein, as a nutrient-sensitive cell growth regulator tied to glucose
metabolism"
American Parkinson Disease Association, Tatar (PI) 9/08 – 8/10
Dr. Roger Duvoisin Grant $160,000
Investigates the genetic interactions between the foxo transcription factor and parkin in Drosophila
Glenn Foundation Award 9/07 – 8/09
$50,000
Teaching Experience
• 1997-2003: General Genetics
• 1997-present: Undergraduate Honors Research Thesis Primary Mentor
• 1999, 2004 - 2008: Darwinian Medicine
• 2000, 2002: Evolutionary Ecology
• 2002, 2003, 2004: EEB Graduate Seminars
• 2008: Biology of Aging
Extramural:
• German American Academic Council Summer Institute, UCD, 1997
• Summer Course in Experimental Aging Research, 2002, 2004, 2005
• Molecular Biology of Aging Course, MBL, Woods Hole 2002-2007
Selected Publications
Flatt, T., Heyland, A., Rus, F., Porpiglia, E., Sherlock, C., Yamamoto, R., Garbuzov, A., Palli, S.R., Tatar, M., Silverman, N. 2008 Hormonal regulation of the humoral innate immune response in Drosophila melanogaster. J Exp Biol. 211:2712-24. (2008)
Bergland, A.O., Genissel, A., Nuzhdin, S.V., Tatar, M. 2008 Quantitative trait loci affecting phenotypic plasticity and the allometric relationship of ovariole number and thorax length in Drosophila melanogaster. Genetics. 180:567-82. (2008)
Flatt, T. Min, K.J., D'Alterio, C., Villa-Cuesta, E., Cumbers, J., Lehmann, R., Jones, D.L., and Tatar, M. 2008. Drosophila germ-line modulation of insulin signaling and lifespan. Proc. Natl. Acad. Sci. USA. 105: 6368-6373. (2008)
Min, K.J, Yamamoto, R., Buch, S. Pankratz, M., Tatar, M. 2008. Drosophila lifespan control by dietary restriction independent of insulin-like signaling. Aging Cell. 7: 199-206. (2008)
O'Brien, D., Min, K.J., Tatar, M. 2008. Use of stable isotopes to examine how dietary restriction extends Drosophila lifespan. Current Biology. 18: R155-156. (2008)
Lee, K-S., Kwon, O-Y., H. Lee, J.H. Kwon, K., Min, K-J. Jung, S-A., Kim, A-K., You, K-H., Tatar, M. and Yu, K. 2008. Drosophila short neuropeptide F signaling regulates growth by ERK mediated insulin signaling. Nature Cell Biology. 10: 468-475. (2008)
Tatar, M. 2007. Diet restriction in Drosophila melanogaster. Design and analysis. Interdiscip Top Gerontol. 2007;35:115-36. (2007)
Gershman, B., Puig, O., Hang, L., Peitzsh, R., Tatar, M. Garofalo, R. 2007. High resolution dynamics of the transcriptional response to nutrition in Drosophila: a key role for dFOXO. Physiological Genomics. 29(1): 24-34. (2007)
Min, K.J., Tatar, M. 2007. Counting calories in Drosophila diet restriction. Experimental Gerontology. 42(3): 247-251 (2007)
Min, K.J., Tatar, M. 2006. Drosophila diet restriction in practice: Do flies consume fewer nutrieints? Mechanisms of Aging and Development 127: 93-96. (2006)
Min, K.J., Hogan, M.F., Tatar, M., O'Brien, D.M 2006. Resource allocation to reproduction and soma in Drosophila: stable isotope analysis of carbon from dietary sugar. Journal of Insect Physiology. 52(7):763-70 (2006)
Min, K.J., Tatar, M. 2006. Restriction of amino acids extends lifespan in Drosophila melanogaster. Mechanisms of Aging and Development. 127, 643-646 (2006)
Leroi, A.M., et al., What evidence is there for the existence of individual genes with antagonistic pleiotropic effects? Mech Ageing Dev, 2005. 126: 421-9. (2005)
Zerofsky, M., Heral, H., Silverman, N., Tatar, M. 2005. Aging of the innate immune response in Drosophila melanogaster. Aging Cell. 4:103-108. (2005)
Tatar, M., SIR2 calls upon the ER. Cell Metab, 2005. 2: 281-2. (2005)
Flatt, T., M.P. Tu, and M. Tatar, Hormonal pleiotropy and the juvenile hormone regulation of Drosophila development and life history. Bioessays, 2005. 27: 999-1010. (2005)
Tu, M.-P., Yin, C.-M., Tatar, M. 2005. Insulin signal regulation of juvenile hormone synthesis in Drosophila melanogaster. General and Comparative Endocrinology. 142: 347-356. (2005)
Tatar, M. 2004. The Neuroendocrine Regulation of Drosophila Aging. Experimental Medicine (Japanese). 22: 823-830. Reprinted in Experimental Gerontology (2004). 39: 1745-1750. (2004)
Wood, J.G., Rogina, B., Lavu, S., Howitz, K., Helfand, S.L., Tatar, M., Sinclair, D. 2004. Sirtuin activators mimic calorie restriction and delay aging in metazoans. Nature. 429:562-566. (2004)
Wessels, R.J., Fitzgerald, E., Cypser, J.R. Tatar, M., Bodmer, R. 2004. Insulin regulation of heart function in aging Drosophila. Nature Genetics, 36:1275-1281. (2004)
Hwangbo, D.S, Gershman, B., Tu, M-P., Palmer, M. Tatar, M. 2004. Drosophila dFOXO controls lifespan and regulates insulin signaling in brain and fat body. Nature 420:562-566. (2004)
Kingan, S.B., Tatar, M. Rand, D.M. 2003. Reduced polymorphism in the Chimpanzee semen coagulating protein, Semenogelin I. Journal Molecular Evolution 57:159-169. (2003)
Tu, M.-P., Tatar, M. 2003. Juvenile diet restriction and the aging and reproduction of adult Drosophila melanogaster. Aging Cell, 2:327-333. (2003)
Tatar, M., Bartke, A., Antebi, A. 2003. The endocrine regulation of aging by insulin-like signals. Science, 299: 1346-1351. (2003)
Tatar, M. 2002. Germline stem cells call the shots. Trends in Ecology and Evolutionary Biology, 17: 297-298. (2002)
Tu, M.-P., Epstein, D., Tatar, M. 2002. The demography of slow aging in male and female Drosophila mutant for the insulin-receptor substrate homolog chico. Aging Cell, 1: 75-80. (2002)
Tatar, M. 2002. The aging baboon: Comparative demography in a nonhuman primate. PNAS, 99: 9591-9595. (2002)
Bronikowski, A.M., Alberts, S.C., Altman, J., Packer, C., Carey, K.D., Tatar, M. 2002. The aging baboon: Comparative demography in a nonhuman primate. PNAS, 99: 9591-9595 (2002)
Tu, M.-P., Yin, C.-M., Tatar, M. 2002. Impaired ovarian ecdysone synthesis of Drosophila melanogaster insulin receptor mutants. Aging Cell, 2: 158-160. (2002)
Tatar, M., Rand, D. 2002. Dietary advice on Q. Science. 295: 54-55. (2002)
Tatar, M. 2001. Senescence in C. W. Fox, D. A. Roff and D. J. Fairbain, eds. Evolutionary Ecology: Concepts and Case Studies. Oxford University Press, Oxford. Pp 128-141. (2001)
Tatar, M., Yin, C.-M. 2001. Slow aging during insect reproductive diapause: Why butterflies, grasshoppers and flies are like worms. Experimental Gerontology. 36: 723-738. (2001)
Tatar, M., Chien, S., Preist, N. 2001. Negligible senescence during reproductive diapause in Drosophila melanogaster. American Naturalist. 158: 248-258. (2001)
Linnen, C., Tatar, M., Promislow, D. 2001. Cultural artifacts: a comparison of senescence in natural, laboratory-adapted and artificially selected lines of Drosophila melanogaster. Evolutionary Ecology Research. 3: 877-888. (2001)
Herman, W.S., Tatar, M. 2001. Juvenile hormone regulates longevity during reproductive diapause in the migratory monarch butterfly. Proceeding Royal Society, B. London. 268: 2509-2514. (2001)
Good, T.P., Tatar, M. 2001. Age-specific mortality and reproduction respond to adult dietary restriction in Drosophila melanogaster. Journal of Insect Physiology 47: 1467-1473. (2001)
Tatar, M., Kopelman, A., Epstein, D., Tu, M.-P., Yin, C.-M., Garofalo, R.S. 2001. A mutant Drosophila insulin receptor homolog that extends lifespan and impairs neuroendocrine function. Science. 292: 107-110. (2001)
Tatar, M. 2000. Transgenic organisms in evolutionary ecology. Trends in Evolution and Ecology. 15: 207-211. (2000)
Silbermann, R., Tatar, M. 2000. Reproductive costs of transgenic hsp70 overexpression in Drosophila. Evolution. 54: 2038-2045. (2000)
Promislow, D.E.L., Tatar, M., Pletcher, S.D., Carey, J.R. 1999. Below-threshold mortality and its impact on studies in evolutionary ecology. Journal of Evolutionary Biology. 12: 312-328. (1999)
Tatar, M. 1999. Transgenes in the analysis of lifespan and fitness. American Naturalist. 154: S67-81. (1999)
Tatar, M. 1999. Evolution of senescence: Longevity and the expression of heat shock proteins. American Zoologist. 38: 72-81. (1999)
Shaw, F., Promislow, D.E.L, Tatar, M. Hughes, K., Geyer, C. 1999. Towards reconciling inferences concerning genetic variation in senescence. Genetics 152: 553-566. (1999)
Resler A.S, Kelly K., Kantor G., Khazaeli A.A., Tatar M., Curtsinger J.W. 1998. Genetic analysis of extended life span in Drosophila melanogaster - II. Replication of the backcross test and molecular characterization of the N14 Locus. Genetica. 104: 33-39. (1998)
Promislow, D.E.L., Tatar, M. 1998. Mutation and senescence: Where genetics and demography meet. Genetica. 102/103: 299-314. (1998)
Packer, C., Tatar, M., Collins, A. 1998. Reproductive cessation in female mammals. Nature. 392: 807-811 (1998)
Tatar, M., Promislow, D.E.L. 1997. Fitness costs of reproduction. Evolution. 51:1323-1326. (1997)
Tatar, M., Gray, D.W., Carey, J.R. 1997. Altitudinal variation for senescence in Melanoplus grasshoppers. Oecologia. 111:357-364. (1997)
Tatar, M., Khazaeli, A.A., Curtsinger, J.W. 1997. Chaperoning extended life. Nature. 390:30. (1997)
Khazaeli, A.A., Tatar, M., Pletcher, S.D., Curtsinger, J.W. 1997. Heat-induced longevity extension in Drosophila. I. Heat treatment, mortality and thermotolerance. Journal of Gerontology. 52A: B48-B52. (1997)
Promislow, D.E.L., Tatar, M., Khazaeli, A., Curtsinger, J.W. 1996. Age-specific patterns of genetic variance in Drosophila melanogaster. I. Mortality. Genetics. 143: 839-848. (1996)
Tatar, M., Promislow, D.E.L., Khazaeli, A., Curtsinger, J.W. 1996. Age-specific patterns of genetic variance in Drosophila melanogaster. II. Fecundity and its relation to mortality. Genetics. 143: 849-858. (1996)
Curtsinger, J.W., Fukui, H.H., Khazaeli, A., Kirscher, J., Pletcher, S., Promislow, D., Tatar, M. 1995. Genetic variation and aging. Annual Review of Genetics. 29: 553-575. (1995)
Tatar, M., Carey, J.R. 1995. Nutrition mediates reproductive costs in the beetle Callosobruchus maculatus. Ecology. 76: 2066-2073. (1995)
Fox, C.W., Tatar, M. 1994. Oviposition substrate affects adult mortality, independent of reproduction, in the seed beetle Callosobruchus maculatus. Ecological Entomology. 19:108-110. (1994)
Carey, J.R., Liedo, P., Orozco, D., Tatar, M., Vaupel, J.W. 1994. A male-female longevity paradox in medfly cohorts. Journal of Animal Ecology. 64: 107-116. (1994)
Tatar, M., Carey, J.R. 1994. The genetics of mortality in the bean beetle Callosobruchus maculatus. Evolution. 48:1371-1376. (1994)
Tatar, M., Carey, J.R. 1994. Sex mortality differentials in the bean beetle: reframing the question. The American Naturalist. 144:165-175. (1994)
Promislow, D., Tatar, M. 1994. Comparative Approaches to the Study of Senescence: Bridging Genetics and Phylogenetics. In The Genetics and Evolution of Aging (eds. C.E. Finch and M.R. Rose). pp. 45-54. (1994)
Tatar, M., Carey, J.R., Vaupel, J.W. 1993. Long term cost of reproduction with and without accelerated senescence in Callosobruchus maculatus: analysis of age-specific mortality. Evolution. 47:1302-1312. (1993)
Minkenberg, O.P.J.M., Tatar, M., Rosenheim, J.A. 1992. Egg load as a major source of variability in insect foraging and oviposition behavior. Oikos. 65:134-142. (1992)
Tatar, M. 1991. Clutch size in the swallowtail butterfly, Battus philenor: the role of host quality and egg load within and among seasonal flights in California. Behavioral Ecology and Sociobiology. 28: 337-344. (1991)
Tatar, M. 1989. Swallowtail clutch size reconsidered. Oikos. 55: 135. (1989)
Tatar, M. 1984. Protandry in physiological time. Oikos. 43: 413. (1984)