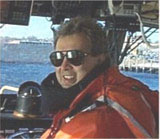 Kenneth Williams, MD
Associate Professor of Emergency Medicine (Clinical)
Emergency Medicine
Work
:
+1
401
-
444
-
6237
Disaster system design and prehospital care, EMS, airmedical care and medical informatics
Biography
KENNETH A WILLIAMS, MD, FACEP, is a graduate of the University of Massachusetts Medical School and completed his emergency medicine residency at the University of Pittsburgh in 1987. He was Medical Director for UMASS Life Flight for 10 years before coming to Brown in 1997. From 1999 until the project ended, Dr. Williams was Medical Director and Principal Investigator for the Rhode Island Disaster Initiative, the federally funded disaster research project that founded Rhode Island Hospital's Lifeguard EMS Critical Care transport program. Currently he is EMS Physician Medical Consultant at the RI Department of Health, Medical Director for Lifeguard EMS, and Director of EMS for Emergency Medicine at Brown. Dr. Williams is past President of RI ACEP and the Air Medical Physician Association.
Residency Training: Emergency Medicine at the University of Pittsburgh
Board Certified: Emergency Medicine
Institutions
RIH
Research Description
Please see www.RIdisaster.org
Funded Research
Rhode Island Disaster Intitiative, Federal Subcontract, total approx $4M over 5 years.
Teaching Experience
emergency medicine, with a focus on EMS, airmedical care, medical informatics, austere/disaster medicine
Selected Publications
Williams K, Suner S, Sullivan S, Woolard R: Rhode Island Disaster Initiative. Medicine & Health Rhode Island Vol 86, No. 7, July 2003, 207-210. (2003)
Rayman, R & Williams, K, The Passenger and The Patient Inflight. In DeHart R , Davis J [ed.] Fundamentals of Aerospace Medicine, 3rd Edition, Lippincott Williams & Wilkins, 2002. (2002)