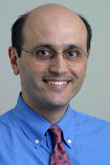 Edmond Shenassa, Sc.D.
Adjunct Associate Professor of Community Health
Community Health
Dr. Shenassa's work concerns the interaction between individual and social determinants of health. This work, which is primarily focused on maternal and child health, can be further categorized into two general areas: 1) developmental sequelae of in utero exposures to toxins; and 2) social epidemiology of injury.
Biography
Edmond D. Shenassa, ScD, is an adjunct associate professor of community health and is currently at the University of Maryland School of Public Health in the Section of Maternal and Child health
Institutions
TMH
Research Description
Dr. Shenassa's main research interest concerns the interaction between individual-level and social-level determinants of health. He is currently investigating social epidemiology of intentional and non-intentional injuries (for example, the effects of community-level availability of firearms on suicide and homicide rates). His other major areas of work regard long-term sequalae of in utero exposure to tobacco smoke, and application of social science findings to the field of public health and the methodological issues involved in such applications.
Grants and Awards
Honors
New Investigator Symposia Award, Society for Research on Nicotine and Tobacco, 2001.

Affiliations
American Public Health Association
Society for Research on Nicotine and Tobacco
Society for Epidemiologic Research
Funded Research
Smoking during pregnancy and infantile G.I. dysregulation—Maternal and Child Health Bureau, Department of Health and Human Services
The aim of this grant is to accrue a birth cohort to conduct longitudinal investigation of the link between maternal smoking and infantile G.I. dysregulation, and to examine the possible role that release of a gut protein may play in mediating the link between exposure to tobacco smoke and maternal smoking and infantile G.I. dysfunction.



Secondhand tobacco smoke exposure, maternal stress, and adverse birth outcomes—Flight Attendants Medical Research Institute
This is a proposal to examine the link between exposure to secondhand smoke and incidence of colic, and to examine the mediating role of a gut hormone, release of which has been linked with exposure to tobacco smoke and its metabolites.



Housing, parental supervision and pediatric injury. Centers for Disease Control
This is a contract to follow-up an earlier study on the link between housing conditions and incidence of pediatric injury (Shenassa, Stubbendick & Brown, 2004).



Prenatal neuroendocrine mediators of young adult smoking. National Institute of Child Health and Development. NICHD, 2002.
This is a grant to identify neuroendocrine mediators of various stages of smoking among young adults.



Rhode Island Department of Health
Contract to examine effects of mobility on school performance. This collaborative project with the Rhode Island Department of Health (DOH) is the first in a long-term series of projects intended to establish collaboration between the DOH, the Centers for Behavioral and Preventive Medicine at The Miriam Hospital, and Brown University's Department of Community Health.



NCI Tobacco Use Research Center
Nicotine Dependence: Phenotype, Endophenotype & Contexts.
This is the second phase of TTURC studies.



Epidemiology of housing related injuries in Illinois 1990-1999. National Center for Lead Safe Housing.



Gun availability, psychopathology, and risk of death from suicide attempt by gun. Harvard Injury Control Research Center.



Small area analysis of risk of childhood lead poisoning. Alliance to End Childhood Lead Poisoning.



Interaction of social and individual determinants of early alcohol use. Alcoholic Beverage Medical Research Foundation.
Teaching Experience
The Epidemiology of Violence and Its Consequences is an overview of the epidemiology of intentional and unintentional injury within the social context. This course provides an introduction to injury epidemiology, and includes exploration of individual and societal risk factors associated with injury. Selected topics for further study include homicide, suicide, child abuse, intimate partner and family violence, sexual assault and officially sanctioned violence. The role of guns and substance use will be explored. Methodological challenges will be discussed and theories of violence will provide context.

Professor Verhoek-Oftedah is the primary instructor for this course.
Courses Taught
Epidemiology of violence & its consequences (BC0207)
Selected Publications
Reading, R., Haynes, r., Shenassa, E. (2005). Neighbourhood influences on child injury risk. Children, Youth and Environments, 15, 165-185. (2005)
Shenassa, E. & Brown, M.J. (2004) Maternal smoking and infantile gastrointestinal dysregualtion: The case of colic. Pediatrics,114,e497-e506 (2004)
Shenassa, E., Rogers, M., Spalding, K., & Roberts, M. (2004). Safer storage of firearms at home and risk of suicide: A study of protective factors in a nationally representative sample. Journal of Epidemiology and Community Health, 58, 841-848. (2004)
Shenassa, E. & Daskalakis, C. (2004). Smoking prevention: Implications of study design, research setting, and goals. Nicotine & Tobacco Research, 6, 321-325. (2004)
Shenassa, E., Stubbendick, A., & Brown, M.J. (2004). Social disparities in the risk of non-fatal hsopitalized pediatric injuries: A multilevel study. American Journal of Public Health, 94, 633-639. (2004)
Shenassa, E., Catlin, S., & Buka, S. (2003). Lethality of firearms relative to other suicide methods: A population based study. Journal of Epidemiology and Community Health, 57, 120-124. (2003)
Buka, S., Shenassa, E., & Niaura, R. (2003). Elevated risk of tobacco dependence among offpsring of mothers who smoke during pregnancy: A 30-year prospective study. American Journal of Psychiatry, 160:1978-1984. (2003)
Shenassa, E., McCaffery, J. Swan, G., Khroyan,T., Lyons, M., Lerman, C. et al. (2003) Intergenerational transmission of tobacco use and dependence: A transdisciplinary perspective. Nicotine & Tobacco Research, 5, s55-s69. (2003)
Shenassa, E. (2002). Delivering the goods: The relevance of classification accuracy to the design of community intervention and prevention programs. Journal of Community Psychology, 30, 197-210. (2002)
Shenassa, E., & Earls, F. (2001). On the application of psychology to public health: Identification versus explanation. Journal of Community Psychology, 29, 83-85. (2001)
Shenassa, E. (2001). Society, physical health and modern epidemiology. Epidemiology, 12, 467-470. (2001)
Shenassa, E. (1999). Application of capture-recapture methods to epidemiological studies of alcohol related problems. Alocholism: Clinical and Experimental Research, 23, 1843-1847 (1999)
Shenassa, E., Daskalakis, C., & Buka, S. (in press). Utility of indices of gun availability in the community. Journal of Epidemiology and Community Health. ()