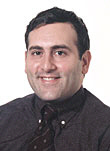 John Todaro, PhD
Assistant Professor of Psychiatry & Human Behavior (Research)
Psychiatry & Human Behavior
Work
:
+1
401
-
793
-
8008
John Todaro's research interests are in cardiovascular epidemiology and prevention. He presently is investigating whether men and women achieve similar medical and psychological benefits after participating in cardiac rehabilitation. Dr. Todaro is also conducting research investigating the pathophysiological mechanisms, including inflammation and the metabolic syndrome, which may help to explain the relationship between negative emotions and coronary heart disease.
Biography
John Todaro, PhD, is an assistant professor of psychiatry and human behavior at Brown Medical School and The Miriam Hospital. Dr. Todaro's research interests are focused within the area of cardiovascular behavioral medicine, with concentrations in cardiovascular epidemiology and behavioral clinical trials.
Research Description
My research interests are focused in both cardiovascular epidemiology and prevention. With respect to cardiovascular epidemiology, my colleagues and I have been investigating the relationship between psychosocial risk factors, such depression, hostility, and anxiety, and the development of heart disease. Along these lines, we are also examining the physiological mechanisms that might better explain how these emotions confer their increased risk for heart disease. Specifically, we are examining mechanisms such as inflammation and metabolic processes that are associated with both heightened negative emotions and the atherosclerotic process.

In terms of cardiovascular prevention, I am interested in developing and testing physical activity interventions that can be disseminated to at-risk, sedentary populations. In particular, my colleagues and I are examining the benefit of print-based approaches for delivering empirically-based exercise interventions by mail. This research has the potential to reach a broad population of individuals who are sedentary and presently not receiving any guidance on how to safely start an exercise program.

Finally, my cardiovascular prevention research is also focused on preventing the recurrence of heart disease among those who have previously experienced a heart attack or undergone a revascularization procedure. Specifically, I have been studying the long-term benefit of cardiac rehabilitation in men and women with established heart disease. We are presently examining whether men and women derive the same long-term psychologic and medical benefit from cardiac rehabilitation.
Grants and Awards
Young Investigator Award, National Alliance for Research on Schizophrenia and Depression (NARSAD), 2004 - present
Career Development Award, National Heart, Lung, and Blood Institute (NHLBI), 2001- present
Training Fellow, National Institutes of Health (NIH) Summer Training Institute on Design and Conduct of Randomized Clinical Trials Involving Behavioral Interventions, 2003
Affiliations
American Psychological Association (APA)
American Psychosomatic Society
Funded Research
The Efficacy of Depression Management at Reducing Inflammatory Markers Associated with Coronary heart disease (CHD)
John F. Todaro, Ph.D. (PI)

There is promising epidemiologic evidence that inflammatory processes could be an important link in the relationship between depression and CHD. However, it is still unknown whether treating depression can alter these inflammatory processes and, ultimately, reduce CHD risk. The goal of this preliminary clinical trial is to examine whether cognitive behavioral therapy for depression can alter inflammatory markers involved in the atherosclerotic process.


The Long-Term Benefits of Cardiac Rehabilitation in Men and Women
John F. Todaro, Ph.D. (PI)

Cardiac rehabilitation (CR) is recognized as a vital component of secondary prevention of future incident heart disease. Unfortunately, the effectiveness of CR has been studied primarily in men, neglecting the benefits of CR services in women. The goal of this project is to determine whether men and women achieve similar long-term medical, psychological, and quality of life benefits following participation in cardiac rehabilitation. Men and women participating in CR will be followed for a period of two years after completion of CR to measure long-term outcomes, such as psychosocial functioning, maintenance of health behaviors, and cardiac morbidity and mortality.


Secondary Prevention of Coronary Heart Disease in Women
John F. Todaro, Ph.D. (PI)

Coronary heart disease (CHD) is the leading cause of morbidity and mortality among American women. With the advent of the Women's Cardiac Center (WCC) at the Miriam Hospital, there is a unique opportunity to develop a hospital-based database to track secondary prevention outcomes in women with CHD. The goals of this project are twofold: 1) to develop a database infrastructure to support research initiatives in women diagnosed with CHD; and 2) to develop a repository of behavioral and medical outcomes from women receiving treatment services at the WCC.
Selected Publications
Shen, B.J., Todaro, J.F., Niaura, R., McCaffery, J., Zhang, J., Spiro, A. et al. (2003). Are Metabolic Risk Factors One Unified Syndrome? - Modeling the Structure of the Metabolic Syndrome X. American Journal of Epidemiology. In press. (2003)
Todaro, J.F., Shen, B.J., Niaura, R., Tilkemeier, P., & Roberts, B. (2003). Do men and women achieve similar benefits from cardiac rehabilitation?. Journal of Cardiopulmonary Rehabilitation. In press. (2003)
Todaro, J.F., Shen, B.J., Niaura, R., Spiro, A., Ward, K., & Weiss, S. (2003). A Prospective Study of Negative Emotions and CHD Incidence: The Normative Aging Study. American Journal of Cardiology. In press. (2003)
Niaura, R., Todaro, J.F., Stroud, L. Spiro, A., Ward, K., & Weiss, S. (2002). Hostility, the metabolic syndrome, and incident coronary heart disease. Health Psychology, 21(6):588-93. (2002)