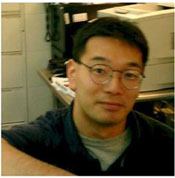 Leo Kobayashi, MD
Associate Professor of Emergency Medicine
Emergency Medicine
Work
:
+1
401
-
444
-
6237
Dr.Kobayashi has research interests in the application of high-fidelity medical simulation as a useful and valuable methodology for acute care healthcare systems probing and systems improvement. Current research programs focus on sudden cardiac arrest resuscitation (resuscitation quality; automation), medical informatics / point-of-care information design (checklisting, situational awareness), patient monitoring telemetry systems (alarm fatigue) and procedural sedation.
Biography
LEO KOBAYASHI, MD, a graduate of Brown University School of Medicine, has been on staff at Rhode Island Hospital since 2002. Residency Training: Emergency Medicine at Harvard Medical School (BWH / MGH) Board Certified: Emergency Medicine, 2003 Research interests: Healthcare systems probing and improvement through application of human factors and in situ medical simulation; medical education and medical error reduction through applied medical simulation; other interests: snowboarding and mountainbiking
Research Description
Dr.Kobayashi is working on objectively assessing the utility of high-fidelity medical simulation for healthcare systems improvement-- in-hospital sudden cardiac arrest (SCA) response improvement (earlier defibrillation / AED use, equipment + logistics enhancement, and systems performance optimization). Additional ongoing work for acute care environment and operations optimization through human factors engineering and medical informatics.
Grants and Awards
Outstanding Reviewer, Simulation in Healthcare 2008

1st Place Research Abstract, International Meeting on Simulation in Healthcare, January 2009

Outstanding Reviewer, MedEdPortal 2009, 2011

Paul Calabresi Faculty Research Award, Rhode Island Hospital Department of Emergency Medicine 2010
Affiliations
American College of Emergency Physicians (ACEP), Fellow status
American Medical Informatics Association (AMIA)
European Society for Emergency Medicine (EuSEM)
Massachusetts Medical Society (MMS)
Rhode Island Medical Society (RIMS)
Society for Academic Emergency Medicine (SAEM)
Society for Simulation in Healthcare (SSH)
Funded Research
ACTIVE
Special Projects Fund 8/1/2005 – ongoing
Lifespan Risk Management; $ 6,000 / year
In-hospital Cardiopulmonary Resuscitation Team and System Performance during Simulated Events (SimCode)
In situ simulation probing of in-hospital sudden cardiac arrest resuscitation systems.
Role: Principal Investigator

Faculty Development Grant 7/1/2009 - ongoing (no cost extension)
Department of Emergency Medicine, Alpert Medical School of Brown University; $ 20,000
Simulation Learning Initiative for Procedural Sedation Training for Routine Engagement of Anticipatory Maneuvers (SLIPSTREAM)
In situ simulation study of Emergency Department procedural sedation practice and clinical informatics-based intervention.
Role: Principal Investigator

Special Projects Fund 10/1/2010 - ongoing (no cost extension)
Department of Emergency Medicine, Alpert Medical School of Brown University; $ 1,000 (+ Lifespan Network Services $16,000 capital expenses)
Simulation Learning Initiative for Procedural Sedation Training for Routine Engagement of Anticipatory Maneuvers (SLIPSTREAM)
Accessible Real-time clinical Guidance through Updated Signals (ARGUS) Study.
Examination and optimization of Emergency Department bedside and telemetry monitoring systems functions.
Role: Principal Investigator

? grant #. (PI Brown) 7/1/2011- 6/30/2014
Agency for Healthcare Research and Quality (AHRQ). $ 749,560.
Improving Pediatric Resuscitation: A Simulation Program for the Community Emergency Department (PRECISE) study.
Assessment and training of community Emergency Departments in pediatric resuscitation capabilities through use of in situ simulation.
Role: Co-investigator

Special Projects Grant (PI B.Choi) 8/1/2011 to 6/30/2012
Department of Emergency Medicine, Rhode Island Hospital + Research Committee; $ 1,000.
Ambulance Exhaust Toxicity in Healthcare-related Exposure and Risk (AETHER) study.
Emergency department ambient gas toxicity assessment for particulate matter (PM2.5), CO, H2S, LEL.

Special Projects Grant 9/1/2011 to 6/30/2012
Rhode Island Hospital Medical Simulation Center fellowship simulation development seed grant; $ 5,180 (RIHMSC cost center internal funds)
CPR Instructor Real-time Review through Use of Simulation (CIRRUS) study.
Applied simulation with ventilation/chest compression-assessing manikin system to evaluate CPR instructor performance and judgment.
Role: Co-investigator


COMPLETED
RCMST-RIH-05-001 (PI Shapiro -> Williams) 8/1/2005 – 7/31/2006
Telemedicine + Advanced Tech. Research Center (TATRC), Subcontract through Dynamics Research Corp.; $ 605,899
Reserve Component Medical Skills Readiness Training Program
Assessment of Web resources and civilian high-fidelity medical simulation centers for Army Reserve Medical Component combat casualty care training
Role: Co-Investigator

18-P-92332/1-01 (PI Shapiro) 8/1/2004 – 8/31/2006
Centers for Medicare and Medicaid Services (CMS); $ 98,000
SAFER Project
Development, testing and dissemination of high-fidelity medical simulation modular curriculum for patient safety training in acute care medical fields.
Role: Investigator

Special Projects Grant 1/1/2009 – 7/30/2009
Rhode Island Hospital Medical Simulation Center nursing simulation development seed grant; $ 40,423 (RIHMSC cost center internal funds)
Arrhythmia Simulation / Cardiac Event Nursing Training AED (ASCENT AED) Study.
Application of intermediate-fidelity simulation in situ to examine AED-enhanced in-hospital sudden cardiac arrest first response. Role: Principal Investigator

Small Projects Grant 2/1/2009 – 1/31/2009
Department of Emergency Medicine, RIH; $ 3,000
Emergency Unit Chart Location, Identification and Differentiation (EUCLID) project
Investigation of human factors engineering application to clinical charting system modification.
Role: Principal Investigator

Small Projects Grant 4/1/2009 – 3/31/2010
Lifespan Network Services, RIH; $ 3,000
Bedside Electronic Tablet Application (BETA) project
Evaluation of tablet PC devices for ED bedside clinical flow and function improvement.
Role: Principal Investigator

Small Projects Grant 10/1/2009 – 9/30/2010
Department of Emergency Medicine, Rhode Island Hospital + Research Committee, Department of Emergency Medicine, Brown University; $ 1,500.
Provider Role in Patient Experience / Latent Lapses in Emergency caRe (PRoPELLER) Study.
Websurvey-based assessment of provider perceptions of roles in Emergency Department as they relate to patient safety and patient experience.
Role: Principal Investigator
Teaching Experience
Advanced Cardiac Life Support – Warren Alpert Medical School
July 2002 to Present
Facilitator and instructor in simulation case development and training for pre-clinical medical students (70 learners x 1 session / yr).

Brown University Residency in Emergency Medicine
July 2002 to Present
Course, content, and equipment developer at RI Hospital Medical Simulation Center. Currently educating healthcare personnel in basic and advanced acute care medicine, difficult airway management, teamwork training, and medical error reduction. Courses:
-Acute Care Training Simulations (adult)
-Acute Care Training Simulations (pediatric)
-Acute Care Training Simulations (supplemental)
-Advanced Airway Course
-Critical Care Room Orientation
-Curriculum in Simulated Pitfalls of Overdose Toxicology (C-SPOT)
-Emergency Medical Services / Critical Care Transport Training
-Intern MedTeams Course
-Intern Simulation Orientation / Airway Course
-Oral Boards Preparation Simulations
-Resident Evaluation Simulations
-Ultrasound Simulation (U/SS) Program

Mammalian Physiology - Brown Medical School
Fall 2002 to 2004 (course made non-sim by BMS)
Developer and controller of laboratory exercises in cardiovascular physiology (BI / 0117) with human patient simulator (for students averse to canine lab; 3-4 learners x 1-2 sessions / yr).

Elective in Emergency Medicine - Warren Alpert Medical School
Dec. 2002 to Jan. 2006 (course leadership transitioned to Dr. E.Sutton)
Simulation specialist and content developer at RI Hospital Medical Simulation Center for medical students enrolled in one-month Emergency Medicine elective (BI / 0562). Training in acute care medicine, airway management, teamwork training and medical error reduction provided through high fidelity medical simulation scenarios (4 learners x 12 sessions / yr).

Medicine in Action Program - Warren Alpert Medical School
Oct. 2003 to Present
Coordinator of shadowing opportunities in Rhode Island Hospital Emergency Department for pre-medical students at Brown (1-2 learners / yr).

Simulation Training for Emergency Preparedness (STEP)
June 2004 to Nov. 2005 (project completed)
Developer and course facilitator of a high-fidelity medical simulation educational program for Weapons of Mass Destruction (WMD) and Mass Casualty Incident (MCI) preparedness in Rhode Island hospitals. Funded by Health Resources and Services Administration (HRSA). Participating hospitals (10 learners x 10 sessions / yr):

-Kent County Hospital -South County Hospital
-Landmark Medical Center -St. Joseph's / Fatima Hospital
-Memorial Hospital of Rhode Island -The Miriam Hospital
-Newport Hospital -Westerly Hospital
-Rhode Island Hospital -Women + Infants' Hospital
-Roger Williams Medical Center

Medical Simulation Elective
June 2005 to Present
Elective director, coordinator and instructor for month-long Brown University Residency in Emergency Medicine elective in medical simulation.
-Robert Tubbs MD (July 2005)
-Juan Vernon MD (Nov 2005)
-Christopher Zabbo MD (Oct 2007)
-Sara Lozano MD (Jan 2008)
-Anika Parab MD (Jan 2008)

"Doctoring" Simulation - Warren Alpert Medical School
Fall 2005 to Spring 2007 (course made non-sim by BMS)
Simulation course organizer and curriculum developer for integrated Warren Alpert Medical School pre-clinical curriculum, designed to demonstrate and reinforce didactic teaching points with simulated clinical encounters (70 learners x 2 sessions / yr).

Technical Skills Training Session - Warren Alpert Medical School
June 2006 to Present
Instructor for Warren Alpert Medical School 3rd year student clinical transition preparation (70 learners x 1 session / yr).

Emergency Medicine Resident Mentor - Warren Alpert Medical School
July 2006 to Present
Faculty mentor for Emergency Medicine resident.
-Douglas Hartman MD (2006-9)

Thesis Reader - Brown University Program in Public Health
Aug. 2006 to Sept. 2007 (mentee MPH program complete)
Clinical faculty project mentor and thesis reader for MPH student.
-Hardeek Shah MPH (2006-7)

National Youth Leadership Forum on Medicine
June 2007 to Present
Simulation instructor for interactive experiential education summer sessions for secondary school students (50 learners x 3 sessions / yr).

"Doctoring" Physician Mentor
Oct. 2007 to Present
Mentor to Warren Alpert Medical School first-year student. Introduction to clinical patient care, acute care medical settings, simulation education (1 learner for 16 x 4 hr sessions / yr x 2 years, then longitudinal experience with 8 hrs / 2 wks).
-Daniel Cho MD PhD candidate (2007-Present)

Emergency Medicine Interest Group Simulation Session
Nov. 2007 to Present
Event organizer and simulation / skill station coordinator + instructor to expose Brown pre-med and medical students to the practice and procedures of Emergency Medicine (60 learners x 1-2 session / yr).

Medical Simulation Fellowship
Feb. 2008 to Present
Co-director of non-ACGME medical simulation fellowship designed to provide training in sophisticated, validated and innovative simulation, foster a knowledgeable simulation expert, and encourage the development of a healthcare education researcher.
-Dr. Fang Yuan (Franklin) Wei (Chinese emergency physician visiting US for one-year observational Emergency Medicine fellowship, 2008)
-Dr. Anita Kestin (combined Lifespan Patient Safety + Medical simulation fellow, 2008-10)
Selected Publications
Kobayashi L, Boss R, Gibbs F, Goldlust E, Hennedy M, Kestin A, Monti J, Siegel N. Use of a color-coded chart binder system to improve patient safety characteristics of Emergency Department clinical paper documentation and materials. Healthcare Environments Research and Design 2011; 4(4): 79-88 (2011)
Kobayashi L, Sweeney LA, Cousins AC, Bertsch KS, Gardiner FG, Tomaselli NM, Boss RM, Gibbs FJ, Jay GD. Web survey and intervention on Emergency Department personnel perceptions of role in patient experience. Accepted for publication, European Journal of Emergency Medicine, April 2011. (2011)
Kobayashi L, Dunbar-Viveiros J, Devine J, Jones MS, Overly FL, Gosbee JW, Jay GD. Pilot phase findings from high-fidelity In Situ medical simulation investigation of Emergency Department Procedural Sedation. Accepted for publication, Simulation in Healthcare, September 2011. (2011)
Kobayashi L, Dunbar-Viveiros JA, Sheahan BA, Rezendes MH, Devine J, Cooper MR, Martin PB, Jay GD. In situ simulation comparing in-hospital first responder sudden cardiac arrest resuscitation with semi-automated defibrillators and automated external defibrillators. Sim Healthcare 2010; 5(2): 82-90. (2010)
Kobayashi L, Lindquist D, Jenouri I, Dushay K, Haze D, Sutton E, Smith J, Tubbs R, Overly F, Foggle J, Dunbar-Viveiros J, Jones M, Marcotte S, Werner D, Cooper M, Martin P, Tammaro D, Jay G. Comparison of sudden cardiac arrest resuscitation performance data obtained from in-hospital incident chart review and in situ high-fidelity medical simulation. Resuscitation 2010; 81(4): 463-71 (2010)
Kobayashi L, Boss R, Gibbs F, Goldlust E, Hennedy M, Kestin A, Monti J, Siegel N. Use of a color-coded chart binder system to improve patient safety characteristics of Emergency Department clinical paper documentation and materials. Accepted for publication, Healthcare Environments Research and Design, May 2010. (2010)
Kobayashi L, Overly FL, Fairbanks RJ, Patterson M, Kaji AH, Bruno EC, Kirchhoff MA, Strother CG, Sucov A, Wears RL. Advanced medical simulation applications for Emergency Medicine microsystems evaluation and training. Acad Emerg Med 2008; 15(11):1058-70. (2008)
Kaji A, Bair A, Okada H, Kobayashi L, Khare R, Vozenilek J. Defining systems expertise: effective simulation at the organizational level- Implications for patient safety, disaster surge capacity, and facilitating the systems interface. Acad Emerg Med 2008; 15(11):1098-103. (2008)
Kobayashi L, Patterson M, Overly F, Shapiro MJ, Williams KA, Jay G. Educational and research implications of portable human patient simulation in acute care medicine. Acad Emerg Med 2008; 15(11): 1166-74. (2008)
Kobayashi L, Shapiro MJ, Gutman DC, Jay G. Multiple encounter simulation for high-acuity multi-patient environment training. Acad Emerg Med 2007, 14(12): 1141-8. (2007)
Kobayashi L, Frund Z, Jan D et al. "Design Challenge: Simulation of Human Physiology." In: PETMAN Committee (Tomizuka M, Akeel HA, Atkeson C, Brosseau L, Frund Z, Jan D, Jayaraman S, Kobayashi L, Newman D, Sanderson A, Schaudies RP), National Academies. Soldier protective clothing and equipment: feasibility of chemical testing using a fully articulated robotic mannequin. Washington, DC: National Academies Press, 2007: 21-47. (2007)
Kobayashi L, Shapiro MJ, Sucov A, Woolard R, Boss RM, Dunbar J, Sciamacco R, Karpik K, Jay G. "Portable advanced medical simulation for new Emergency Department testing and orientation." Acad Emerg Med 2006, 13(6): 691-5. (2006)
Kobayashi L, Suner S, Shapiro MJ, Jay G, Sullivan F, Overly F, Seekell C, Hill A, Williams KA. "Designing multi-patient advanced medical simulation disaster scenarios for civilian pre-hospital medical response training and evaluation: a "dirty bomb" case study." Simulation in Healthcare 2006, 1(2): 72-8. (2006)
Kobayashi L. "Vertebrobasilar Insufficiency." In Schaider J et al. (eds): The 5 Minute Emergency Medicine Consult, 3rd edition, Philadelphia, PA: Lippincott Williams + Wilkins, 2006. (2006)
Harvard Online Continuing Medical Education (WebCME) Project [2003] Kobayashi L, Mermel L. Civilian Bioweapon Exposure case, Biological and Chemical Warfare Agents module, "Current concepts in emergency medicine" course. ) ()
Society for Academic Emergency Medicine (SAEM) Simulation Interest Group (SIG) Emergency Medicine Simulation Resources Online- Simulation Case Library [2006]. "U.S. Army Reserve Component Medical Training Simulation Scenarios" package. Ed. Kobayashi L. Available at http://www.emedu.org/SimGroup/casedetail.asp?UploadID=91 ()