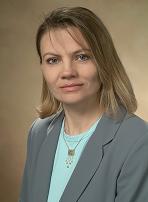 Iwona Chelminski, PhD
Clinical Assistant Professor of Psychiatry & Human Behavior
Psychiatry & Human Behavior
Work
:
+1
401
-
444
-
7355
Biography
Iwona Chelminski, a clinical psychologist, is an assistant professor of psychiatry and human behavior at Brown Medical School. Iwona Chelminski received her PhD in clinical psychology from the University of North Dakota. She completed her clinical psychology internship at the VA Connecticut Healthcare System Clinical Psychology Internship Consortium, and the post-doctoral fellowship at the Brown Psychology Postdoctoral Fellowship. Following fellowship, she remained at Brown and joined the faculty in 2002. She is a clinical supervisor for the Brown Psychology Internship and Postdoctoral Fellowship programs. In 2008 she was awarded the Brown Medical School Teaching Recognition Award. Dr. Chelminski's work is based out of the Rhode Island Methods to Improve Diagnostic Assessment and Services (MIDAS) research project.
Research Description
Dr. Chelminski's main research focus is on psychiatric comorbidity, diagnostic precision and assessment completeness. The ultimate research question that she and her colleagues are trying to tackle is whether improved diagnostic practice will result in improved treatment outcome and outcome prediction. Currently, she is involved in the Rhode Island Methods to Improve Diagnostic Assessment and Services (MIDAS) project, which is an ongoing study of involving the integration of research assessment methods into routine clinical practice. A primary focus of this project is the development and investigation of newly constructed measures of symptom severity/impairment and self-report questionnaires for patients. Projects have included validation of a questionnaire designed to assess DSM-IV major depressive disorder (Diagnostic Inventory for Depression, DID), a questionnaire that screens for major DSM-IV diagnoses (the Psychiatric Diagnostic Screening Questionnaire, PDSQ), and a multidimensional scale that assesses both general psychopathology and psychosocial functioning that can be used as an outcome measure (the Multidimensional Assessment of Symptoms and Psychosocial Functioning, MASP). At present Dr. Chelminski is also involved in the development of a scale to be administered by bariatric surgeons to determine which patients should be referred for a more complete psychiatric evaluation prior to bariatric bypass surgery.
Grants and Awards
Brown Medical School Teaching Recognition Award 2008
Affiliations
Association for Behavioral and Cognitive Therapies (ABCT)