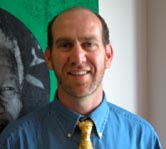 Mark Lurie, PhD
Assistant Professor of Epidemiology
Department of Epidemiology
Work
:
+1
401
-
863
-
7593
Mark Lurie, PhD, is an infectious disease epidemiologist working on HIV/AIDS, sexually transmitted infections and tuberculosis in sub-Saharan Africa. He has studied the role of migration in the spread of HIV in South Africa, examined the evidence for concurrency as a major driver of the HIV epidemic, and his current research, through an NIH R-01 examines the impact of antiretroviral therapy on HIV epidemic dynamics in Sub-Saharan Africa.
Biography
Dr. Lurie, a native South African, earned his BA in Political Science and Film Studies from Boston University in 1986, his Masters Degree in African History from the University of Florida in 1991 and his PhD in Public Health from Johns Hopkins University School of Hygiene and Public Health in 2001.
Institutions
MH
Research Description
Dr. Lurie's main research focuses on the following topics:

1. What impact does expanding access to antiretrovial therapy for the treatment of HIV/AIDS have on epidemic dynamics and new infections in South Africa. First through a NIMH funded K01 and more recently through a R01, we aim to quantify the impact of antiretroviral therapy on HIV epidemic dynamics in sub-Saharan Africa. This project is a collaboration between Brown University, the Africa Centre for Health and Population Studies in KwaZulu/Natal, South Africa and Erasmus Medical College in Rotterdam, the Netherlands. We use primary data and mathematical models to estimate the impact of interventions on reducing new infections an the eventual elimination of HIV/AIDS.

2. Can we improve rates of partner notification and reduce the number of new sexually transmitted infections among STI patients in Cape Town. In collaboration with Seth Kalichman at the University of Connecticut and Cathy Mathews at the University of Cape Town and the South African Medical Research Council, we are conducting a 3-arm randomised controlled trial on a brief, single-session, one-on-one intervention aimed at assisting STI patients notify their partners that they may have been exposed to an STI.

In addition to the above collaborations, Dr. Lurie also works closely with colleagues at the Agincourt Demographic Surveillance System in Limpopo Province, South Africa (examining issues of migration and health); the Perinatal HIV Research Unit at Baragwanath Hospital in Soweto, South Africa (focusing on behavioral issues among a clinical cohort of HIV-infected urban and rural patients); The South African Medical Research Council's Health Systems Research Unit in Cape Town (examining the feasibility of a HIV prevention among a group of HIV-positive patients).
Grants and Awards
2009 Best Poster Award, EPIDEMICS2: Second International Conference on Infectious Disease Dynamics, December 2-4, Athens, Greece. Poster title: Impact of Antiretroviral Therapy on the Basic Reproductive Number of HIV.
2001–2003 Recipient, National Research Service Award, U.S. Department of Health and Human Services
1992–2001 Johns Hopkins University School of Hygiene And Public Health
Honors: Recipient of the Hess and Wright Scholarships in International Health
1992 University Of Florida; Gainesville, Florida
Honors: Recipient Foreign Language Area Studies Fellowship from the Center for African Studies, and Grinter Fellowships from the History Department
1991 University Of California, Berkeley; Berkeley, California
Honors: Recipient Foreign Language Area Studies (FLAS) Fellowship
Affiliations
Population Association of America
Biosocial Society
International AIDS Society
Funded Research
ACTIVE RESEARCH GRANTS
1.Lurie, Mark N (PI) 07/01/2009-06/30/2014
R-01. NIH/National Institute of Mental Health
The Impact of Antiretroviral Therapy on HIV Epidemic Dynamics
2. Kalichman, Seth PI. M Lurie Co-I. 04/01/2013-03/31/2018
R-01. NIH/National Institute of Mental Health
Enhanced STI/HIV Partner Notification in South Africa
3. White, Michael PI; Mark Lurie Co-I. 3/2011-3/2012
Brown/Tufts/Lifespan Center for AIDS Research Developmental Grant
Title: Migration, HIV and Socioeconomic Change in South Africa
Aim: Determine the relationship between AIDS mortality, migration and household livelihood strategies and to design an improved methodology for identifying and following migrants in order to minimize loss to follow-up.
COMPLETED RESEARCH
1. Lurie, Mark N (PI) 12/01/2003-11/30/2008
NIH/National Institute of Mental Health
K-01 Career Development Award
"The Public Health Impact of Antiretroviral Therapy in South Africa"
2. Lurie, Mark N (PI) 1/1/2005-12/31/2005
Brown University, Salomon Grant Award
"HIV/AIDS Related Risk Behaviors Among Young People in the Context of Expanded Access to Testing and Treatment in South Africa"
3. Lurie, Mark N (PI) 7/1/2005-6/30/2006
Lifespan/Tufts/Brown Center for AIDS Research (CFAR) Development Award
"Barriers to Accessing HIV Testing and Treatment: Towards more Effective Interventions for South African Youth"
4. Abdool Karim SS (PI) 01/01/2002-12/31/2006
Lurie, Mark N (Co-Investigator)
National Institutes of Health
Collaborative AIDS Programme of Research in South Africa (CAPRISA)
5. Lurie, Mark N (PI) 03/01/1998-06/01/2002
The Wellcome Trust (U.K.)
"Migration and the Spread of HIV/STD in South Africa"
Goal: To conduct a cohort study to measure the effect of migration, or population movement, on the spread of HIV and other STDs in South Africa in order to define appropriate targeted HIV/STD treatment and prevention programmes for migrants and their partners.
Click here for study protocol (pdf document)
Teaching Experience
Dr. Lurie taught PHP1910, a seminar for seniors who have an academic concentration in Community Health, for 5 years. The focus of the course was on Health and Human Rights.

Dr. Lurie's teaches PHP2230, Epidemiology of Infectious Diseases, a graduate-level seminar, and PHP2220H, Methodological Issues in the Epidemiology, Treatment and Prevention of HIV in alternates spring semesters.

Dr. Lurie teaches PHP2120, Introduction to Methods in Epidemiological Research in the fall.
Courses Taught
Health and Human Rights (BC0191)
Selected Publications
Stuckler D, Basu S, McKee M, Lurie M. The risk of tuberculosis attributable to mining in sub-Saharan Africa. American Journal of Public Health, in press. (IN PRESS)
Lurie M, Rosenthal S. The Concurrency Hypothesis in Sub-Saharan Africa: Convincing Empirical Evidence Is Still Lacking. Response to Mah and Halperin, Epstein, and Morris. AIDS and Behavior, Epub. (2009)
Lurie M, Rosenthal S, Williams B. Concurrency driving the African HIV Epidemics? Where is the evidence? Lancet, 374(9699):1420. (Letter) (2009)
Basu S, Stuckler D, Gonsalves G, Lurie M. The production of consumption: addressing the impact of mineral mining on tuberculosis in southern Africa. Globalization and Health, 5(11). (2009)
Lurie M and Rosenthal S. 2009. Concurrent partnerships as a driver of HIV epidemics in Sub-Saharan Africa: The evidence is limited. AIDS and Behavior, EPub. (2009)
Eisele T, Mathews C, Chopra M, Lurie M, Brown L, Dewing S, Kendall C. Changes in Risk Behavior among HIV-Positive Patients during Their First Year of Antiretroviral Therapy in Cape Town South Africa. AIDS and Behavior, Epub 2009. (2009)
Gebrekristos H, Lurie M, Mthethwa N, Abdool Karim Q. 2009. Disclosure of HIV status: experiences of patients enrolled in an integrated TB and HAART pilot programme in South Africa. African Journal of AIDS Research, 8(1):1-6. (2009)
Kumta S, Lurie M, Weitzen S, Jerajani H, Gogate A, Row-kavi A, Anand V, Makadon H, Mayer K. Bisexuality, sexual risk taking and HIV prevalence among men who have sex with men accessing voluntary counseling and testing services in Mumbai, India. Journal of Acquired Immune Deficiency Syndromes (JAIDS), Epub. (2009)
Phan S, Harwell J, Dansereau L, McGarvey S, Lurie M, Mayer K. 2008. Patterns of sexual behaviors of male patients prior to testing HIV+ in a Cambodian hospital, Phnom Penh. Sexual Health, 5(4):353-358. (2008)
Lurie M, Pronyk P, DeMoor E, Heyer A, de Bruyn G, Struthers H, McIntyre J, Gray G, Miranda E, Kipstein-Grobusch K, Martinson N. 2008. Sexual behaviour and reproductive health among HIV-infected patients in urban and rural South Africa. Journal of Acquired Immune Deficiency Syndromes, 47(4):484-493. (2008)
Myung P, Pugatch D, Brady M, Many P, Harwell J, Lurie M, John Tucker. 2007. Directly-Observed HAART for HIV Infected Children in Cambodia. American Journal of Public Health, 97(6): 674-677. (2007)
Coffee M, Lurie M, Garnett G. 2007. Modelling the impact of migration on the rural HIV epidemic in South Africa. AIDS, 21:343-350. (2007)
Zuma K, Lurie M, Jorgensen M. 2007. Analysis of interval-censored data from migrant and non-migrant partnerships using the EM algorithm. Statistics in Medicine, 26:306-319. (2007)
Lurie M. Fertility, mobility, and changing household structure in South Africa. 2007. Scandinavian Journal of Public Health, 35(Suppl. 69):94-95. (2007)
Phan S, Harwell J, Lurie M, McGarvey S, Mayer K. 2006. Demographic and clinical characteristics of HIV infected patients in Cambodia. AIDS Patient Care and STDs, 20(5): 369-378. (2006)
Lurie M. Migration and the Epidemiology of HIV in South Africa. 2006; Journal of Ethnic and Migration Studies, 32(4): 649-666. (2006)
Vijayakumar G, Madube Z, Smit J, Beksinska M, Lurie M. 2006. Female-Condom Effectiveness: Increasing Number of Protected Sex Acts, Decreasing STI Incidence, and Predictors of Use. International Journal of STD and AIDS, 17:652-659. (2006)
Crush J, Williams B, Gouws E, Lurie M. Spaces of Vulnerability: Migration and HIV/AIDS in South Africa. 2005; Development Southern Africa, 22(3) : 293-318. (2005)
Mkaya-Mwamburi D, Dladla N, Qwana E, Lurie M. Factors associated with wanting to know HIV results in South Africa. 2005; AIDS Patient Care and STDs, 19(8):518-525. (2005)
Akileswaran C, Lurie M, Mayer K, Flanigan T. Lessons Learned from Experience with Antiretroviral Therapy in Africa. 2005; Clinical Infectious Diseases, 41:376-385. (2005)
Zuma K, Lurie M. Application and comparison of methods for analysing correlated interval-censored data from sexual partnerships. 2005; Journal of Data Science, 3:241-256. (2005)
Quach L, McGarvey S, Mayer K, Lurie M, Do P, Nguyen L, Cao T, Nguyen K, Nguyen T, Esposito C. Knowledge Attitudes and Practices about HIV among Physicians in Quang Ninh, Vietnam. 2005; AIDS Patient Care and STDs, 19(5): 335-347. (2005)
Gebrekristos H, Resch J, Zuma K, Lurie M. Estimating the impact of establishing family housing on the annual risk of HIV infection in the South African mining communities. 2005; Sexually Transmitted Diseases, 32(6):333-340. (2005)
Zuma K, Lurie M, Williams B, Garnett G, Mkaya-Mwamburi D, Sturm AW. Risk factors for sexually transmitted infections among migrant and non-migrant sexual partnerships from rural South Africa. 2005; Epidemiology and Infection, 133: 421-428. (2005)
Lurie M, Akileswaran C, Mayer K. Opportunities for Preventing HIV in Treatment Settings in Developing Countries. 2005; Lancet Infectious Diseases, 5:66-68. (2005)
Gebrekristos H, Lurie M, Mthethwa N, Abdool Karim Q. Knowledge and Acceptability of HAART among TB Patients in Durban, South Africa. 2005; AIDS Care, 17(6):767-772. (2005)