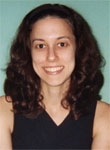 Carolyn Rabin, PhD
Assistant Professor of Psychiatry & Human Behavior (Research)
Psychiatry & Human Behavior
Work
:
+1
401
-
793
-
8234
Carolyn Rabin, Ph.D., is an assistant professor of psychiatry and human behavior at Brown Medical School and The Miriam Hospital. She received her Ph.D. in clinical psychology from Rutgers University and completed her predoctoral internship and postdoctoral training at Brown University. She has conducted research on the factors that influence both emotional and physical well-being among cancer survivors. She is currently developing behavioral interventions for young adult cancer survivors.
Institutions
MH
Research Description
Carolyn Rabin's primary research interests are in: 1. studying the factors that predict adjustment to life after a cancer diagnosis and 2. developing psychoeducational and behavioral interventions to improve the emotional and physical health of cancer survivors. Past research has included a National Cancer Institute (NCI)-funded study of the connection between cancer-related beliefs and health behavior change after cancer treatment and a pilot study of a physical activity and relaxation training intervention for breast cancer survivors funded by the Susan G. Komen Foundaton. Dr. Rabin is currently funded by the National Cancer Institute to pilot test a web-based exercise intervention for young adult cancer survivors. She is also funded by the American Cancer Society to develop and test a combined exercise and relaxation intervention for young adult cancer survivors.
Grants and Awards
New Investigator Award, American Psychosocial Oncology Society (2007)
Research Award, Rhode Island Chapter of the American Cancer Society (2007)
Research Poster Award, American Psychosocial Oncology Society Annual Meeting (2007)
Affiliations
Society of Behavioral Medicine
American Psychological Association, Division 38 (Health Psychology)
American Psychosocial Oncology Society
Funded Research
National Research Service Award 2002 – 2004
National Cancer Institute, #F32 CA97639
Health Behavior Change in Cancer Patients and Families
Principal Investigator, $66,092

Basic, Clinical & Translational Breast Cancer Research Award 2005 – 2008
Susan G. Komen Breast Cancer Foundation, #BCTR0503417
Feasibility of Physical Activity and Relaxation Training for Cancer Survivors
Principal Investigator, $242,334.

Pilot Funds Award 2007 - 2008
Centers for Behavioral & Preventive Medicine, The Miriam Hospital
Developing an Exercise Intervention for Young Adult Cancer Survivors
Principal Investigator, $5,940

Cure Kids Cancer Radiothon Funds 2008 – 2009
Hasbro Children's Hospital
Physical Activity for Hodgkin's Disease Survivors
Principal Investigator, $22,540

Small Grant for Behavioral Research in Cancer Control 2008 – 2010
National Cancer Institute, #R03 CA134197-01
Web-based Physical Activity Intervention for Young Adult Cancer Survivors
Principal Investigator, $157,877

Mentored Research Scholar Grant 2009 – 2013
American Cancer Society, #MRSG –09-091-01-CPPB
Exercise and Relaxation Intervention for Young Adult Cancer Survivors
Principal Investigator, $723,000
Selected Publications
Rabin, C., Rogers, M.L., Pinto, B.M., Nash, J.M., Frierson, G.M., & Trask, P.C. (2007). Effect of personal cancer history and family cancer history on levels of distress. Social Science & Medicine, 64 (2), 411 - 416. (2007)
Politi, M. & Rabin, C. (2006). Complementary and alternative medicine use among breast cancer survivors: Relationship to diet and exercise. Supportive Care in Cancer, 14 (10), 1064 - 1069. (2006)
Rabin, C., Pinto, B., Trunzo, J., Frierson, G., & Bucknam, L. (2006). Physical Activity among Breast Cancer Survivors: Regular Exercisers vs. Participants in a Physical Activity Intervention. Psycho-Oncology, 15 (4), 344-354. (2006)
Rabin, C. & Pinto, B. Cancer-related beliefs and health behavior change among cancer survivors and their first-degree relatives. (2006). Psycho-Oncology, 15(8), 701 - 712. (2006)
Rabin, C., Pinto, B.M., & Frierson, G.M. (2006). Mediators of a physical activity intervention for breast cancer patients. Journal of Sport & Exercise Psychology, 28 (3) 269 - 284. (2006)
Trask, P., Rabin, C., Whiteley, J., Nash, J., Rogers, M., Frierson, G. & Pinto, B. (2005). Cancer screening practices among cancer survivors. American Journal of Preventive Medicine, 28 (4), 351 - 356. (2005)
Pinto, B.M., Frierson, G.M., Rabin, C., Trunzo, J., & Marcus, B. (2005). A home-based physical activity intervention for breast cancer patients. Journal of Clinical Oncology, 23 (15), 3577 - 3587. (2005)
Pinto, B.M., Trunzo, J.J., Rabin, C., Cady, B., Fenton, M.A., Herman, A., Legare, R., & Sikov, W. (2004). Recruitment strategies for a home-based physical activity intervention for breast cancer patients. Journal of Clinical Psychology in Medical Settings, 11 (3), 171 – 178. (2004)
Rabin, C., Leventhal, H., & Goodin, S. (2004). Conceptualization of disease time-line predicts post-treatment distress in breast cancer patients. Health Psychology, 23 (4), 407 - 412. (2004)
Rabin, C., Leventhal, H., Ward, S., & Schmitz, M. (2001). Explaining retrospective reports of symptoms in patients undergoing chemotherapy: Anxiety, initial symptom experience, and posttreatment symptoms. Health Psychology, 20 (2), 91-98. (2001)
Rabin, C., O'Leary, A., Neighbors, C., & Whitmore, K. (2000). Pain and depression experienced by women with interstitial cystitis. Women & Health, 31 (4), 67-81. (2000)