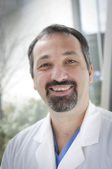 Stefan Kostadinov, MD
Assistant Professor of Pathology & Laboratory Medicine
Pathology & Laboratory Medicine
Work
:
+1
401
-
274
-
1122
My research interests are primarily in the field of fetal and placental pathology, particularly fetal growth restriction, related placental abnormalities and their clinical correlates.

I am also a co-leader in the Formative Center for the Evaluation of Environmental Impacts on Fetal development coordinating procurement of fetal tissues for xenotransplantation which will allow us to study the adverse effects of environmental exposures that impact fetal development and produce childhood and adult disease.

In addition, I am collaborating with Dr. S.Sharma to study the effects of immunity and inflammation on adverse pregnancy outcome and reporoductive failure.
Biography
I graduated medical school in Bulgaria in 1991 where I practiced as a general pediatrician for two years after graduation. In 1994 I came to the United States and discovered my passion for perinatal and pediatric pathology. Following a four-year residency training in anatomic and clinical pathology and a year of fellowship in pediatric pathology I joined Alpert Medical School at Brown University and the Division of Perinatal and Pediatric Pathology at Women and Infants Hospital in Rhode Island in 2004 where I have been enjoying my service, teaching and research activities ever since.
Institutions
WIH
Funded Research
Project Title: Formative Center for the Evaluation of Environmental Impacts on Fetal Development (P20)
Co-Leader, Tissue Procurement Core
PI: Kim Boekelheide, MD

Award Total, Year 1 (02/15/2010 – 02/14/2011):
$558,432 (direct costs)
NIEHS: $241,140 (direct costs)
EPA: $317,292 (direct costs)
Project Period: 02/15/10 - 02/14/13
Teaching Experience
I give lectures on Placental Pathology and Prenatal Diagnosis to second year medical students at Brown University Medical School.

I also teach Histology in small group sessions to first year medical students.

I participate in the Newborn Nursery Curriculum Lecture Series for pediatric residents and medical students at Women & Infants Hospital.

I have ongoing teaching responsibilities to pathology residents and fellows at Women and Infants Hospital.