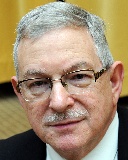 Michael Bharier, MD, PhD
Clinical Assistant Professor of Dermatology
Dermatology
I formerly studied the microbial ultrastructure of the spirochetes, a group of bacteria which includes the causitive agents of syphilis and Lyme disease.
My current interest is now in general dermatology.
Biography
I grew up in northeast England, did my undergraduate degree at the University of Edinburgh, Scotland. I then did research in microbiology at UCLA and the University of Cincinnati. I went to medical school at Iowa then completed my residency in dermatology at USC. I practised in Los Angeles and taught at USC for several years after that, then moved to Rhode Island in 1994 where I am in private practice, besides teaching at Brown. I am married with four children. I have a strong interest in classical music.
Affiliations
Alpha Omega Alpha
Fellow, American Academy of Dermatology
Pacific Dermatology Association
Funded Research
I held a reasearch grant from the National Institutes of Health while working at the University of Cincinnati
Teaching Experience
I taught clinical dermatology at the University of Southern California where I formerly held a clinical faculty appointment and have continued this interest at Brown since moving to Rhode Island.