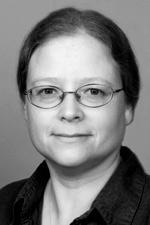 Elizabeth Brainerd
Professor of Medical Science
Ecology & Evolutionary Biology
Work
:
+1
401
-
863
-
9261
Biomechanics and Evolutionary Morphology
Professor Brainerd and her research group combine anatomical studies of the musculoskeletal system with principles and techniques from engineering to understand the mechanical basis of movement in animals. Current projects include: biomechanics of the temporomandibular joint, muscle architecture, intercostal muscle function, and the development of a new 3D imaging technology, X-ray Reconstruction of Moving Morphology -- XROMM -- see www.xromm.org for more information.
Biography
A.B. 1985, Biology, Harvard College
Ph.D. 1991, Organismic and Evolutionary Biology, Harvard University
1990-1993 Junior Fellow, Harvard Society of Fellows
1994-1999 Assistant Professor, University of Massachusetts Amherst
2000-2005 Associate Professor, University of Massachusetts Amherst
2004 Fellow, American Association for the Advancement of Science
2005- Professor, Department of Ecology and Evolutionary Biology, Brown University
Research Description
These are exciting times in the field of vertebrate morphology. Imaging technologies such as high-resolution CT scanning, MRI, and laser scanning confocal microscopy are opening up vast worlds of cross-sectional and three-dimensional anatomy. In functional morphology and biomechanics, new tools for micrometry, force measurement, 3D flow visualization, 3D motion capture, and mathematical modeling are providing ever more sophisticated understandings of the interactions between morphology and environment. Studies of vertebrate functional morphology, biomechanics, paleontology, and development are poised at the edge of a revolution in our ability to capture and quantify complex morphology and function in 4D (3 spatial dimensions plus time), and to integrate our understandings of function, development, and evolution.
With my colleagues in the vertebrate morphology group at Brown, we are currently developing a 3D x-ray technology for visualizing rapid skeletal movement. This new technology, "
X-ray Reconstruction of Moving Morphology (XROMM)
" combines static 3D data from CT scans with skeletal movement data from high-speed x-ray videos.
XROMM
produces highly accurate 3D animations of skeletal elements moving in space. These are more than stick figures--the complete 3D morphology of each bone is present and animated precisely with this technique.
XROMM
makes it possible to study many aspects of skeletal kinematics, such as long axis rotation of bones, putative bending of fine bones in small animals, and the relative 3D motions of the articular surfaces of joints that are inaccessible with other techniques. In addition,
XROMM
provides more accurate data for input into musculoskeletal models, such as joint angles for inverse dynamics and neural control models.
Faculty and students in our group are currently using
XROMM
to study jaw movement and temporomandibular joint function in pigs, joint and muscle forces in jumping frogs, feeding in ducks, and foot ligament strain during locomotion in pigs.
Grants and Awards
Fellow, American Association for the Advancement of Science
Chair, Division of Morphology, Society for Integrative and Comparative Biology
CAREER Award, National Science Foundation
Lilly Teaching Fellowship, University of Massachusetts Amherst
Junior Fellowship, Harvard University Society of Fellows
Affiliations
American Association for the Advancement of Science (Fellow)
American Society of Ichthyologists and Herpetologists
Society for Integrative and Comparative Biology
Society for Experimental Biology
International Society of Vertebrate Morphologists
Sigma XI
Funded Research
2009-2014 National Science Foundation, Integrative Organismal Systems. "RCN: A Research Coordinaton Network for X-ray Motion Analysis" (494,311).

2006-2009 National Science Foundation, Instrument Development for Biological Research Program. "Hardware and Software Development for 3D Visualization of Rapid Skeletal Motion in Vertebrate Animals" ($345,486).

2003-2007 National Science Foundation, Ecological and Evolutionary Physiology Program. "Biomechanics of segmented axial musculature in salamanders and fishes" ($382,400)

1999-2005 National Science Foundation, Ecological and Evolutionary Physiology Program. "CAREER: Lung ventilation in lizards and the evolution of amniote respiratory mechanisms" ($350,000)

1999-2003 National Science Foundation, Undergraduate Mentoring in Environmental Biology. "UMEB: Preparing Students for Careers in Environmental Biology, a Massachusetts Partnership." ($256,754; E. Brainerd PI and Executive Director; B. Jakob, F. Juanes and S. Prattis, Co-PIs and Co-Directors)

1997-1998 National Science Foundation, POWRE Program. "How to circumvent a mechanical constraint: gular pump breathing during locomotion in monitor lizards" ($49,776)

1995-1999 National Science Foundation, Ecological and Evolutionary Physiology Program. "Exhalation Mechanics and the Evolution of Aspiration Breathing in Tetrapods" ($152,500)
Teaching Experience
Undergraduate course teaching experience: Comparative Anatomy, Comparative Physiology, Human Physiology, Introductory Biology, Biology of Social Issues. Graduate Courses: Muscle Architecture and Biomechanics, Evolution and Development, Microevolution and Macroevolution, Systematics and Tree Thinking. Medical Education: Human Anatomy for first-year medical students. Mentoring: 4 doctoral students and 5 MS students have completed graduate degrees in my research group and in my career I have supervised the independent research projects of over 40 undergraduate students.
Courses Taught
Human Morphology for first-year medical students (Biology 181)
Selected Publications
Brainerd, E.L., D.B. Baier, S.M. Gatesy, T.L. Hedrick, K.A. Metzger, S.L. Gilbert, and J.J. Crisco. 2010. X-ray Reconstruction of Moving Morphology (XROMM): precision, accuracy and applications in comparative biomechanics research. Journal of Experimental Zoology, 313A. (2010)
Landberg, T., J.D. Mailhot and E.L. Brainerd. 2009. Lung ventilation during treadmill locomotion in a semi-aquatic turtle, Trachemys scripta. Journal of Experimental Zoology, 311A: 551-562. (2009)
Nowroozi, B., J.A. Strother, J.M. Horton, A.P. Summers, E.L. Brainerd 2009. Whole-body lift and ground effect during pectoral fin locomotion in the northern spearnose poacher (Agonopsis vulsa). Zoology, 112(5): 393-402. (2009)
Miranda, D.L., M.J. Rainbow, E.L. Brainerd, B.C. Fleming. 2008. Tracking 3D kinematics of healthy and ACL-transected goat knee joints in vivo: a preliminary study. Proceedings of the 34th Annual Northeast Bioengineering Conference, pp. 170-171. (2008)
Keefe, D.M., T.M. O'Brien, D.B. Baier, S.M. Gatesy, E.L. Brainerd, and D.H. Laidlaw. 2008. Exploratory Visualization of Animal Kinematics Using Instantaneous Helical Axes. Computer Graphics Forum, 27(3): 863-870. (2008)
Azizi, E., E.L. Brainerd and T.J. Roberts. 2008. Variable gearing in pennate muscles. Proceedings of the National Academy of Sciences, 105: 1745-1750. (2008)
Ward, A.B. and E.L. Brainerd. 2007. Evolution of axial patterning in elongate fishes. Biological Journal of the Linnean Society, 90: 97:116. (2007)
Azizi, E. and E.L. Brainerd. 2007. Architectural gear ratio and muscle fiber strain homogeneity in segmented musculature. Journal of Experimental Zoology, 307A: 1-12. (2007)
Brainerd, E.L. and L.A. Ferry-Graham. 2006. Biomechanics of respiratory pumps. In Fish Biomechanics, R. Shadwick and G.V. Lauder. eds. Academic Press, pages 1-28. (2006)
Brainerd, E.L. and M.E. Hale. 2006. In vivo and functional imaging in developmental physiology. In Comparative Developmental Physiology: Contributions, Tools, and Trends, S. Warburton and W. Burggren, eds. Oxford University Press, pages 21-40. (2006)
Brainerd, E.L. and T. Owerkowicz. 2006. Functional morphology and evolution of aspiration breathing in tetrapods. Respiratory Physiology and Neurobiology, 154: 73-88. (2006)
Brainerd, E.L. and E. Azizi. 2005. Muscle fiber angle, segment bulging and architectural gear ratio in segmented musculature. Journal of Experimental Biology, 208: 3249-3261. (2005)