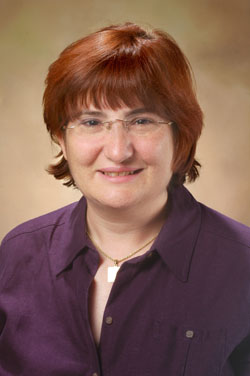 Rachel Altura, MD
Associate Professor of Pediatrics
Bio Med Pediatrics
Work
:
+1
401
-
444
-
2502
Our laboratory is exploring novel anti-cancer treatments for pediatric and adult malignancies. We are also interested in the toxicities of chemotherapy and on whether mutations in specific genes make children more prone to develop toxicity after chemotherapy treatment.
Biography
I received a B.A. in Biology and Biochemistry at Brandeis University. I received my medical degree from Washington University School of Medicine. I completed Pediatric Residency at Washington University, St. Louis Children's Hospital, followed by a fellowship in Pediatric Hematology-Oncology at St. Jude Children's Research Hospital.
Grants and Awards
Bio-Ohio: Top 30 Researchers in their 30s, 2007
Honorary Master of Arts, Brown University, 2009
U.S. News and World Report Top Oncology Doctor, 2011-2012
Affiliations
American Association for Cancer Research
Children's Oncology Group
Funded Research
COBRE Center for Cancer Research Development
Project Principal Investigagtor: Altura
Title: Post-translational modification of survivin: a novel therapeutic approach for cancer

Karyopharm Therapeutics
Principal Investigator: Altura
Title: Role for CRM1 inhibitors in blocking survivin and STAT3 pathways

Hyundai Hope on Wheels
Principal Investigator: Altura
Title: Identifying the phosphoproteome in high- and low-risk neuroblastoma tumors.
Selected Publications
Nguyen KT, Holloway MP, and Altura RA. The CRM1 nuclear export protein in normal development and disease. Int J Biochem Mol Biol. 2012;3(2):137-51. PMID:22773955 (2012)
Miranda CJ, Braun L, Jiang Y, Hester MH, Zhang L, Riolo M, Wang H, Rao M, Altura RA, and Kaspar BK. Aging Brain Microenvironment Decreases Hippocampal Neurogenesis Through Wnt-Mediated Survivin Signaling. Aging Cell, 2012 Jun;11(3):542-52. PMID: 22404871. (2012)
Riolo MT, Cooper ZA, Holloway MP, Cheng Y, Bianchi C, Yakirevich E, Ma L, Chin YE, and Altura RA. HDAC6 Deacetylates Survivin for its Nuclear Export in Breast Cancer. Journal of Biological Chemistry, 2012 Mar 30;287(14):10885-93. PMID: 22334690. (2012)
Samkari A, Cooper ZA, Holloway MP, Liu J and Altura RA. Rapamycin induces the anti-apoptotic protein survivin in neuroblastoma. Int J Biochem Mol Biol. 2012;3(1):28-35. (2012)
Yakirevich E ; Samkari A; Holloway MP; Lu S; Singh K; Yu J; Fenton MA; Altura RA. Total Survivin and acetylated Survivin correlate with distinct molecular subtypes of breast cancer. Human Pathology, 2012 Jun;43(6):865-73. (2012)
Holloway MP and Altura RA. Targeting survivin's co-conspirators: do alternative methods of trapping survivin in the nucleus have potential in triple-negative breast cancer therapy?Future Oncology. 2012 Aug;8(8):907-9. PMID: 22894664 (2012)
Invited Review special issue: Current Pediatric Reviews: Apoptosis in Pediatric Disorders. Ayman Samkari and Rachel A. Altura. Inhibition of Apoptosis in Pediatric Cancer by Survivin, 7 (4):277-284, 2011. (2011)
Wang H, Holloway MP, Ma L, Cooper ZA, Riolo M, Samkari A, Elenitoba-Johnson K, Chin YE, and Altura RA. Acetylation directs Survivin nuclear localization to repress STAT3 oncogenic activity. Journal of Biological Chemistry, 285(46):36129-37. 2010 PMID: 20826784. (2010)
Samkari A, Borzutky A, Treaba D, Dedeoglu F, and Altura RA. Novel Mutation in MVK Associated with MK Deficiency and Dyserythropoeitic Anemia. Pediatrics 125(4):e964-8. Apr 2010. (2010)