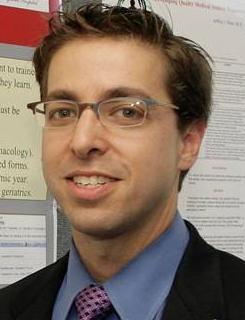 Gary Epstein-Lubow
Assistant Professor
Psychiatry & Human Behavior; Health Services, Policy & Practice
Work
:
+1
401
-
455
-
6378
My research, teaching and patient care seek to ease suffering of individuals with neuropsychiatric illness and their family caregivers.
Biography
Gary Epstein-Lubow, MD completed general psychiatry, geriatric psychiatry, and post-doctoral research training at Brown University; his clinical work is as an attending psychiatrist and the Assistant Unit Chief on Butler Hospital's inpatient geriatric psychiatry unit.
Research Description
My research focuses on improving family-oriented dementia treatment.

As principal investigator, I have three active projects. One project looks at individuals with dementia who undergo inpatient psychiatric treatment at Butler Hospital; we are interviewing family caregivers after discharge to gain a better understanding of aftercare needs. The second project, supported by the Surdna Foundation, is a study of national Medicare data to determine risk factors for psychiatric hospitalization of individuals with moderate or severe memory impairment who reside in a nursing home. Finally, we are nearing completion of a needs assessment study of individuals in Rhode Island with Parkinson's disease and their family caregivers; participants are reporting the level of distress regarding "non-motor" aspects of this illness.

As a contributing investigator, I am working with Dr. Lisa Uebelacker on her project studying health education vs yoga as add-on treatment for depression when medication does not result in full remission. Also, I am assisting with Dr. Geoffrey Tremont's investigation of a telephone support program for family caregivers of individuals with dementia.

In addition to new research, authorship and patient care, I teach general psychiatry residents, geriatric psychiatry fellows, and geriatric medicine fellows. I also recently served as co-director of the Alpert Medical School's Scholarly Concentration in Contemplative Studies for medical students.
Grants and Awards
Recipient: National Institutes of Health: Loan Repayment Program Award; July, 2004 – June, 2006

Participant: Future Leaders in Psychiatry, Emory School of Medicine; May 4 – 7, 2006

Award: Doctor of the Year, Butler Hospital Clinical Information Service; January, 2008

Recipient: National Institutes of Health: Loan Repayment Program Award; July, 2008 – June, 2012

Award: Hartford Scholar at Brown University supported by the John A. Hartford Foundation's Center of Excellence in Geriatric Medicine and Geriatric Psychiatry Training Program; July, 2011 – June, 2013

Participant: Summer Research Institute in Geriatric Mental Health; July 17 – 22, 2011

Award: Surdna Fellowship, supported by the SURDNA fund at the Center for Gerontology and Health Care Research of the Public Health Program of Brown University; July, 2011 – June, 2012

Award: Outstanding Teaching Award in Geriatric Fellowship Training Program, Alpert Medical School of Brown University; 2010 - 2011
Affiliations
American Psychiatric Association
American Association for Geriatric Psychiatry
Association of Family Psychiatrists
Rhode Island Psychiatric Society

Board of Directors: Rhode Island Alzheimer's Association
Leadership Advisory Board Member: Safe Transitions Project; Healthcentric Advisors
Funded Research
Butler Hospital

National Institutes of Health: Loan Repayment Program Award

National Institute of Nursing Research: RCT of Yoga for Depression (PI: Uebelacker)

Surdna Fellowship Fund at the Center for Gerontology and Health Care Research of the Public Health Program of Brown University

Hartford Scholar at Brown University supported by the John A. Hartford Foundation's Center of Excellence in Geriatric Medicine & Geriatric Psychiatry Training Program
Teaching Experience
Supervisor, Brown general psychiatry residents (PGY-1 - PGY-4)

Supervisor, Brown geriatric psychiatry fellows

Supervisor, Brown geriatric medicine fellows

Co-Lecturer, PGY-3 psychiatry residents' evidence-based medicine journal club

Lecturer, PGY-4, geriatric psychiatry board review

Lecturer, PGY-5, geriatric psychiatry and geriatric medicine, caregiver health

2007 - 2010: Co-Director, Alpert Medical School Scholarly Concentrations Program, Scholarly Concentration in Contemplative Studies
Selected Publications
Epstein-Lubow G, Gaudiano BA, Darling E, Hinckley M, Tremont G, Kohn R, Marino L, Salloway S, Grinnel R, Miller IW: Differences in Depression Severity in Family Caregivers of Hospitalized Individuals with Dementia and Family Caregivers of Outpatients with Dementia. American Journal of Geriatric Psychiatry, 2012 Sep; V 20, N 9, pg 815-819. (2012)
Epstein-Lubow G: Family Caregiving During Healthy Aging and Illness. Medicine & Health Rhode Island, 2012 Jul; V95, N 7, pg 222 – 23. (2012)
Epstein-Lubow G, Tuya Fulton A: Post-Hospital Transitions for Individuals with Moderate to Severe Cognitive Impairment. Annals of Long Term Care: Clinical Care and Aging 2012 Mar; V20, N 3, pg 18-24 (2012)
Epstein-Lubow G, Fulton AT, Gardner R, Miller IW: Post-Hospital Transitions: Special Considerations for Individuals with Dementia. Medicine & Health Rhode Island, 2010 Apr V 93, N 4, pg 125-7. (2010)
Epstein-Lubow G, Gaudiano BA, Hinckley M, Salloway S, Miller IW: Evidence for the validity of the American Medical Association's Caregiver Self-Assessment Questionnaire as a screening measure for depression [Research Letter]. Journal of the American Geriatrics Society, 2010 Feb, V 58, N 2, pgs 387 - 388. (2010)
Epstein-Lubow G, Gaudiano BA, Hinckley M, Salloway S, Miller IW: Evidence for the validity of the American Medical Association's Caregiver Self-Assessment Questionnaire as a screening measure for depression [Research Letter]. Journal of the American Geriatrics Society, 2010 Feb, V 58, N 2, pgs 387 - 388. (2010)
Epstein-Lubow G, Beevers CG, Bishop DS, Miller IW: Family Functioning is Associated with Depressive Symptoms in Caregivers of Acute Stroke Survivors. Archives of Physical Medicine and Rehabilitation, 2009 Jun, V 90, pgs 947 - 955. (2009)
Epstein-Lubow G, Davis JD, Miller IW, Tremont G: Persisting Burden Predicts Depressive Symptoms in Dementia Caregivers. Journal of Geriatric Psychiatry and Neurology, 2008 Sep, V 21, N 3, pgs 198 – 203. (2008)
Epstein-Lubow G, Davis JD, Miller IW, Tremont G: Persisting Burden Predicts Depressive Symptoms in Dementia Caregivers. Journal of Geriatric Psychiatry and Neurology, 2008 Sep, V 21, N 3, pgs 198 – 203. (2008)