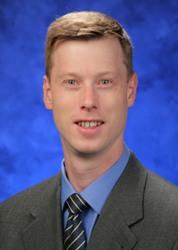 John Hustad, Ph.D.
Adjunct Assistant Professor of Behavioral and Social Sciences
Behavioral and Social Sciences
Work
:
+1
717
-
531-8161
Dr. Hustad's research interests include college student alcohol use, empirically supported treatments, and biological markers of alcohol use. He seeks to evaluate alcohol prevention programs and interventions for students who are mandated to receive an alcohol intervention. In addition, he is interested in evaluating mechanisms of behavioral change.
Biography
Dr. Hustad received his Ph.D. in clinical psychology from Syracuse University in 2006. He completed an internship at The Medical University of South Carolina in 2005. From 2006 to 2009 he was a postdoctoral fellow at the Center for Alcohol and Addiction Studies at Brown University. Dr. Hustad became an Adjunct faculty member at Brown in 2009, and he is Assistant Professor of Medicine and Public Health Sciences at The Penn State College of Medicine.
Grants and Awards
2008 Sharon Chauncey Fellowship Award (Humanitarian), Center for Alcohol and Addiction Studies, Brown University

2007-2008 Senior Postdoctoral Fellow, Center for Alcohol and Addiction Studies, Brown University

2003-2004 Gardner Fellowship, for methodological/statistical expertise, Syracuse University

2001-2004 Syracuse University Travel Award
Affiliations
2007-present Research Society on Alcoholism
2003-present American Psychological Association
2000-present Association for Behavioral Cognitive Therapies
Funded Research
2007-present National Institute of Health- Loan Repayment Program Grant
Project: Effectiveness of Normative Feedback for Heavier Drinking College Students
Role: Principle Investigator (Brown University)
Status: Funded/Active

2008-2009 Research Excellence Award
Brown University, Center for Alcohol and Addiction Studies
Project: "Web based interventions for college student drinkers"
Role: Principal Investigator
Direct Costs: $5,086

2010-2013 Student Affairs, Penn State University, University Park
Project: "The Comparative Effectiveness of Group and Individual BASICS"
Role: PI (21% Effort)
Total Cost: $1,140,000