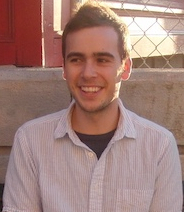 Byron Wallace, PhD
Asst Professor of Health Services, Policy & Practice (Rsch)
Public Health-Health Services Policy & Practice
Work
:
+1
401
-
863
-
6421
Biography
I am a research assistant professor within the newly established Center for Evidence-based Medicine. My research is primarily in machine learning/data mining/NLP, with an emphasis on applications in health informatics. I am interested in developing computational models that make sense of health-related information. This often entails developing novel machine learning/NLP methods. I am also interested in computational issues in evidence synthesis, broadly defined.
I completed my PhD in computer science at
Tufts
in June 2012, advised by
Carla Brodley
. My
dissertation
concerned machine learning in health informatics, specifically with the aim of reducing the (human) workload involved in conducting systematic reviews. During my time at Tufts, I was also a research computer scientist within the Institute for Clinical Research and Health Policy Studies at Tufts Medical Center.
Selected Publications
Byron C Wallace, Issa J Dahabreh, Thomas A Trikalinos, Joseph Lau, Paul Trow and Chistopher H Schmid. Closing the gap between method- ologists and end-users: R as a computational back-end. Journal of Statistical Software. 49: 1–15. 2012. (2012)
Carla E Brodley, Umaa Rebbapragada, Kevin Small and Byron C Wallace. Challenges and opportunities in applied machine learning. Artificial Intelligence Magazine. 33:11-24. 2012. (2012)
Byron C Wallace, Kevin Small, Carla E Brodley, Joseph Lau and Thomas A Trikalinos. Deploying an interactive machine learning system in an evidence-based practice center: abstrackr. In: Proceedings of the 2nd ACM SIGHIT International Health Informatics Symposium (IHI). ACM, pp. 819–824. 2012. (2012)
Byron C Wallace, Kevin Small, Carla E. Brodley, Joseph Lau, Christopher H. Schmid, Lars Bertram, Christina M. Lill, Joshua T. Cohen and Thomas A. Trikalinos. Toward modernizing the systematic review pipeline in genetics: efficient updating via data mining. Genetics in Medicine. 14:663-669. 2012. (2012)
Byron C Wallace and Issa J Dahabreh. Class Probability Estimates are Unreliable for Imbalanced Data (and How to Fix Them). To appear in: Proceedings of the IEEE 12th International Conference on Data Mining (ICDM). 2012. (2012)
Byron C Wallace. Multiple narrative disentanglement: Unraveling infinite jest. In: Proceedings of the 2012 Conference of the North American Chapter of the Association for Computational Linguistics: Human Language Technologies (NAACL). Montréal, Canada: Association for Computational Linguistics, pp. 1–10. 2012. (2012)
Ragnhild D. Whitaker, Steve Pember, Byron C Wallace, Carla E Brodley and David Walt. Single cell time-resolved quorum responses reveal dependence on cell density and configuration. Journal of Biological Chemistry 286: 21623–21632. 2011. (2011)
Kevin Small, Byron C Wallace, Carla E Brodley and Thomas A Trikalinos. The constrained weight space SVM: Learning with ranked features. In: International Conference on Machine Learning (ICML). pp. 754–763. 2011. (2011)
Byron C Wallace, Kevin Small, Carla E Brodley and Thomas A Trikalinos. Who should label what? instance allocation in multiple expert active learning. In: Siam International Conference on Data Mining (SDM). SIAM, pp. 176-187. 2011. (2011)
Byron C Wallace, Kevin Small, Carla E Brodley and Thomas A Trikalinos. Class imbalance, redux. In: Proceedings of the IEEE 11th International Conference on Data Mining (ICDM). IEEE, pp. 754–763. 2011. (2011)
Byron C Wallace, Thomas A Trikalinos, Joseph Lau, Carla E Brodley and Chistopher H Schmid. Semi-automated screening of biomedical citations for systematic reviews. BMC Bioinformatics. 11(1):55+. 2010. (2010)
Byron C Wallace, Kevin Small, Carla E Brodley and Thomas A Trikalinos. Active learning for biomedical citation screening. In: Proceedings of the 16th ACM SIGKDD international conference on Knowledge discovery and data mining. New York, NY, USA: ACM, pp. 173–182. 2010. (2010)
Byron C Wallace, Kevin Small, Carla E Brodley and Thomas A Trikalinos. Modeling annotation time to reduce workload in comparative effectiveness reviews. In: Proceedings of the 1st ACM International Health Informatics Symposium. pp. 28–35. 2010. (2010)
Byron C Wallace, Christopher H Schmid, Joseph Lau and Thomas A Trikalinos. Meta-analyst: Software for Meta-analysis of Binary, Continuous and Diagnostic Data. BMC Medical Research Methodology. 9(1):80+. 2009. (2009)
PJ Castaldi, MH Cho, M Cohn, F Langerman, S Moran, N Tarragona, H Moukhachen, R Venugopal, D Hasimja, E Kao, BC Wallace, CP Hersh, S Bagade, L Bertram, EK Silverman, TA Trikalinos. The COPD Genetic Association Compendium: a Comprehensive Online Database of COPD Genetic Associations. Human Molecular Genetics. 1;19(3):526-34. 2009. (2009)