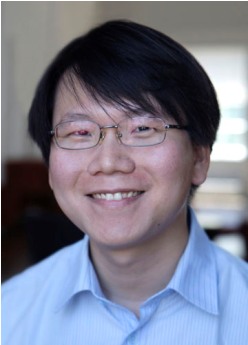 Yen-Tsung Huang, MD, MPH, SM, ScD
Assistant Professor
Epidemiology
Yen-Tsung Huang, MD, MPH, SM, ScD is an epidemiologist and statistical geneticist whose research is to build and employ a systematic approach to study cancer genomics by incorporating new biologic discoveries into statistical methodology. Genetic markers can now be easily collected on a genome-wide scale, yet remarkably little is known about how to integrate different genomic data in a knowledge-based way. Such a challenge necessitates the combination of hypothesis-driven and hypothesis-generating research. His solid training in medicine, epidemiology and statistics provides a rich foundation to develop new methods and discoveries in this challenging and exciting area.
Biography
Dr. Huang is an Assistant Professor of Epidemiology at Brown University. Dr. Huang earned a Doctor of Medicine degree from the National Taiwan University, Taiwan. After the two-year military service as a second lieutenant medical officer in the army of Taiwan, Dr. Huang went to Harvard University for Master of Public Health in quantitative methods and Master of Science in biostatistics. Dr. Huang earned dual degree in Doctor of Science in Epidemiology and Biostatistics at Harvard in 2012. His research experience and goals focus on cancer genomics, statistical genetics, high-dimensional mediation analyses and genetic/molecular epidemiology of cancer.
Research Description
Dr. Huang's research program has methodological, biologic and public health relevance. He develops and employs novel statistical methodologies to investigate the genetic etiology of complex diseases such as lung cancer, liver cancer and asthma and to elucidate how multiple genetic and environmental factors interact in disease causation. Although genome-wide association studies (GWAS) have become a popular approach to assess single nucleotide polymorphism (SNP) associated with complex diseases in human, they have not fully explored gene-environment and gene-gene interactions; they have not leveraged existing genomic annotation from diverse publicly-available knowledge bases; and most have not considered other 'omics measures, such as gene expression and DNA methylation data. Moreover, most of these limitations do not stem from limitations in high-throughput technology or basic biological knowledge but from the lack of statistical methodology. High-throughput data depend heavily on statistical analyses, but without new methodology, scientific questions are not optimally answered with existing statistical models. So, rather than compromising the scientific question to be answerable with existing statistical models, Dr. Huang's research starts with biological evidence and seeks to develop statistical methodologies that are most relevant to address the basic scientific question of interest.
Grants and Awards
Salomon Research Award, Brown University (2013)
American Statistical Association Biometrics Section Byar Travel Award (2012)
RAB Poster Award, International Biometric Society, Eastern North American Region (2012)
Stellar Abstract Award, Program of Quantitative Genomics, Harvard University (2011)
Best Abstract Award, Dana-Farber/Harvard Cancer Center Lung Cancer Program Symposium (2010)
Best Student Poster (2008) and Honorable Mentions (2007, 2009) Faculty Council Poster Exhibit, Harvard University, School of Public Health
David H. Peipers Fellowship, Harvard University, School of Public Health (2007-2009)
Taiwanese Physicians Scholarship, Harvard University, School of Public Health (2005-2006)
Medical License of Clinical Practice in Taiwan (2003-present)
Affiliations
American Association of Cancer Research
International Biometric Society, Eastern North American Region (ENAR)
American Statistical Association
American Society of Human Genetics
Selected Publications
YT Huang, X Lin and T VanderWeele. 'Joint Analysis of SNP and Gene Expression Data in Genetic Association Studies of Complex Diseases' Annals of Applied Statistics (accepted) (2013)
YT Huang and X Lin. 'Gene Set Analyses Using the Variance Component Test' BMC Bioinformatics 2013; 14:210 (2013)
Hsu YC, Lin JT, Ho HJ, Kao YH, Huang YT, Hsiao NW, Wu MS, Liu YY, Wu CY. 'Antiviral treatment for hepatitis C virus infection is associated with improved renal and cardiovascular outcomes in diabetic patients' Hepatology 2013; doi: 10.1002/hep.26892 (2013)
KP Chung, YT Huang, YL Chang, CJ Yu, CH Yang, YC Chang, JY Shih, and PC Yang. 'Clinical Significance of TTF-1 in Advanced Lung Adenocarcinoma under EGFR Tyrosine Kinase Inhibitor Treatment' Chest 2012; 141:420-428 (2012)
I Alexandrov, M Ivshina, D Jung, R Friedline, H Ko, M Xu, B O'Sullivan-Murphy, R Bortell, YT Huang, F Urano, J Kim and J Richter. 'Cytoplasmic Polyadenylation Binding Protein Deficiency Stimulates PTEN and Stat3 mRNA Translation and Induces Hepatic Insulin Resistance' PLoS Genetics 2012; 8:e1002457 (2012)
CL Lin, YT Huang and J Richter. 'Transient CPEB Dimerization and Translational Control' RNA 2012; 18:1050-1061 (2012)
PL Kuo, H Lee, MA Bray, NA Geisse, YT Huang, WJ Adams, SP Sheehy and KK Parker. 'Myocyte Shape Regulates Lateral Registry of Sarcomeres and Contractility' American Journal of Pathology 2012; 181:2030-2037 (2012)
KP Chung, HT Chang, YT Huang, CH Liao, CC Ho, YS Chen, JS Jerng and CJ Yu. 'Central Venous Oxygen Saturation under Non-protocolized Resuscitation Is Not Related to Survival in Severe Sepsis or Septic Shock' Shock 2012; 38:584-591 (2012)
YT Huang, X Lin, LR Chirieac, R McGovern, JC Wain, RS Heist, V Skaug, S Zienolddiny, A Haugen, L Su, and DC Christiani. 'Impact on Disease Development, Genomic Location and Biological Function of Copy Number Alterations in Non-Small Cell Lung Cancer' PLoS One 2011; 6:e22961 (2011)
YT Huang, CL Jen, HI Yang, MH Lee, J Su, SN Lu, UH Iloeje, and CJ Chen. 'Lifetime Risk and Gender Difference of Hepatocellular Carcinoma among Patients Affected with Chronic Hepatitis B and C' Journal of Clinical Oncology 2011; 29:3643-3650 (2011)
YT Huang, X Lin, Y Liu, R McGovern, LR Chirieac, JC Wain, RS Heist, V Skaug, S Zienolddiny, A Haugen, L Su, EA Fox, KK Wong, and DC Christiani. 'Cigarette Smoking Increases Copy Number Alterations in Non-Small Cell Lung Cancer' Proceedings of the National Academy of Sciences 2011; 108:16345-16350 (2011)
YT Huang, RS Heist, LR Chirieac, X Lin, V Skaug, S Zienolddiny, A Haugen, MC Wu, Z Wang, L Su, K Asomaning and DC Christiani. 'Genome-wide Analysis of Survival in Early Stage Non-Small Cell Lung Cancer' Journal of Clinical Oncology 2009; 27:2660-2667 (2009)
LM Sholl, AJ Iafrate, YP Chou, MT Wu, YG Goan, L Su, YT Huang, DC Christiani and LR Chirieac 'Validation of Chromogenic in situ Hybridization for Detection of EGFR Copy Number Amplification in Non-Small Cell Lung Carcinoma' Modern Pathology 2007; 20:1028-1035 (2007)
TL Pan, S Goto, R Lord, YC Huang, CM Huang, PW Wang, YC Lin, S Kawamoto, K Ono, PC Liao, CL Lin, CY Lai, HL Chang, CH Lan, TH Lee, YC Wang, ML Wu, B Jawan, YF Cheng, ST Chen, and CL Chen 'Proteome Analysis in Liver Transplantation' Transplant Proceedings 2001; 33:156 (2001)