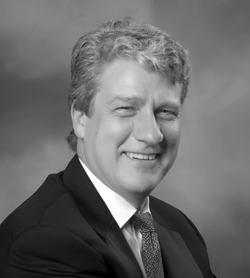 Douglas Anthony, M.D., Ph.D.
Professor
Biology and Medicine - Pathology & Laboratory Medicine
Research in our laboratory examines several areas in the cellular brain sciences and neuropathology. Current projects include the pathobiology of primary brain tumors (those that originate in the brain) and metastatic brain tumors (those that originate elsewhere but travel to the brain). The laboratory also has long-standing interests in the basic pathobiology of intermediate filaments and peripheral neuropathy.
Biography
Dr. Anthony is Professor of Pathology and Laboratory Medicine at the Warren Alpert School of Medicine at Brown University, and Chief of Pathology and Laboratory Medicine at Lifespan Academic Medical Center (The Miriam and Rhode Island Hospitals). He received his B.S. in Chemical Engineering from Washington University in St. Louis, and his Ph.D. in Experimental Pathology and M.D. from Duke University. He is board-certified in anatomic pathology and neuropathology, and studies the cellular and molecular basis of disorders that affect the nervous system. His work has been funded by the NIH, NSF, and private foundations, and he has served as a consultant to the National Institutes of Health, Environmental Protection Agency, National Board of Medical Examiners, U.S. Department of Justice, and universities.

Prior academic appointments:
Assistant Professor of Pathology, Duke University
Assistant Professor of Pathology, Harvard University
Associate Professor of Pathology, Harvard University
Professor of Pathology, Anatomy, and Neurology, University of Missouri
Research Description
Dr. Anthony's laboratory is conducting research in cellular neurosciences - the study of the brain at a cellular and molecular level. A major focus of the laboratory is the study of cancer involving the brain, both tumors that originate in the brain and those that metastasize to the brain. Dr. Anthony's lab was involved in defining the relationship between the desmoplastic variant of medulloblastoma and the PTCH gene, located on 9q22.3, by recognizing that patients with Gorlin's syndrome (basal cell nevus syndrome) develop this specific variant of medulloblastoma.

Current studies are exploring how the cells of brain tumors propagate and spread. By isolating the progenitor cells of tumors, we have been exploring the biologic behavior of cancer cells and how those behaviors are regulated.

Stem cells in primary brain tumors
Gliomas are a common type of brain tumor, and because the cells of the glioma migrate through the brain, these tumors are difficult to remove surgically. In order to achieve better clinical outcomes in patients with malignant gliomas, a better understanding of the biologic behavior of brain tumors is needed. We are studying the molecular phenotype of malignant glioma cells, with a particular focus on the progenitor population of cells within the tumors that appears to be responsible for their growth and aggressive clinical behavior. These cells, also known as tumor stem cells, reproduce some of the characteristics of neural stem cells in their growth as neurospheres and in their expression of both neuronal and glial proteins. We have identified these types of tumor-initiating cells from gliomas and other malignant brain tumors. Protein expression and mRNA levels in tumor stem cells are similar in many ways to neural stem cells, but also have distinct features in their patterns of expression profiles. The isolation and identification of tumor-initiating cell populations capable of forming tumors creates a powerful model for understanding the development of brain tumors. By studying glioma stem cells, we hope to clarify the pathobiology of these tumors and provide increased understanding of malignant progression. (Additional reading: Isolation and characterization of a population of stem-like progenitor cells from an atypical meningioma. Exp Molec Pathol 2011; 90:179-88.)

Breast cancer cells and how they metastasize
Nearly one out of every 10 women will develop breast cancer during her lifetime. Fortunately, with screening methods such as mammography, most breast cancers are detected early as small tumors that can be completely removed. However, some breast cancers will not be detected until they have spread through the body in a process known as metastasis. It is this process of metastasis of breast cancer cells that causes death and disability in women with breast cancer, and nearly 20% of patients with metastatic breast cancer will suffer from metastasis to the brain. In order to achieve a better understanding of breast cancer metastasis, we are studying breast cancer cells in tissue culture, and identifying markers that are associated with metastasis, especially metastasis to the brain. Our findings suggest that specific signals are involved in the colonization of the brain by metastatic breast cancer cells. (Additional reading: Identification and analysis of signaling networks potentially involved in breast cancer metastasis to the brain. Plos One 2011; 6:e21977; doi:10.1371)
Grants and Awards
Tau Beta Pi
Omicron Delta Kappa
Phi Beta Kappa
Honorable Mention for Weil Award in Experimental Neuropathology
Clinical Investigator Development Award, NINDS
International Society of Toxicology, Neurotoxicology Subsection Award
Society of Toxicology, Mechanism Subsection Award
Feodor Lynen Research Award, Alexander von Humboldt Foundation
Miyawaki Neuroscience Teaching Award, Harvard Medical School
Recognition Award for Faculty, US and Canadian Academy of Pathology
Excellence in Teaching Award, University of Missouri
Excellence in Education Award, MSAC, University of Missouri
Order of Socrates, University of Missouri
Affiliations
Fellow, College of American Pathologists (CAP)
American Association of Neuropathologists
United States and Canadian Academy of Pathology (USCAP)
Association of Pathology Chairpersons
Society for Neuroscience
Society of Toxicology
American Society for Neurochemistry
American Society for Investigative Pathology
Society for Pediatric Pathology
American Medical Association
Funded Research
Grants since 2005:

Continuum of Guidance With a Network of Mentors
NSF Presidential Recognition Award/ HRD-0328407
Principal Investigator
Goal – To establish a network of mentoring for underrepresented groups and facilitate their inclusion in scientific and medical professions.

Therapeutic Na+ Channel Blockers: Receptor and Drug Design
National Institutes of Health/2RO1- GM48090
Co-investigator
Goal – To gain a better understanding of the mechanism of action of long-acting pain blockers and their potential toxicity.

CTSA Planning Grant: MU Institute for Clinical & Translational Sciences
National Institutes of Health/CTSA, 1P20-RR023527-01
Co-Investigator
Goal – To create a transdisciplinary institute at the University of Missouri that supports the rapid translation of basic research findings to clinical utility.

Application of 454 Sequencing to Cancer Epigenetics
National Institutes of Health/1R33-CA134304-01A1
Co-investigator
Goal – To develop a sequencing-based approach to provide efficient methods for deeply exploring the cancer epigenome in brain tumors.

Beta-galectin mediated pathways as therapeutic targets in prostate cancer
VA Merit Award
Co-investigator
Goal – To define the mechanisms of galectin-3 mediated prostate cancer homing to the microvasculature of distant organs and its role in site-specific metastasis.

Building Networks for the Center for Translational Neuroscience
Mizzou Advantage Innovation Program Grant
Principal Investigator
Goal – To develop and integrate comprehensive neurosciences across a university setting.

Ovarian Cancer Cell Invasion and Metastasis
National Institutes of Health, NCI 3R01-CA086984-12S, Subcontract
Principal Investigator
Goal – To support a collaborative program to identify the mechanisms involved in ovarian cancer invasion and metastasis.
Selected Publications
Li F, Glinskii OV, Zhou J, Wilson LS, Barnes S, Anthony DC, Glinsky VV. Identification and analysis of signaling networks potentially involved in breast cancer metastasis to the brain. Plos One 2011; 6:e21977(1-14) doi:10.1371. (2011)
Rath P, Miller DC, Litofsky NS, Anthony DC, Feng Q, Franklin C, Pei L, Free A, Liu J, Ren M, Kirk MD, Shi H. Isolation and characterization of a population of stem-like progenitor cells from an atypical meningioma. Exp Molec Pathol 2011; 90:179-88. (2011)
Johnson KD, Glinskii OV, Mossine VV, Turk JR, Mawhinney TP, Anthony DC, Henry CJ, Huxley VH, Glinsky GV, Peinta KJ, Raz A, Glinskii VV. Galectin-3 as a potential therapeutic target in tumors arising from malignant endothelium. Neoplasia 2007;9:662-70. (2007)
Marcus KJ, Astrakas LG, Zurakowski D, Zarifi MK, Mintzopoulos D, Poussaint TY, Anthony DC, DeGirolami U, Black PM, Tarbell NJ, Tzika AA. Predicting survival of children with CNS tumors using proton magnetic resonance spectroscopic imaging biomarkers. Internat J Oncol 2007;30:651-7. (2007)
Colodner KJ, Montana RA, Anthony DC, Folkerth RD, De Girolami U, Feany MB. Proliferative potential of human astrocytes. J Neuropathol Exp Neurol 2005;64:163-9. (2005)
Astrakas LG, Zurakowski D, Tzika AA, Zarifi MK, Anthony DC, DeGirolami U, Tarbell NJ, Black PM. Non-invasive magnetic resonance spectroscopic imaging biomarkers to predict the clinical grade of pediatric brain tumors. Clin Cancer Res 2004;10:8220-8. (2004)
Tzika AA, D, Astrakas LG, Zarifi MK, Petridou N, Young-Poussaint T, Goumnerova L, Zurakowski D, Anthony DC, Black PM. Multiparametric MR assessment of pediatric brain tumors. Neuroradiol 2003;45:1-10. (2003)
Tzika AA, Cheng LL, Goumnerova L, Madsen JR, Zurakowski D, Astrakas LG, Zarifi MK, Scott RM, Anthony DC, Gonzalez RG, Black PM. Biochemical characterization of pediatric brain tumors by in vivo and ex vivo magnetic resonance spectroscopy. J Neurosurg 2002;96:1023-31. (2002)
Tzika AA, Zarifi MK, Goumnerova L, Astrakas LG, Zurakowski D, Young-Poussaint T, Anthony DC, Scott RM, Black PM. Neuroimaging in pediatric brain tumors: Gd-DTPA-enhanced, hemodynamic, and diffusion MR imaging compared with MR spectroscopic imaging. Am J Neuroradiol (AJNR) 2002;23:322-33. (2002)
Zarifi MK, Tzika AA, Astrakas LG, Poussaint TY, Anthony DC, Darras BT. Magnetic resonance spectroscopy and magnetic resonance imaging findings in Krabbe's disease. J Child Neurol 2001;16:522-6. (2001)
Tzika AA, Zurakowski D, Poussaint TY, Goumnerova L, Astrakas LG, Barnes PD, Anthony DC, Billett AL, Tarbell NJ, Scott RM, Black PM. Proton magnetic spectroscopic imaging of the child's brain: the response of tumors to treatment. Neuroradiol 2001;43:169-77. (2001)