Transportation Information: Harvard

The Saturday conference sessions will be in the Thompson Room of the Barker Center at 12 Quincy St.
GPS coordinates of 12 Quincy St: 42.372685,-71.114882
Getting to Harvard's Barker Center
From Logan Airport
Outside the baggage claim at Logan Airport, follow the signs to the designated "Silver Line Pickup" area—the bus comes around every 12 minutes from around 5:30 AM to 12:30 AM. The bus accepts cash, or you can purchase a "Charlie Card" with your credit or debit card from one of the machines located at the terminal exit. The Silver Line Bus will take you to South Station, where you can transfer onto the Red Line, running every 5-13 minutes. Depart Outbound toward Alewife. here are also Taxi Stops located at each terminal exit—be advised, however, that it generally runs around $30-40 (depending on tip) for a Taxi ride from the Airport to Harvard University.
On the T
Take the Red Line to Harvard Square. Exit at the Harvard Square Stop, and take the staircase in the middle of the station platform towards the "Harvard Yard" exit. You will be right at the University Gates. Follow the map below which traces the steps from the T-Stop to the Barker Center. The whole trip generally takes about 45 minutes. A great resource is the MBTA Trip Planner.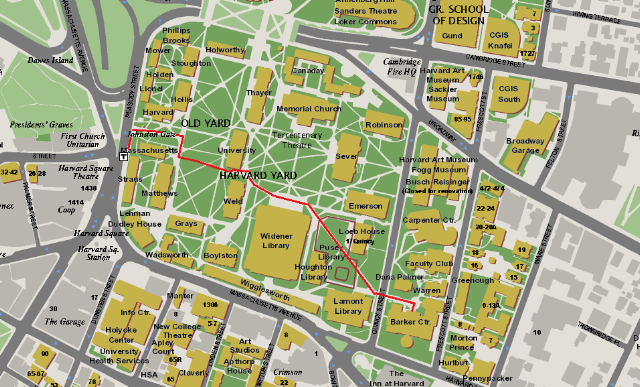 Parking:
Although there are many private parking lots around Harvard Square, and plenty of on-street metered parking on almost all Cambridge streets, perhaps the best place to go for Saturday parking will be the Harvard University Parking lots. A Saturday all-day permit is only $5.00, and there are multiple parking garages right on campus.
See lodging information.