Exhibitors and Exhibitor Registration
---
Exhibitors
---
Exhibitor Registration
The new deadline for Exhibitor Registration is June 30, 2010, and is now on a first-come first-serve basis due to an overwhelming response. Note: To be included in the printed Program your registration and fees must be received by June 21, 2010.
Registration Fee - $2200 (see Information Packet for details on what is included with registration).
Conference Facilities
The 34th Annual Meeting of the American Society of Biomechanics will be held in the Rhode Island Convention Center (RICC), which is conveniently located in the heart of historic Providence, Rhode Island. Opened in December 1993, the center is a beautiful glass structure that offers space from 304 to 137,000 square feet, and can accommodate 10 to 9,000 people.
The entire 80,000 sq.ft. Ballroom floor of the RICC will be occupied by the ASB meeting. The large center ballroom (Ballroom A) will be used for the Keynote Sessions, business meeting, and one of the three concurrent podium sessions. Ballroom A accommodates 756 people in "classroom" configuration (i.e. with chairs and narrow tables). Ballrooms B/C and D/E, each of which accommodate 324 people in classroom configuration, will be used for the remaining two concurrent podium sessions and the smaller ancillary rooms will be available for speaker ready rooms, meeting rooms, etc.
The scientific posters will be distributed between the "prefunction space," which is a large (~13,000 sq.ft.) open area immediately in front of the Ballroom entrances, and several adjacent meeting rooms. The south wall of the prefunction space is constructed of floor-to-ceiling windows, which offer a tremendous view of downtown Providence and creates a very open, light-filled space, which will be an ideal location for attendees to visit, meet, view posters, and interact with the exhibitors.
The Exhibitor Booths will be located in the foyer for the Ballrooms (floor plan below), along the margins of the main corridor for foot traffic to and from the podium sessions. This should ensure repeated, high-volume exposure as the conference attendees arrive and depart each day, and at the session breaks. In addition, we plan to place the food service buffet tables in the prefunction space, which should retain the attendees in the vicinity of the exhibitor booths to a degree during the breaks and lunches. (See Exhibitor information packet for more details.)
Exhibitor Booths will be located immediately adjacent to lecture halls and posters in open area seen below: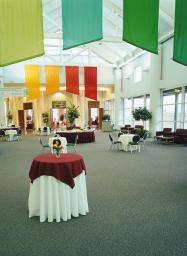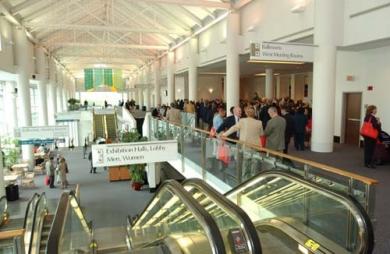 RICC floor plan of exhibitor booths, 3 lecture halls and poster locations: