Japan Earthquake Hits Home
A Brown University shirt far from home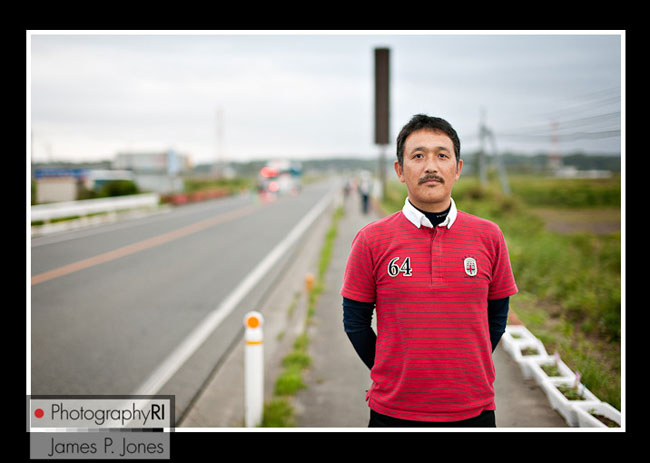 Photographing and interviewing people in and around Fukushima in July 2011, RI photographer James Jones met Mr. Shiga (wearing a Brown University shirt), who lost his business after the tsunami and whose home sits within the nuclear evacuation zone.  Credit: James Jones
Natural and nuclear disasters at home deeply affect Japanese students and others at Brown and in Rhode Island
Shanoor Seervai
04/15/2011
At noon on March 11 2011, Ashley Adams was in a friend's dorm room in Providence. She switched on the news to find that a devastating earthquake—9.0 in magnitude on the Richter scale — had struck Japan, her home for the first 15 years of her life.
Within moments, the Japanese characters for Iwate, the prefecture where her grandmother lived, appeared on the screen and Adams said she was filled with worry.
Adams knew that it would be futile to call her mother at work. The hours between noon and eight p.m. lasted forever as she waited for news about her grandmother.
Ten hours earlier, Mana Hayashi Tang was walking from her friend's suite to her home on the East side of Providence when she received a text message asking, "Is your family okay?"
She immediately went online and learned that the Tsunami had already struck.
Hayashi Tang said she spent the next three hours frantically scanning the web for local news in Japanese and using Facebook and Twitter to reach her friends in Japan.
She also called her parents in Hong Kong to ask about her relatives in Sendai, but the 'phone lines in Japan were jammed and her parents were unable to reach them.
"People go into panic and keep calling everyone over and over," she added.
Hayashi Tang has lived in Hong Kong all her life but spends her summers in Sendai city, where her family has a summer apartment.
Almost a month after the initial earthquake, she said, "We still don't know if our apartment is okay."
"I feel a sense of belonging to the land. Even though I didn't grow up there, [Japan] is home," she added.
Adams echoes this sentiment. Her family moved from Tokyo to Southern California in 2005, but "home is Japan," she said.
Her parents met in front of a vending machine at a conference in Tokyo. Her Japanese mother and American father first communicated through dictionary translations, she said.
When Adams spoke to her mother, Tomoko, on the night of March 11, she said she learned that her grandmother had evacuated Tono city in her neighbors' car. Her house had not sustained any structural damage, although several belongings had fallen to the floor.
Far away from the epicenter of the earthquake, Adams said she felt a "huge emotional tie washed away" with the 25-foot high Tsunami waves the earthquake cause.
Along with other Japanese students, Adams is attempting to bridge the physical distance separating her from her Japanese family by organizing events through the Japanese Cultural Association to raise money and awareness on campus.
The JCA has raised more than $10,000 through a concert, their own funds, student donations, and $2000 from President Ruth Simmons, said Rie Yamamoto, JCA co-president.
"Pray for Japan," a concert held on Sunday, March 20 at the Salomon Center Di Ciccio family auditorium, single-handedly raised $5500, she said.
The JCA will give most of this money to the Japanese Red Cross, Yamamoto said. They will also make a smaller contribution to Architecture for Humanity, which focuses on long-term rebuilding for cities that have been completely effaced.
A group of Brown students that perform taiko — Japanese drums — donated the profits of their annual show (held on March 19) to Gensuo, said Hayashi Tang.
Gensuo, a taiko duet who were instrumental in the foundation of Taiko at Brown, were severely affected by the earthquake.
Its members live in small towns in Miyagi prefecture, one of the worst hit areas, said Hayashi Tang.
Hayashi Tang learned from Raiki Machida, a Taiko alumnus living in Japan, that Gensuo was experiencing scarcity in water, gas and electricity. One of its members was also running out of food and diapers for her baby.
Brown Taiko wanted to help Gensuo because "we owe them a lot," said Hayashi Tang.
"Gensuo did not ask for money. They told Machida, 'the only thing we want is photos of you playing Taiko,'" she added.
The genuine affection and concern for Gensuo is apparent in the response of Taiko alums, who sent donations to Hayashi Tang via Pay Pal and check, she said.
In total, Taiko raised $1630, which Hayashi Tang transferred to Machida, who sent the money to Gensuo.
"I'm glad that JCA did so much for the Red Cross. I'm also glad that having a personal correction to the area, we could do something for people we care about," said Hayashi Tang.
Yamamoto said her family in Japan felt the ground shake in Kanagawa, part of the Greater Tokyo Area, although they were approximately 170 miles away from the epicenter.
"I thought I was going to die," her brother Junpei told Yamamoto in a phone conversation. "It felt like the building was going to collapse on top of the first floor."
Junpei was alone at home when the earthquake struck. He ran outside with his dog and went to a nearby park, waiting for the aftershocks, said Yamamoto.
Approximately 1000 aftershocks have already occurred, and although their frequency will decrease, they could continue for more than a year, Yamamoto added.
Adams said her grandmother's house in Iwate was intact but there was no electricity in the surrounding areas and roads to neighboring cities were blocked.
"My grandmother tried to contact our relatives living in Miyagi but could not reach them for an entire week after the earthquake," she said. "She called aid facilities and checked the obituaries and lists of the deceased daily."
"On March 18, my grandmother finally learned that our family was safe in an evacuation zone but had been without electricity for a week," said Adams. "Another relative, an elderly man who owns a Tofu store by the shore, is still missing."
"I don't know these relatives, but I know they are my family, and they are the closest thing I have in Japan," said Adams.
Her mother, Tomoko, was born in Miyagi, and repeatedly told Adams that she was devastated to see her home city completely in ruins.
"My mother feels helpless," said Adams. "She has no choice but to stay in the United States and continue working as the sole earner of our family." Adams said she is relieved her grandmother is safe, but is concerned about fuel shortage.
"They have enough food and electricity," she said. "But it is very cold and snows periodically in Iwate, and fuel is essential to keep the houses warm."
"The city from which Iwate previously obtained fuel has been destroyed," said Adams. The roads are blocked and there are no means of obtaining fuel from alternative sources."
Adams said that although her grandmother must ration fuel consumption, she refuses to complain. She told Tomoko over the phone, "Some people are worse off and don't have houses."
"The Japanese are very strong-willed, patient and self-preserved people," said Adams. "The older generation is more worried about others than themselves."
The culture of politeness and patience has remained intact even in the face of a disaster, Yamamoto added. "Foreigners are shocked to see people lining up for bowls of rice, not yelling, not shouting."
Hayashi Tang said her relatives in Sendai are all alive, but stayed with their neighbors after the earthquake for fear of the multiple aftershocks.
When her relatives finally returned home two weeks later, they had not showered in two weeks and had no access to gas or heat, despite the cold weather and snow, she said.
Hayashi Tang's cousin, Kanako works at a school of flower arrangements in Sendai. On March 27, Kanako told Hayashi Tang that the school was restarting soon: "I guess people are trying to get back to normal life because it's worse to sit around and do nothing."
Despite the recent earthquake and its consequences, Hayashi Tang said she plans to move to Shizuoka this summer to pursue her passion for taiko and perform with a professional group.
Hayashi Tang said the media online is insufficient to learn about local issues such as the remote areas where Gensuo lives, and about Sendai city, which is her summer home, she added.
"I think about places I've been and wonder if they're the same," she said. "I wonder what sort of lives people are going through in these places."
On April 7, a 7.4 magnitude aftershock struck, exacerbating the threat of a nuclear crisis in Fukushima prefecture.
In spite of the aftershocks, Hayashi Tang said she still intends to go to Japan this summer.
But as campus attention on the earthquake dissipates and life at Brown returns to normal, the effects of the earthquake are finally sinking in, said Adams.
The grief in her voice is unmistakable as she said she is now uncertain about when she will go back to Tokyo and Iwate, the two cities she calls home.
"I feel disconnected," said Adams. "I remember a peaceful urban landscape and it is hard to believe that everything has changed."