Author Information
PODIUM PRESENTATIONS
All podium presentation will be allocated 10 min. with an additional 5 min. for discussion. Only Microsoft Power Point (Office 2007) presentations on a Windows platform will be accepted.
All talks are to be transferred to the conference's computers in the speaker ready-room (Room 558B) the day prior to your presentation.
Due to timing limitations you will not be able to use your own computer.
POSTER PRESENTATIONS
Posters will be mounted on free-standing poster boards with push pins or Velcro tabs (please bring your own pins or tabs). Posters can be a maximum of 42" wide x 42" tall. Posters should be mounted by 8:00 a.m. on Thursday, August 19th. Posters must be removed by 12:30 p.m. on Saturday, August 21st. Any posters not removed by then will need to be discarded.
There are two formal poster sessions with hors d'oeuvres and beverages:
Odd-numbered posters will be presented on Thursday afternoon, from 4:30 p.m. to 6:00 p.m.
Even-numbered posters will be presented on Friday afternoon from 4:30 p.m. to 6:00 p.m.
At least one named author is required to stand by their poster during its designated poster session.
CONFERENCE PROGRAM AND ABSTRACTS
Web-based, PDF and printed versions of the Program, Schedule and Abstracts are available. See Program for more information. Wireless access will be available at only limited "hotspots" in the Rhode Island Convention Center, so if you want the abstracts with you during the meeting you are encouraged to download the Proceedings ahead of time.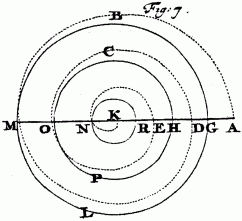 Borelli's sketch of a sea shell's spiral shape