The Instrument Collection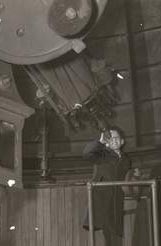 The Ladd Observatory houses a 12" refracting telescope with a lens made by John A. Brashear of Pittsburgh following the lens design of Prof. Charles S. Hastings of Yale University. The equatorial mounting and mechanical clock drive were provided by George N. Saegmüller of Washington D.C. The telescope is equipped with a filar micrometer, spectroscope, and other attachments.
There are also transit telescopes, precision pendulum clocks, chronometers, and various minor instruments. This is only a partial list of the many historic instruments in the Ladd Observatory collection.
Many of the scientific instruments are on display and may be seen on Tuesday evenings when the Observatory is open to the public for telescope viewing.
Astronomical Clocks & Regulators
Edward Howard & Co. #74, Boston, Mass. (1890)
Edward Howard & Co. #89, Boston, Mass. (1895)
Robert Molyneux, London (ca. mid-19th century)
Clemens Riefler, München 1898 (Installed Dec. 1902)
Tiffany & Co. (Designed in 1885 by Hezekiah Conant of Pawtucket, RI)
Chronograph
Warner & Swasey, Cleveland, Ohio (1890)
Chronometers
Wilhelm Brocking, Hamburg (1882)
Edward John Dent, London (after 1840
Charles Frodsham, London (ca. 1844-1860)
Morris Tobias, London, (ca. 1830s)
H. Vuillemin
W. Wilkes
Transit Instruments
2 ¼" (maker unknown)
2 ½" (maker unknown)
50mmParkinson & Frodsham, Liverpool
80mm Saegmüller, Washington D.C. (1890; can also be used as a zenith telescope)